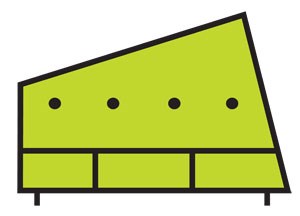 SCENE AND HEARD showcases the independent music scene here in Vancouver.
Green Couch Sessions is a live music video series - experiments in which GCS attempt to marry the artist with the environment.
The music fills the space and the various locations, inevitably producing a sound unique to the session, never to be reproduced, only to be enjoyed by you, the viewers.
VIAindie is excited to partner up with Green Couch to show YOU their latest and greatest videos of musicians and locations from all over the city!
Stay tuned! 
Artist: Del Barber
Song: Hen House Manifesto 
We were honoured to film with Manitoba native and JUNO nominee Del Barber during the Vancouver Folk Music Festival last summer.
The sun was hot and beating down on Del while we filmed this session in the middle of the mayhem. Setting the couch down on someone's blanket right in the centre of the main stage field.
You can hear the festival music going on around him and see the crowd eagerly finding their places on the grass.
Del Barber released his fourth album Praireography earlier this month.
Click HERE to buy Praireography on iTunes
>Click here to see behind-the-scenes photos from the session.<
Hosted by: Vancouver Folk Music Festival 
Filmed and Edited by: Jonathan Krauth
Produced by: Michy Al
Audio Recorded and Mixed by: Tim Creviston, Sam Woywitka and Adam Johnson at Nimbus School of Recording Arts