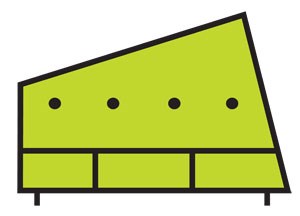 SCENE AND HEARD showcases the independent music scene here in Vancouver.
Green Couch Sessions is a live music video series - experiments in which GCS attempt to marry the artist with the environment.
The music fills the space and the various locations, inevitably producing a sound unique to the session, never to be reproduced, only to be enjoyed by you, the viewers.
VIAindie is excited to partner up with Green Couch to show YOU their latest and greatest videos of musicians and locations from all over the city!
Stay tuned! 
Artist: Royal Canoe
Song: Hold on to the Metal
"Royal Canoe is a band armed with falsettos, guitars, effects pedals, drums, bass, tambourines, shakers and a six-keyboard super-weapon. Originally from Winnipeg, Royal Canoe play lyrically sharp pop songs that move people and make people move."
The band moved the couch, with coffee in hand, to the middle of the Granville Island water park. The cloudy afternoon provided the perfect backdrop for their song 'Hold on to the Metal'
To hear, see and love more Royal Canoe visit their website.
Hosted by: The Granville Island Water Park
Filmed and Edited by: Jonathan Krauth
Additional Camera Work by: Nathan Skillen and Sam McLoughlin with Reveal Creatives
Produced by: Michy Al
Audio Recorded and Mixed by: Adam Johnson, Tim Creviston and Sam Wo at Nimbus School of Recording Arts