VPL and V.I.A. have teamed up to help you discover new reads, hidden book gems and surprising literary finds. Check back every couple of weeks for the latest reading recommendations from the experts at Vancouver's library.
If you haven't heard about Vancouver's new Inspiration Lab at the Central Library downtown, get ready for awesomeness. This free digital media hub is a custom-built space dedicated to digital creativity, collaboration and storytelling. To celebrate the grand opening earlier this month, the library's reading experts are sharing this list of great reads that will inspire and get your creative juices flowing.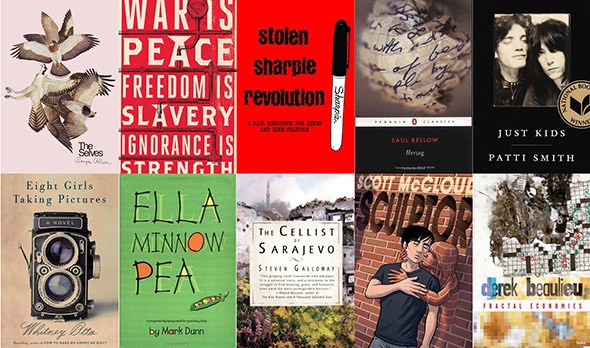 1. Scrapbooking allows us to draw inspiration from the detritus of modern culture. More than craft, it can take on the stature of a creative art form when pieced together with the intimacy and communicability of Sonja Ahlers' The Selves. A visual reminiscence of (post) modern femininity that is at once both affectionate and critical, Ahlers scrapbook is a galvanizing call to the artistic freedom afforded by this analog art. Perusing The Selves, you may find yourself like musician and Riot Grrrl icon Kathleen Hanna "standing somewhere seductive, familiar and very funny."
2. What could inspire creativity more than peeking into a culture where human involvement in art is non-existent? George Orwell's Nineteen Eighty-four offers a frightening depiction of a world so overrun by technology that music, art and literature are created solely by a machine – the Versificator.
3. Ready to publish your own thoughts on any topic or feeling, without the constraints of mainstream publishing? Make your own zine! Start with Alex Wrekk's Stolen Sharpie Revolution – a useful guide that covers everything from tools to layout, copying, printing, trading, promotion, ordering, mailing, distribution and a whole lot more.
4. An excellent inspirational technique for writers is to examine the often chaotic and complex process undertaken by other writers. In Saul Bellow's Herzog, readers can explore the creative process as part of the narrative. The main character, Herzog, is a failed writer, teacher, father and husband. He writes unsent letters to friends and enemies, colleagues and famous people, revealing his sardonic and twisted perception of the world. A quintessential 'mid-life crisis' novel.
5. Patti Smith's Just Kids offers a tender memoir about Smith's early days in New York City and her relationship with controversial photographer Robert Mapplethorpe. A fascinating account of the life and development of an artist, Smith paints an unblinking portrait of New York from a much grittier era. The book is a must-read for anyone seeking musical, poetic or artistic inspiration.
6. Despite the traditional association of photography as a male-dominated artistic profession, women were involved in artistic photography from its inception. Whitney Otto's novel, Eight Girls Taking Pictures, explores the lives of eight women photographers whose life and work influence each other. The life of artists and the need for a creative existence is contrasted with traditional roles assigned to women in 20th century society. Several characters are based on well-known photographers such as Imogen Cunningham and Lee Miller while others are fictional creations. Read this novel and feel inspired to pick up your camera and see the world through a new lens.
7. The people of Nollop, South Carolina, are good citizens, but as the use of more and more letters in the alphabet is banned by the island's council, how will its residents communicate? Mark Dunn's Ella Minnow Pea is an inspiration for alphabetarians and logomaniacs everywhere.
8. Following a brutal mortar attack in Sarajevo that kills 22 people, a cellist vows to play Albinoni's Adagio in the bombed street once a day for the next 22 days as a memorial to the victims. Steven Galloway's The Cellist of Sarajevo is a testament to love, hope and the role creative expression plays in situations fraught with grief.
9. What would you sacrifice for creative genius? Your wealth? Your family and friends? Your life? In Scott McCloud's graphic novel, The Sculptor, Dean Smith has made a deal with Death itself for the talent to sculpt anything he can imagine with his bare hands. Beyond this compelling premise is the thin line between inspiration and desperation.
10. Far beyond the dull verbiage of pedantic rhyme lies poet D. A. Beaulieu's cutting-edge creative inspiration. Freed from the rules and conventions of poetic expression, Fractal Economies is a kaleidoscopic mash-up of language and art that is visually disorienting and strangely articulate.
Visit vpl.ca for more great reads from your library!