A Pop-Up Affair is a group of designers who met while studying communication and industrial design in school. Stemming from a range of backgrounds — with members previously working in industries ranging from project management, english and photography, to art history and fishing — each member brings their own unique approach to design, creating a diverse collective. Individually, members of this new collective have had the opportunity to work with local and international industry heavyweights such as: Ikea, BoConcept, IBM, Absolut, Nocturnal Workshop, International Design Collective , Loudcrow Interactive, Subplot Design, and Free Agency Creative.
The collective originated with plans to host a one-time event, Peep Show. Through the process of developing products for the show and solidifying ideas, the collective recognized that there was not a sufficient platform for new designers to get their work out into the public; from this, a Kickstarter was born to help fund Peep Show and gauge interest in A Pop Up-Affair and future events within Vancouver.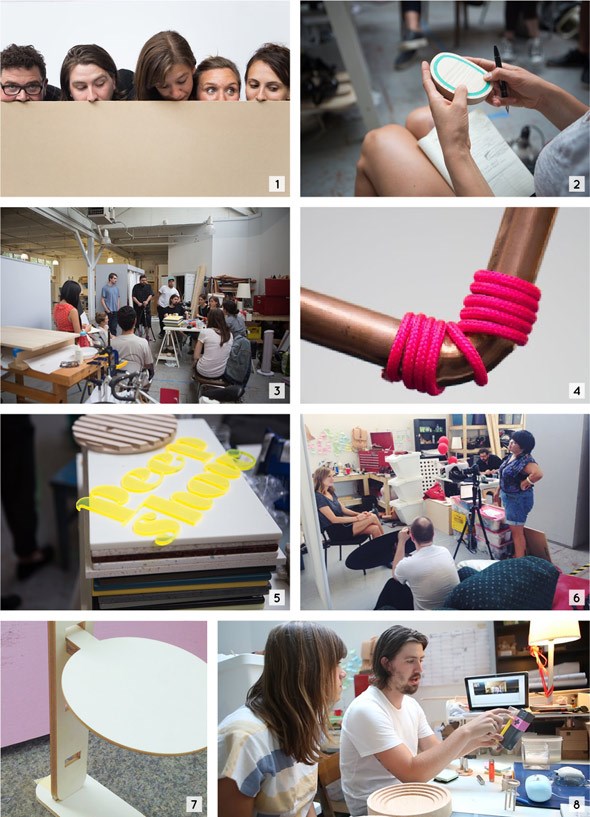 THE PROOF
1. Members of A Pop-Up Affair doing some peeping in preparation for Peep Show coming September 19th.
2. Small scale prototypes from our contributing members Ryan Boechler and Christine Huynh.
3. A Pop-Up Affair collective and contributing members meetup.
4. A look at some of the joinery that Seth Parker and Scott Forsythe are working on for their Peep Show product.
5. Neon Peep Show letters for our branding.
6. Contemplating Kickstarter and design ideas in our studio at MakerLabs.
7. One of Char Kennedys prototypes for A Pop-Up Affairs inaugural show Peep Show.
8. Seth Parker and Char Kennedy amidst a critique of some of their early prototypes.
THE QUESTIONS
What is A Pop-Up Affair?
We are a collective of designers and makers working to create spaces that promote and expose design. We hope to advocate Vancouver as an agent of change and a viable location for design entrepreneurship. Design conversations can sometimes be exclusive and limited to certain creative circles, however we are aiming to create a fun and accessible platform that allows people to experience and take part in the design conversation in a new way, and allow young creatives to produce and sell their work locally.
Who are the people behind A Pop-Up Affair?
A Pop-Up Affair is made up of nine founding members, all recent graduates from Emily Carr University, who got together to engage the local design community, and promote their work and the work of other creatives. Char Kennedy, Seth Parker, Scott E Forsythe, Jason Miller, Steven Enns and Romney Shipway are Industrial Designers, who focus on product and systems design. Jacquie Shaw, Janine Merkl and Jean Chisholm are communication designers, and are behind the branding and art direction of A Pop-Up Affair.
What motivated you to start A Pop-Up Affair?
We got together because we were looking to create new opportunities for ourselves and to stretch our creative muscles. The majority of us were working as freelance designers which meant working in isolation . We were aching for the opportunity to work in a collaborative environment once again.
We saw an opportunity within the design community to create engaging spaces that promote the design work coming out of Vancouver. We decided that together we could build those spaces that allow for new design ideas to form and for creative collaborations to happen.
What are you working on?
Currently we are preparing for our inaugural event, Peep Show, which will be happening Sept 19th-28th at MakerLabs, coinciding with Vancouver Design Week. Through exploring the concept of 'transparency', Peep Show will bring education, design rationale and the creative process to the surface as a way of questioning and provoking the current modes of production and consumption. 'Transparency' is about gaining a better understanding of the design process; manufacturing, materiality, time, and the creative process. Hopefully by exposing the design process, we can motivate people to make more educated and informed choices when purchasing and grow to appreciate design in their life just a little bit more.
What can we expect to see at Peep Show?
From Peep Show, you can expect fun and cheekiness — think peep holes and red curtains — but also some really great design and creativity. There will be about a dozen products and a number of 2D art and design works both on display and for sale. Everything will be made locally in small runs, showing the possibility of local production while maintaining affordable and transparent prices for a more accessible demographic. Theses projects will range from furniture, home accessories, electronics and illustrations and paintings.
What is the future of a pop-up affair?
The ultimate goal is to get as many people involved in exciting conversations and new ways of thinking about design. We plan to continue to work towards our mission of making design accessible and viable in Vancouver, because we feel that there is a need for more platforms where creatives can make their mark and test out their design ideas. You can expect future shows that explore relevant themes in the design community, that also allow featured creatives to sell their work. We want to create a way to connect emerging creatives and the public with those established in the local creative fields by hosting speaker series and workshops that will help to flourish the design community.
Why do you need people to support a pop-up affair on Kickstarter?
We need backers support to help fund our debut exhibition Peep Show, and with your help we hope to expand A Pop Up Affair beyond the week-long event. Creating a high quality, and memorable event is really important to solidifying A Pop-Up Affair as group that wants to add to the future of the design community in Vancouver. We'd love to move past this first event and continue to develop 'affairs' such as speaker series, design workshops, and more exhibitions to pop-up across Vancouver, and with enough work and a little luck and hard work, across Canada. By supporting this you are not only supporting us directly as designers but the community we are a part of, and those who join in the future; helping to improve the design community in Vancouver, shifting the way design is consumed and understood.