"Good design is as little design as possible." For any aesthete worth their weight, they surely recognize that cardinal rule from Dieter Rams' ten principles for good design. It's difficult, when reviewing these ideologies and the portfolio of Studio Faculty, to deny a relationship there. A young two-man studio from creative partners Alvin Kwan and Vince Lo, Studio Faculty is rooting out a respected foundation in the industry with their delicate and compelling work, both in print and online.
True homegrown talent, Kwan and Lo met while studying at the Emily Carr University of Art + Design and have since collaborated with some of the city's most adored businesses. This past year the pair also designed and published Faculty Department—a beautiful and robust book from New York photographer Justin Chung. As noted in their own words, "The most rewarding part of our work is being able to discover the potentials of every project and see those possibilities come to fruition."
Just as in taking a sincere and slow approach to their craft, their ethics and character make building strong personal bonds easy. "Beyond our passion for design, we truly enjoy the relationships we have grown from working with great people." Another less quoted but no less important principle from Rams is, "good design is honest." And Studio Faculty, you're good.
Sheila Lam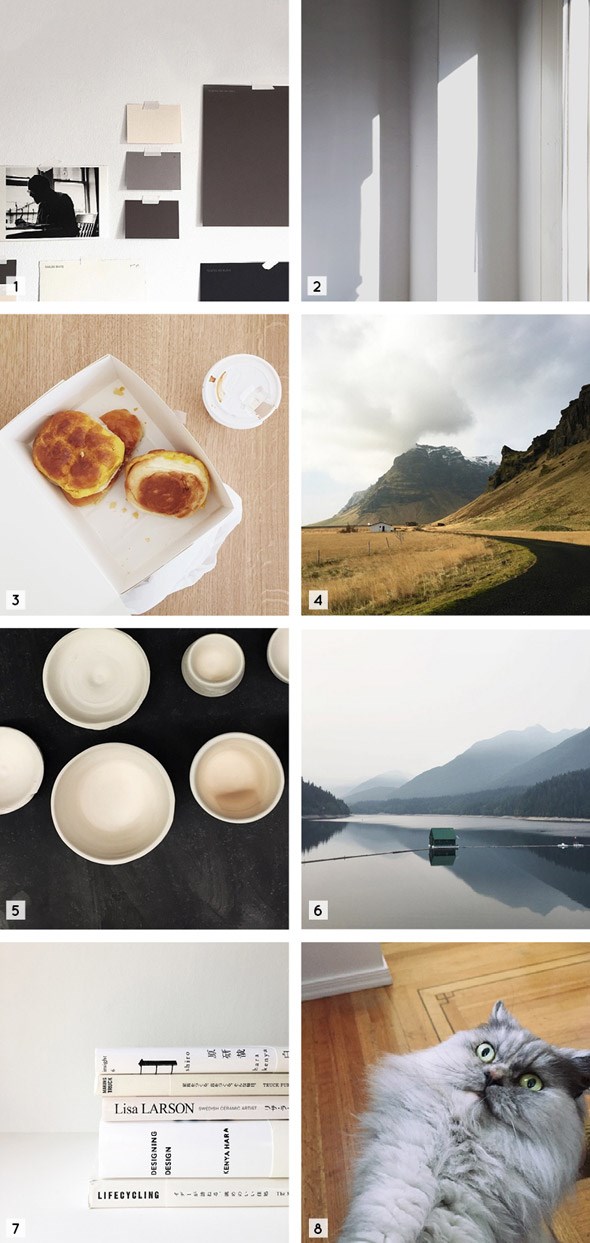 THE PROOF
1. Our ever-changing mood board wall.
2. The ever-changing lighting in our studio.
3. We love our baos.
4. Going to Iceland last year was really something.
5. Work after work
6. Favourite spot to visit after work.
7. Books we're reading
8. One day, we'll get a studio cat.
THE QUESTIONS
1. What neighborhood do you live in?
We live in North Van and Richmond… Our studio is in Chinatown/Gastown, so we spend most of our time there.
2. What do you do and where?
We run a small graphic design studio located in the Chinatown/Gastown area. StudioFaculty.com
We work with clients to help build up their company's brand, online presence, and assist them throughout their continual growth. Its been a great experience building those relationships.
3. What are you working on?
A number of projects as well as the next chapter of the studio, so its definitely an exciting time.
4. What's your personal design philosophy?
We've come to really appreciate things that are truthful in their design, and somehow just seems to fit its context with a sincere and honest presentation. I find much of our approach to design is actually more about subtraction than addition. For us, it always seems to be a process of pushing in one direction and scaling back to highlight the essential elements.
5. If you have to pick a project that you are most proud of, what would it be?
If we had to pick one, it would be the book we made with photographer Justin Chung last year — Faculty Department. It was the first book we worked on together and we had the chance to see the project through from start to finish; building many great relationships along the way.
Our goal was to put together something that inspired readers through a glimpse at the lives of a few creative individuals. At the same time, the book and the process of it has been a major inspiration for our studio as well in learning more about who we are and what we want the studio to become.
6. What keeps you going in this industry?
I think the constant opportunity to grow and evolve in your craft. For creatives, I think the chance to work at an idea and make it a reality is both really exciting and rewarding. Apart from the work, its the relationships that we get to build. We've met so many amazing people just within the last few years that we started the studio. Many of our clients have became close friends and they've really enriched our work and our lives.
7. What advice do you wish someone would have given you when you were young?
To cherish my time more, and dig deeper into whatever interests I have. I think I would have spent less time watching TV and more time reading, growing my interests and knowledge. Also to take joy in whatever you are currently doing.
8. Is there anything else you would like to share with us?
We made a commitment to stay and operate in Vancouver and its been really interesting to see the creative scene and businesses grow within the last few years. Comparing to 5 or 10 years ago, we've seen a lot of growth in the city; many great designers, creatives and talent in general. We're hoping that more creatives will stay in Vancouver and grow the creative scene here together.