Cameron Reed is one of the most active members of Vancouver's music community. He works as a Music Marketing Consultant, was a writer for Only Magazine, and produces his own music.  Cameron is the Festival Co-Director of both Music Waste and the Victory Square Block Party. Music Waste, which Cameron has been producing for the last 5 years, is  Vancouver's premiere independent music festival. It starts tomorrow and will feature almost 100 bands at 25 shows over five days and, for the first time, will offer two comedy revues and five art exhibitions . (All for $15!) Be sure to check out the schedule to see what's up.  Below are some glimpses into Cameron's day to day.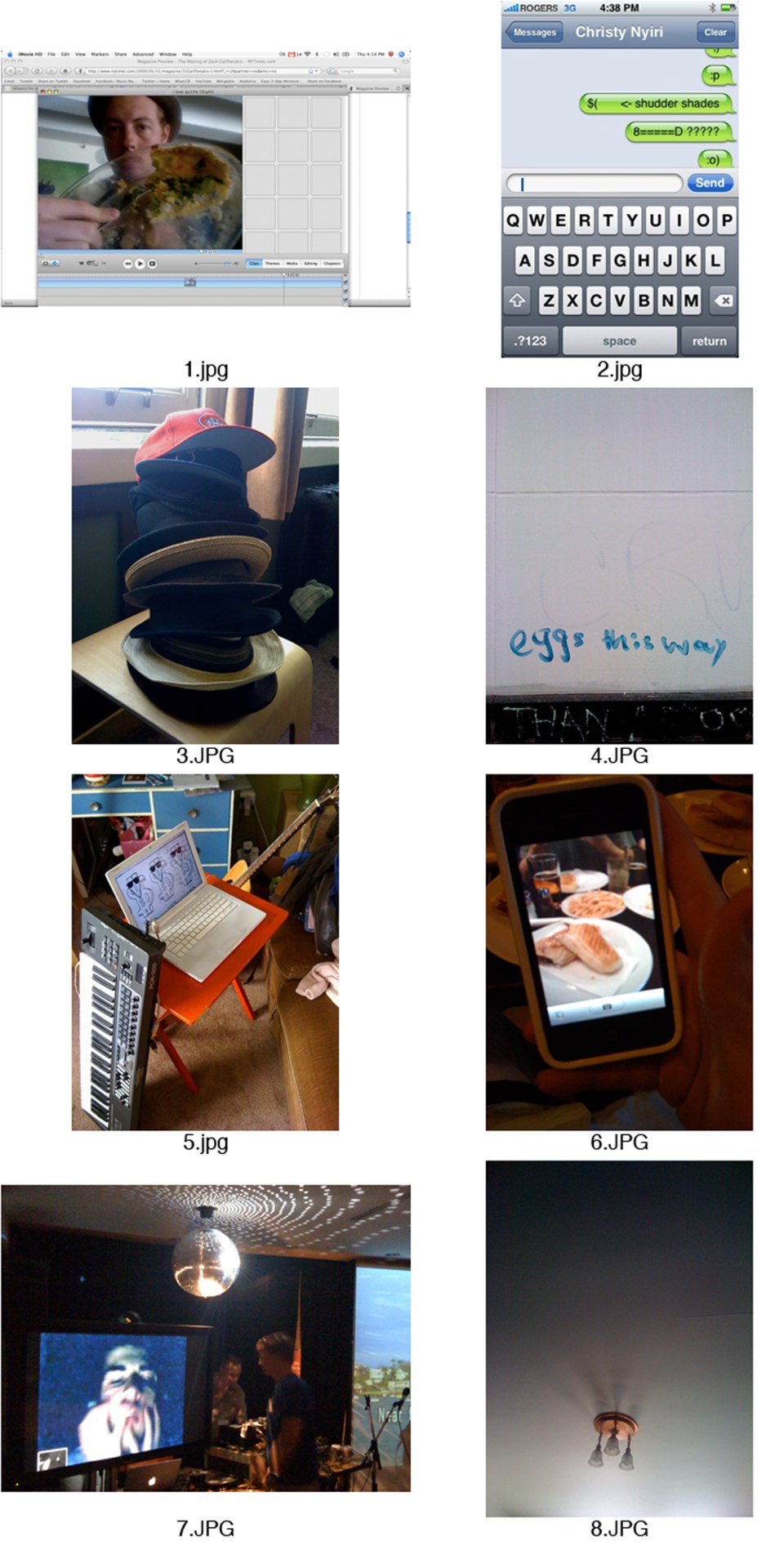 The Proof
1. This is a screenshot of a video I made about a quiche I made. It has turkey, broccoli and spinach in it. I sometimes make videos and put them online. Not all of them are about quiche.
2. I'll admit outright that I'm an iPhone junkie. I can't go without it. This screen is something I look at frequently during my day. This is a screenshot of text messages I sent my girlfriend. She hates emoticons.
3. I started balding in my early-twenties and decided that instead of shaving my head or being "bald guy" I would wear hats. I've amassed a decent collection. Choosing a hat is a daily task.
4. I love street poetry. I walk and bike everywhere and see a lot of it. I take pictures of the stuff that inspires me.
5. In the top five of favourite things in the world. There are about 30 items on that list, so you know I must really like these.
6. This is a picture of a of a picture of a meal I ate on Friday, May 29.
7. My girlfriend's art collective did a karaoke performance/hosting at the Vancouver Art Gallery for Fuse last weekend. This is a photo of one of the members live from Montreal on Skype dancing to someone singing karaoke.
8. This is what I look at when I wake up in the morning.
The Questions
What do you do and where?
I am a festival director, event planner, promoter, and musician living in Vancouver, BC. I bring people together. I bring attention to local creative ventures. I rep for my city.
What neighborhood do you live in?
Over my 8 years in Vancouver I've lived in almost every neighborhood. Right now, I call Mt. Pleasant home, although I spend more time at my girlfriend's in Gastown. She has WiFi.
What are you working on?
I'm working on Music Waste, one of the two festivals I co-produce. Once that's done I'll be working on the Victory Square Block Party and launching a marketing and management consulting company for independent musicians. I've also been making depressing electronic music under the moniker of Babe Rainbow.
Where can we find your work?
Bars in East Van, parks, lofts, warehouses, galleries, any place where people can gather. Nowhere, everywhere, but mostly on the internet:
Thanks Cameron!