Chris Bentzen is local creative that does a wide range of art, design and buttons. He also has helped create greater community by organizing art events like The Hot One Inch Action. "Create something out of nothing" seems to be his motto for living and it's great to see people taking initiative to do more for Vancouver.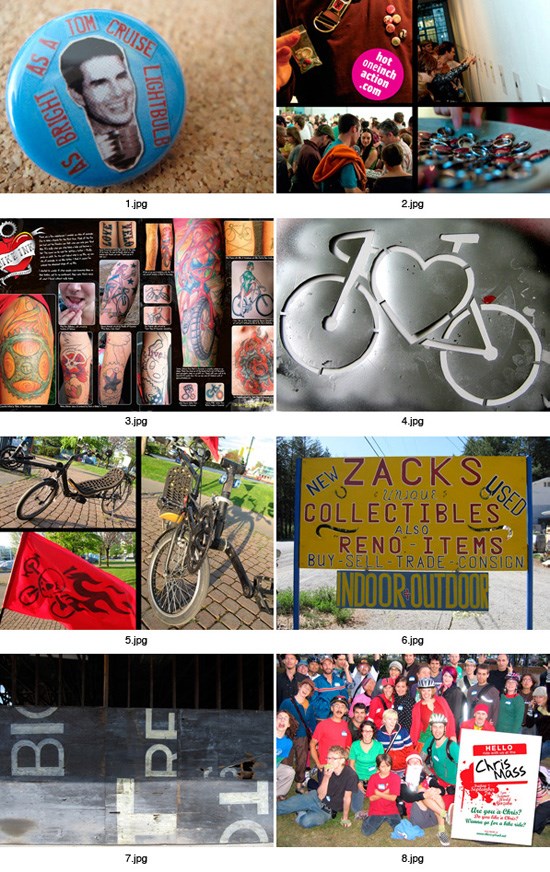 The Proof
1. A 1" button I made.
2. I organize a show called Hot One Inch Action. (check link for details).
3. I do design/layout for Momentum magazine. I also enjoy tattoos – so I combined them and did an article about bike tattoos and got more tattoos in the process.
4. My bike stencil. I guess I really like bikes. I have too many of them but each serves a different purpose.
5. My homebuilt low-racer recumbent with my own custom recumbent bike gang stencilled flag – Hell Bent.
6.  Zack's Collectibles – I enjoy the hand made sign as well as all the crazy stuff in the store. I don't think I've ever bought anything there but do find some inspiration. I kinda wish it was in Vancouver, but it's close enough.
7. Found typography – this is at a junkyark in Penticton.
8. Critical Mass is annoying and I know a bunch of other Chris' so the logical conclusion was the Chris Mass. It's fun to ride with friends and organize a silly ride.
The Questions
What neighborhood do you live in?
Mount Pleasant.
What do you do and where?
I'm a freelance graphic designer working mostly with non-profits and bicycle related groups. I also make buttons and organize interactive art shows like Hot One Inch Action and CARDED! I work from home. Sometimes, I forget to go outside.
What are you working on?
Last week I finished design/layout of another issue of Momentum magazine. I'm getting ready for another Hot One Inch Action on November 7. And just watched season 6 of The Shield while pressing buttons for a client.
Where can we find your work?
That depends... Momentum magazine can be found at local bike shops in Vancouver and elsewhere in Canada and the US. Some of the stuff I do for non-profits (specifically the stuff I do for youth in foster care) can be found in Ministry for Children and Family offices and at youth centres. I've also done stuff for Cascade Bicycle Club in Seattle and the VACC which can be found at bike events here and in Washington. Hot One Inch Action can be found next at the Perel Gallery (112 W Hastings) on Nov 7. You could also check the sites below.
Also which websites would you like mentioned?