It is hardly fair that someone could be so wonderfully adept at finding joy in the details of everyday life. Fortunately, Dani Kreeft has taken it upon herself to share the fruits of her inquisitiveness with the rest of us in her work, not to mention her everyday life.
In a blogosphere rife with senseless babble and ever worse ways to waste time, Ms. Kreeft has created a blog aimed at helping us stay focused on the important things in life. More than this, with Danipress.com and her inspiring line of greeting cards, she has created a wonderful way of helping us pass it on to the people in our life as well as give a hand to those in need.
She once asked me if I thought I was a "glass half-full" guy.  "No" was my reply.  She then asked why.  It may seem like this question comes from a place of innocence but in fact to ask it is to wisely lay bare a path to happiness. We can seek out and build on the good in this world – and we should. For her part, Dani finds the glasses and fills them up.
- Chris Hesje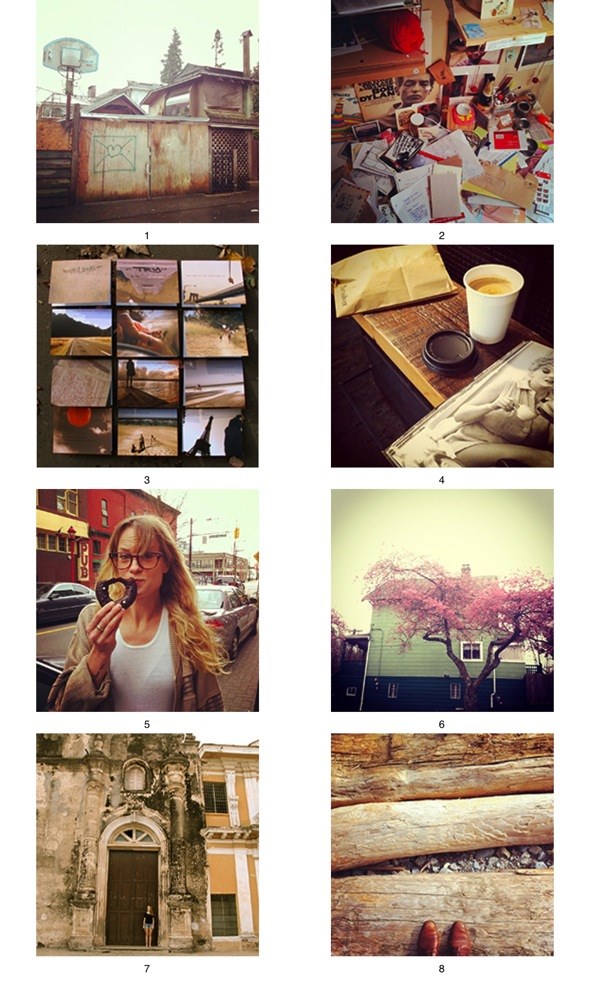 The Proof
01 If i'm walking somewhere, I like to take the alleyways. I find them oddly inspiring and they're always much more interesting.
02 My desk. This obviously explains why i am using the island in my kitchen as a desk right now. I need to clean this up.
03 Some of my stationery. Taken from my travels all over the world, I pair them with old typewriter text and recycled brown envelopes. They're awesome.
04 I like swinging through Revolver for an americano. It's usually packed, so I often find myself standing at the back flipping through their photo books.
05 Cartems Donuterie has the best donuts. Triple chocolate threat, earl grey, maple bourbon bacon, O my.
06 Mount Pleasant in spring is a beautiful thing.
07 One of my best friends in Grenada, Nicaragua. We grabbed our backpacks and flew the coop this past January, romping around Costa Rica, Nicaragua and Panama.
08 I grew up in Edmonton, but also wanted to live by the sea. It was one of the biggest reasons I moved west, that ability to stand by the sea and feel better about, well, everything.
The Questions
What neighborhood do you live in?
On St. George Street in Mount Pleasant. Pretty close to Le Marché St. George, which is my favorite oasis in this neck of the woods.
What do you do and where?
I make stationery! I have a kickin' little office at the back of my apartment that works as the humming brain of this operation. I also work at the Waldorf Hotel in east Vancouver.
What are you working on?
Some new designs, learning how to market myself, staying on top of my to-do list, getting the word out to stores across Canada, using my time effectively, getting enough vegetables, the usual.
Where can we find your work?
Here in Vancouver, you can find dani press at Bird On A Wire on Main Street, The Cross Decor & Design in Yaletown or Walrus up on Cambie. I also sell at local markets and online through my shop, www.danipress.com.