Karen Duncan is a deeply empathetic, passionate and dedicated person who has given so much of herself to helping animals in need. She has followed her calling in rescuing animals to create VOKRA, a wonderful organization that has made a huge impact on the homeless cat population in Metro Vancouver. Karen was married for 36 years and has two wonderful sons in their 30's, Kelly and Grady. Karen's family is rounded out by Bunny, Sally, Bryan, Betty and Kate, five rescue cats, Jasper a rescue dog and Harley a rescued loud-mouth parrot who lives for garbage day, when he has deep philosophical conversations with the beeping truck. One of Karen's older cats Bunny is a gentle hearted creature with special needs, who adopts every kitten brought home. Bunny holds a place of honour on VOKRA's logo.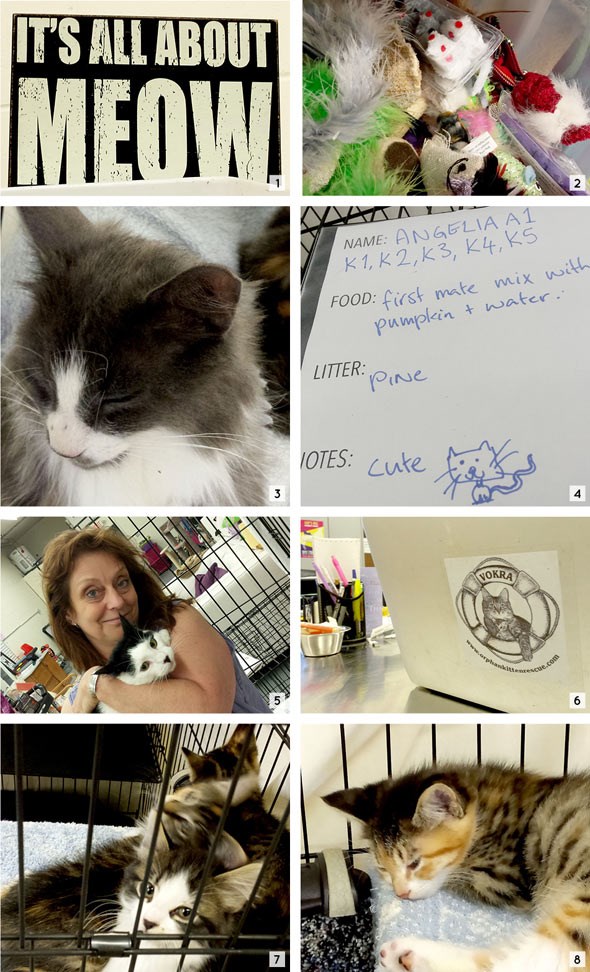 THE PROOF
1. This sign sums up the philosophy of VOKRA volunteers. Everything we do is for the betterment of kitties.
2. We have a wall of stored care materials in our facility including scratching posts, blankets and beds. Here you can see our vast collection of cat toys, which are not just adorable, but essential to healthy development.
3. This is Angelia, mother to five adorable kittens born in a parking area of a housing complex. She kept them safe in a hole under some concrete. She was trapped as were the kittens. We soon found that she was tame, lost or abandoned to have her family on her own. The blanket covering Angelia is actually a damp cloth and she is resting on an ice pack to help combat the heat. Our facility is not air conditioned and we are working on a crowd funding campaign to cover the cost of installing a donated roof-top air conditioner. Please follow us on Facebook/VOKRA and at www.vokra.ca to find out how to help..
4. Each kennel has important notes about the cats including their names, what they eat, the type of litter they prefer and any special notes. In this case it's important to warn any passerby that Angelia and her kittens are quite cute.
5. Karen poses with the rather handsome Max. Max was born in a flower garden and brought into foster with his litter mates and mom. He was adopted, but did not do well with the other cat at home. Once a VOKRA cat, always a VOKRA cat.  We take our adopted cats back no matter the reason or try to help find ways to solve problems in their homes.
6. The cat featured in our logo is the lovely Bunny, a sweetheart rescued as a very young kitten. The kitten in front of Bunny in the logo is not her own, but Bunny, much like her owner Karen, has the habit of adopting and caring for any kitten she comes across.
7. Three of Angelia's kittens showcase their own unique personalities with their response to having their picture taken. The one in the middle refused to sit still, while the one in the front stared accusingly the whole time. The one in the back had more important cat things to worry about.
8. This little kitten is quite shy, but allowed for pictures once sleep became the priority. All of Angelia's kittens will be available for adoption soon.
THE QUESTIONS
What do you do and where?
I am the co-founder of Vancouver Orphan Kitten Rescue Association (VOKRA), a no-kill, non-profit, registered charity dedicated to the rescue of cats in the Lower Mainland. We also coordinate rescue work with other groups in BC.
What does VOKRA do?
VOKRA is working for the kitties. We are a well known and respected animal rescue with over 350 foster homes available to cats awaiting adoption. Our main goal is to find homes for lost and stray cats and improve the health and welfare of feral cats who may not be suited to adoption. Through our very successful Trap-Neuter- Return program we have been able to significantly reduce the number of homeless cats in Metro Vancouver.
How did you start VOKRA?
I was fostering for the SPCA, and had been taught how to bottle feed orphaned kittens by my vet, who had been handed a week-old kitten found in a dumpster. She is my oldest cat now, Sally, who is 17. Maria Soroski was running the cat fostering program at the SPCA at that time. As we took on more and more of the young kittens, we realized that they were coming from the same sites over and over.  Hundreds came in over the spring and summer in those days. Maria and I began our own rescue, specializing in young kittens and started asking for the location kittens were found and contact info at the time kittens were handed over. That way we could go out and TNR (Trap-Neuter-Return) the sites. Some days we would be called to pick up at the SPCA or animal emergency two or three times. We built up our foster home numbers and did garage sales, plant sales, compost sales and grant applications, amongst many other things, to raise money to buy supplies and pay our vet bills. Our original vet, Dr Jack Brondwin, and Homeopathic Practitioner Julie Anne Lee were instrumental in supporting and teaching us in those days. Each year the amount of kittens and cats we helped got higher and the numbers of volunteers grew. My basement became headquarters and we managed there for several years, but it got harder and harder as the numbers rose. As we did TNR in the sites that were over-run with breeding cats things gradually started to get under control in Vancouver and Burnaby.  Less and less tiny dying kittens were being found. Our rescue was by then taking in feral cats who were nursing kittens, and more and more tame cats needing help. In 2014 we finally moved into and began renovating our new Intake Center.
How many cats has VOKRA rescued last year?
Approximately 2000, which is up from the average of 1800 over the past few years.
How many cats are in foster care, waiting for their forever home?
VOKRA currently has 165 cats ready to take home and 276 who will be available soon. Each one has a distinct personality and is just waiting for the right family. You can apply to adopt on our website, but we also recommend reading the "Are you ready?" page before committing to cat life.
How many stray and feral cats are there in Vancouver? Where do they come from?
It is hard to pinpoint an exact number of homeless cats at any one time. There are about 150-200 feral cats that are currently being monitored by our volunteers, and the number of ferals and cats being born on the street has reduced significantly since VOKRA became a registered charity in 2000. Over the past few years VOKRA has helped approximately 1800 cats per year, which gives you an idea of how many are out there.
Homeless cats can come from anywhere, however we predominantly find them in low-income areas and neighbourhoods with a large percentage of renters.
What is the Trap Neuter Return program and why is it important?
Trap-Neuter-Return, or TNR, is a proven effective approach to managing feral cat populations. It involves humanely trapping cats, which are then taken to a vet where they are spayed or neutered, tattooed, vaccinated, and treated for any other medical issues. Once they recover, they are returned to their colony and monitored by volunteers. Kittens and tame strays are added to the adoption list to find forever homes. TNR is important because it stabilizes the feral cat population by preventing further reproduction in colonies, while also improving and protecting the lives of the existing cats. It is the most humane practice and it is the only practice that works. The alternative is the outdated and cruel trap and "remove", where the cat is killed by animal control. This method is not successful as new cats move in, take over and continue reproducing among one another.
What is the most common misconception about cats?
That cats can manage on their own if lost or abandoned.  We see the sad truth all the time. Cats come to us dehydrated, starved, horribly injured, covered in fleas that are causing anemia, nails grown into the pads of their feet and abscesses amongst other things. They are targets for the growing numbers of coyotes in our cities, hit by cars and injured in fights.  Pregnant cats come in a lot, often just before giving birth, when someone has finally seen that they need help. We also get a lot of very young cats with their kittens, who have barely been holding on, finding ways of staying alive plus keeping their kittens safe and fed. When we bring them in, you can feel their relief at being treated kindly, given food and water and a safe place.
What keeps you going at VOKRA?
The need.  While we have been able to help thousands of cats and kittens over the years there is always a need.  These days we still see huge numbers of lost or abandoned cats and kittens. Knowing that there are so many that would not survive without our help is the most powerful inspiration to keep going.
How can we help? How can people get involved?
We always need volunteers. VOKRA is 100% run by dedicated volunteers and there are hundreds of jobs that need to be done every single day. Beyond our regular list of volunteer jobs, we are currently expanding our facility and need people with construction and building skills to help get the facility ready. Another simple way of helping is to educate friends and neighbours about cat misconceptions and have your cats neutered before 6 months, as even a 5-month-old cat can get pregnant.
Lastly, our annual "Walk for the Kitties" at Jericho Beach is coming up in September. It's a leisurely 5K walk with the goal of raising $50,000 to help continue our important work. The details and how to sign up will be on our website and Facebook page very soon. Please join us in walking and raising money for the kitties.
Is there anything else you'd like to share with us?
VOKRA couldn't do what it does without the endless efforts of our volunteers who dedicate so much time, love and care to our cats and kittens. We are also grateful to the over 350 foster homes caring for the cats as they wait for their new family and we appreciate everyone who has adopted from us, giving a once abandoned kitty a new life. Most needed of course, are donations. As a No-Kill Rescue, we have huge vet and supply bills. By signing up for monthly donations, no matter how large or small, people will ensure we can continue with our work.