Lyndon Cormack was born in the foothills of the Rockies, and he hasn't stood still since. Childhood and summers ripped by on bikes, skateboards, snowboards, skates, through pairs of shoes that were inevitably worn through on hikes and exploring. Childhood and home were left behind days after his eighteenth birthday, and he went far away from home as he could imagine, then he started moving again, leaving tracks in Australia and all over Asia.
The occupation of moving and seeing found him aligning with other individuals of the same bent, and got him involved on the sales side of skateboarding, snowboarding and biking. Then Lyndon found himself back, close to where it all started, in Vancouver, Beautiful British Columbia.
Lyndon is one of two founding brothers of the Herschel Supply Company, a key influencer in the importance of the backpack as an everyday fashion accessory. The company was founded in 2009, and was named after the small town in Saskatchewan where three generations of the family grew up. It hasn't stood still since 2009. Herschel Supply products are sold in Canada, from the foothills of the Rockies, as well as Europe, Australia, throughout Asia, and everywhere in between.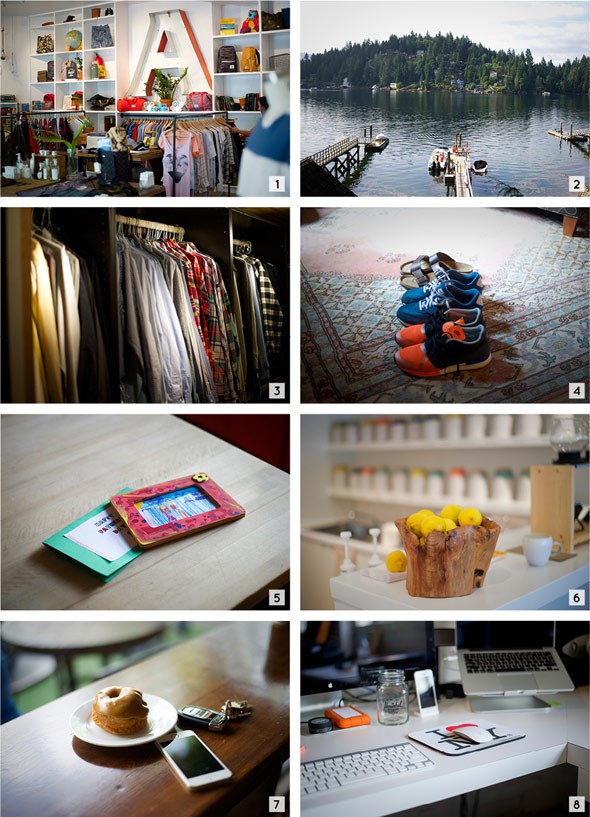 THE PROOF
1. Ahoy is a project in Deep Cove that my brother and I are involved in. It's a great little general store that sells brands we love and products that cater to the community.
2. The view from my house along Panorama Drive in North Vancouver.
3. Decisions Decisions Decisions.
4. I have a shoe problem. OK, many shoe problems. These three are this week's rotation.
5. A proud daddy.
6. We've embarked on a new partnership, and have just opened a tea and home goods store in Deep Cove called Sunnyside, serving drinks and a curated selection of home goods.
7. Wouldn't be a proper weekend morning without a doughnut from Honey's in Deep Cove.
8. Back at the office. This is my view most days when I'm not out on the road.
THE QUESTIONS
1. What neighborhood do you live in?
I've called Deep Cove in North Vancouver home for the last 13 years.
2. What do you do and where?
My name is Lyndon Cormack. I'm one of the founders of Herschel Supply Company, a brand that I run with my brother Jamie Cormack. Herschel Supply is a Vancouver-based accessory company that sells its products in approximately 60 countries globally.
3. What are you working on?
There are always numerous projects on the go. Currently we're shipping our Fall 2014 collection, selling Spring 2015, and working on Fall 2015; of course we have a whole bunch of projects in the works with various partners.
4. Where can we find your work?
Herschelsupply.com and more personally @lyndoncormack on Instagram.
5. Who are your role models?
There are many. I admire and appreciate people who have the skill sets that I lack. There is so much talent out there, though I would also have to admit that one of my greatest role models is my brother Jamie, who has unbelievable attention to detail -- which is a rare rare thing.
6. What keeps you going in this industry?
My whole life I've wanted to work in this industry, and I've been fortunate enough to spend my whole life working within this industry. Jamie and I were fortunate enough to have this idea, and execute this idea of an accessory brand, and we've been fortunate enough to be so well received. The people that we work with everyday, the team that we work with, and all of the constant projects keeps me here.
7. If you had a chance to start your career all over again, how would you do it differently?
I can't say I have a lot of regrets. I've worked with some amazing companies alongside some amazing people for my entire life. Thing have flown from piece to piece pretty seamlessly. As much as I would like to say that I would have liked to start something sooner and been in control of my own destiny sooner, I don't think that we would be as successful without the lessons that I have learned in the past.
8. What advice do you wish someone would have given you when you were young?
Contemplate success, not failure, but make yourself aware of the risks. Remain innovative and make sure you matter. Think about tomorrow.