You probably know Mike Love. He's been taking great photos and working on film sets for years. He lives the life of a passionate artist and gets noticeably engulfed in his work, whether it's documenting life with his camera or disappearing to set for days. He's an intense dude who pulls you into his energy whenever you're around him. Don't let the skull on the dash of the Magnum fool you.
- Jessica G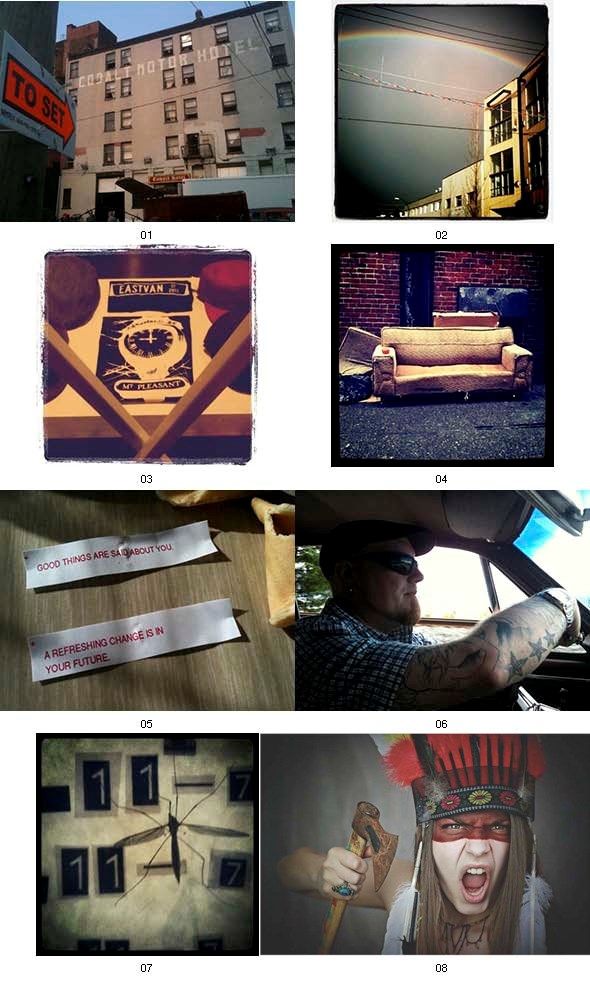 The Proof
01 Another day of film work on location, making the Cobalt look like Seattle or is it L.A? Can't remember
02 This is my home: the rainbow of East Van.
03 This is what East Van has become... a bit of commercial pride, not knowing how I feel about it, maybe if the t-shirt wasn't so expensive then the pride might be behind it?
04 This is what I see as East Van pride. Notice the ripe new apple – a little juxtaposition when it comes to our colourful alleyways.
05 Having a late night dinner at one of East Van's Chinese food restaurants. I'm a sucker for what my fortune might say
06 Driving my 1967 Chevelle. Any time i'm behind the wheel of my classic car the world seems a lot less busy.
07 Photo I took one night with my phone walking up Main Street when I couldn't sleep.
08 "Proud to be Free in the USA" from my latest photo series "Love's Fighters".
The Questions
What neighbourhood do I live in?
I live in East Van right off of Main Street. I've been here for 15 years in my live work studio. It has a great view of the city – a constant reminder of how hard I have worked over the years to afford such a spectacular view. I know that at 11pm the lights go out at BC Place ( or what ever it is called now). My neighbourhood has definitely changed over the years. Some parts are for the good but I feel some are for the worst. Might be needing a change soon. I was born in Saskatchewan and grew up in Ladner, but now Van City is my home.
What do you do and where?
I am a filmmaker foremost, a storyteller, a film technician and a photographer. I make music videos, commercials and short films with my production companies Lil' Devil Productions (www.lildevl.com) and Mr. Love Films www.mrlovefilm.com. I am a longstanding member in the local film industry and have worked as a film technician on television series and feature film projects. It's a career that has encompassed the past two decades of my life.
You can always find me on a sound stage, a film location, edit suite or behind some kind of camera. I'm a bit of a workaholic when it comes to the film industry. My passion lies in directing (I know every one says that.) I have directed over six short films, fifteen music videos, over a dozen commercials, and one television series. Even when I am a photographer, I want to tell some kind of visual story told with my camera. I've been shooting on the Canon 7D and love it and built some custom gear so that I can shoot stills and video on the same equipment. Things sure have changed in the camera world and i'm embracing it.
What are you working on?
I am currently working on my first feature length documentary titled "450,000.00 Dollar Tent". It's about me living without electricity in my condo due to a hydro bill increase of over 106% - www.mrlovedocumentary.com
But between film projects i always go back to my photography. It's a place where things are simpler as a story teller. I find solace when it's just me and my camera where the imagination is forefront. The collaborations I've had as a photographer seem so much more satisfying of late – the models, and  make-up artist all seem to just want to play, a bit of a contrast from my day job in film a world where 14 hours on a film set is a short day. Time flies when i'm on a photo-shoot.
Where can we find your work?
Like everyone else, I have a bunch of websites to showcase my work:
www.mrlovephoto.com ( currently under construction)
Or check out my photography show:
Love's Fighters
Marshall Pop Up Gallery 644 Kingsway Vancouver