Rachel is from the big city of London (Ontario that is) but for the last decade she's embodied the very essence of Vancouver. Dog owner, snowboard enthusiast and gourmand, Rachel prowls te city together with her BFF Bandit (a Chihuahua-terrier cross), posting Instagram pics of her fav treats to eat and travel adventures. Dedicated to PR for the past decade and for the last four years as co-principal of Vancouver based Dunn Public Relations, Rachel spends all her waking hours (and much of her sleeping time too) crafting clever strategies to position her clients in the news and on popular blogs. An early social media enthusiast, you'll never find Rachel far from her iPhone or Mac. And as an animal rights advocate, Rachel devotes lots of volunteer hours for the BC SPCA and other animal and human rights orgs. She shares her West End home with her small dog (the aforementioned Bandit), puffy cat Elvis (named for the King's latter years, and adopted from the Vancouver Orphan Kitten Rescue Association) as well as her partner, former pro baseball player and gentle giant Judd Richardson. When she's not at work (which is almost never, if you ask her colleagues), you can find Rachel reading a culturally sensitive novel, yelling at/for the Canucks or Indiana Hoosiers or searching for the perfect piece of fried chicken in the Southern USA.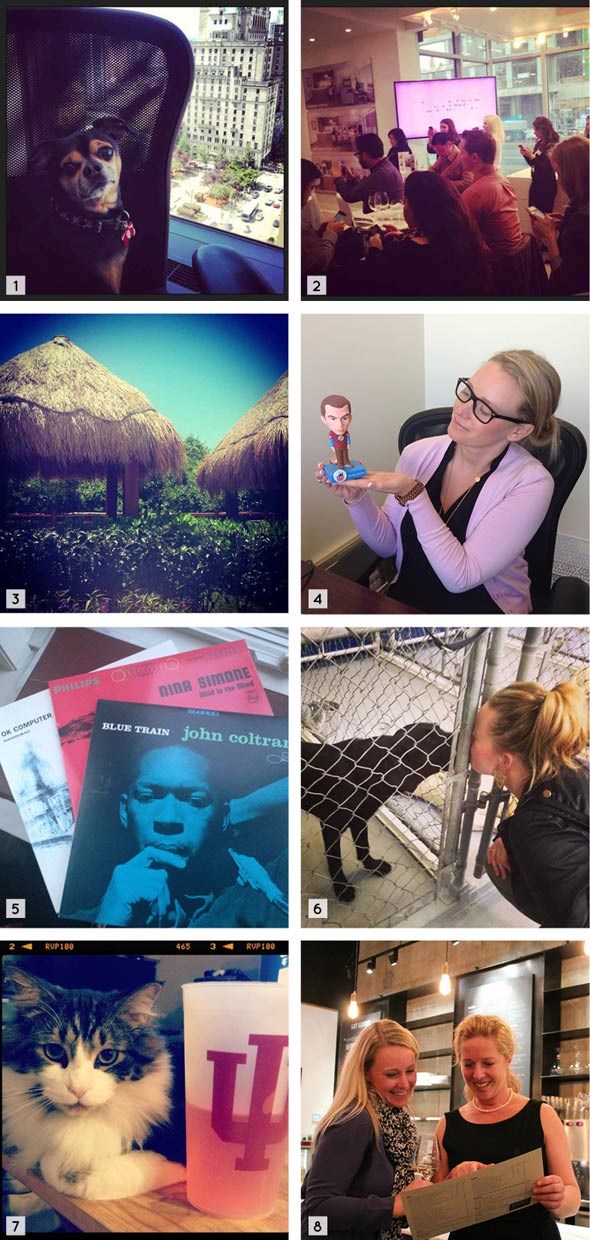 THE PROOF
1. My dog Bandit at the Dunn PR office
2. Bloggers tweet and photograph at a recent client project launch
3. Mayan Riviera, Mexico. My favourite place to escape annually
4. My office inspiration—Sheldon of Big Bang Theory
5. Vinyls always playing as I'm writing or working on a proposal
6. Pacific Assistance Dog Society visit. Animal welfare and support is my passion
7. My rescue cat Elvis shows his support for my favourite Indiana Hoosiers. I attended Journalism School at IU
8. My colleague Patricia Dunn and I at a recent media event
THE QUESTIONS
1. What neighborhood do you live in?
West End. We moved into the community in January and we love it. Walkable to everything you need.
2. What do you do and where?
PR at Dunn PR. I help build profile for clients in a a variety of sectors. 
3. What are you working on?
Real estate project launches, new food and beverage product promotion, volunteer PR for animal welfare groups and DTES non profits.
4. Where can we find your work?
I am the woman behind the scenes and behind the camera! My work can be found in daily newspapers where I secure features for clients, on your local TV news or radio where clients are interviewed or on popular blogs where I connect clients with local bloggers.I am lucky to work with a talented and kind group of media and bloggers in BC.
5. Who are your role models?
My Mother who always tells me that my best is good enough. Heroes from history such as Martin Luther King Jr. and Gloria Steinem who spoke up and fought for human rights. The men and women who work in animal welfare and sacrifice a higher income for the benefit of a cause.
6. What keeps you going in this industry?
Volunteer work inspires and humbles me. Seeing great profile for clients thrills me. The kindness of my colleagues makes my work much easier.
7. If you had a chance to start your career all over again, how would you do it differently?
I would work harder on my math and sciences so I could work in veterinary medicine. I have always been happiest when surrounded by animals.
8. What advice do you wish someone would have given you when you were young?
I feel like my family gave me great advice that I try to live by….be kind, respect yourself, work and play hard :)