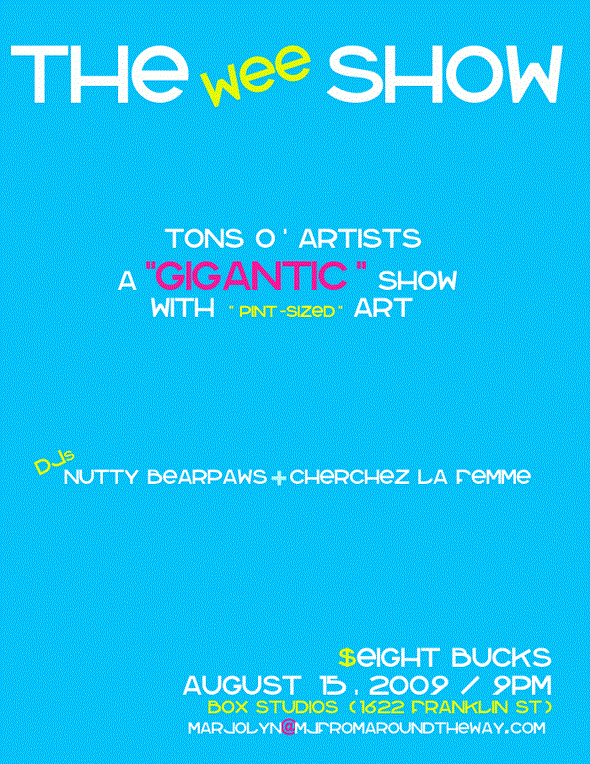 HOSTED BY: www.mjfromaroundtheway.com
THE WEE SHOW: a GIGANTIC show full of "tiny" art!
Each artist will showcase up to (3) pieces with a maximum size of 8"x8" for each piece.
They have the creative freedom to use anything they want from canvas, to cardboard, fabric to scrap metal..
A sure-fire awesome show, for sure.
VOTE FOR YOUR FAVORITE ARTIST OF THE NIGHT!
2nd place (TBA)
3rd place (TBA)
DJ CHERCHEZ LA FEMME
Artists:
Alison Lilly | http://alisonlilly.blogspot.com
Arin Sieber
Arise One | http://www.flickr.com/search/?q=arise+graffiti
Ashleigh Kirkham | http://www.ashleighkirkham.com
Becky MacKeigan | http://beckz.ca
Caroline Weaver
Danielle Krysa | http://www.krysa.com/danielle
Darren Camplin | http://www.darrencamplin.com
Derek von Essen | http://www.derekvonessen.ca
Eli Horn | http://www.elihorn.net
Hayley Arlidge
Heather Renney | http://photastik.blogspot.com
Helen Spaxman
Horus | http://www.p4design.onsugar.com
Indigo | http://www.flickr.com/photos/indigoindigo
Indy | http://www.wenamedthedogchewbacca.blogspot.com
Jeff Denomme | http://www.hauntedzoo.com
Jenn Brisson | http://www.jennbrisson.blogspot.com
Jenn Strom
Justina Carrasco | http://justinacarrasco.blogspot.com
Kim Villagante | http://www.liki-art.vox.com
Lacey Blackhart
Lish Rebman | http://www.flickr.com/photos/its_just_lish
Lupe Martinez | http://www.lupemartinezarte.blogspot.com
Maniac | http://www.flickr.com/photos/39166428@N05
Matt Mitchell | http://matthewmitchell.ca
Maurice Li | http://www.mauriceli.com
Megan Allard | http://www.strangeonecreations.com
Melk | http://www.melkmelk.com
Mephesto
Michael Frank | http://telltaleheartstudio.com
Natasha Lands
Nathan Gowsell | http://nathangowsell.com
Nick Routley
Nicole Steen | http://www.thetartgallery.com/nicolegallery.html
Nompron
Nuno Silva | http://www.nunosilva.ca
Pahnl | http://www.pahnl.co.uk
Pepa | http://www.pepachan-art.blogspot.com
PePe | http://www.davepetko.com
Phresha | http://www.deviantethics.com
Pink Kong | http://pinkkongdesign.com
R'John Bernales | http://rjohnb.blogspot.com
Ryan Drolet | http://www.ryandrolet.com
RyanWalterWagner| http://www.ryanwalterwagner.com
Sara Remocker
Steve Williams | http://www.spwilliams.ca
Shary Contrary | http://www.sharycontrary.com
Tanner Klassen | http://www.idea08.ca
Travis Collier | http://www.traviscollier.com
Trisha Chiu | http://artist-trishachu.com
Tesura | http://tesura.net
Uncle Sally |
Yvonne Chew | http://yvonnechew.com
Yvonne Hachkowski | http://www.yvonnehachkowski.com