This evening (May 16 2017), the Vancouver based magazine will host their annual night of storytelling and readings from their 7th annual literary edition, Voices of the Street.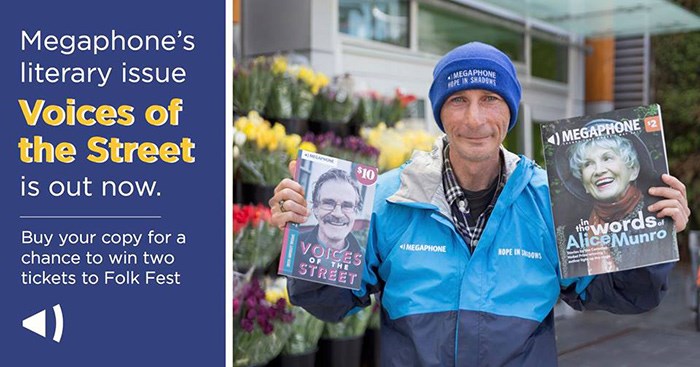 Megaphone is a monthly magazine that is sold by homeless and low-income vendors throughout Vancouver and Victoria. Every purchase ($2), of Megaphone Magazine supports job opportunities for people experiencing poverty. In addition to being an excellent cause, the magazine features outstanding journalism, storytelling, art and more.
Every year Megaphone publishes a literary edition that features moving, heartfelt, funny, and inspiring stories written by members of the Megaphone community. The night will feature readings from Voices of the Street writers, music from the wonderful Paula Armstrong, and delicious refreshments courtesy of SFU Woodwards.
Voices of the Street will be available for purchase from Megaphone vendors for $10 (either cash or with the Megaphone cashless payment app available for iPhone and Android) before and after the show. You can download the app HERE.

Voices of the Street
May 16, 2017 - 7:00pm – 9:00pm (refreshments at 6:30pm).
SFU Woodward's (149 W Hastings St.)