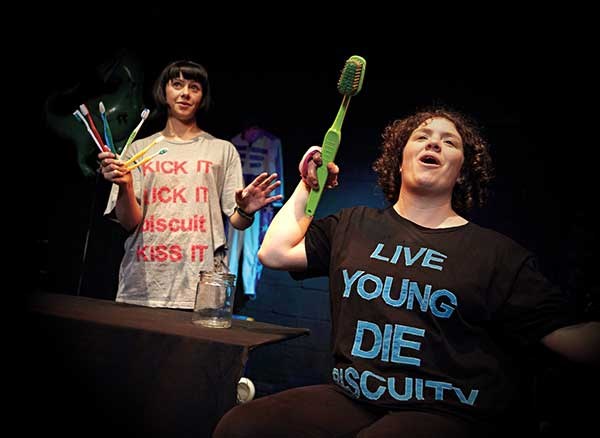 Jess Thom has Tourette syndrome which makes her say the word "biscuit" up to 16,000 times a day. She's a writer and performer from England, and she's in Vancouver at the PuSh International Performing Arts Festival with her latest play, Backstage in Biscuit Land, to shed light on this oft-misunderstood neurological condition.
First diagnosed in 2006, Jess's physical and verbal tics have intensified over time, and now most days she has "ticcing fits," seizure-like episodes that generally last a few minutes, and requires a support worker to accompany her at all times. She's part of the 10% of people with Tourette syndrome who have coprolalia, the technical term for obscene tics, but for Jess, such tics make up only a tiny proportion of what she says involuntarily.
Given her verbal tics, Jess is literally incapable of staying on script, and that's where the fun begins. Backstage in Biscuit Land is frank, funny and fearless—combining storytelling, comedy and puppetry, with the promise that no two shows are ever the same.
Based in part on Jess' book, Welcome to Biscuit Land, this live show premiered at the Edinburgh Fringe Festival in 2014 to huge critical acclaim, winning the Total Theatre Emergent Company Award. It offers an intimate, life-enhancing glimpse into Jess's unique perspective on life. With this work, Jess stares down our preconceived notions of wellness, illness and disability.  She challenges us, the audience, to examine our prejudices, ones that we blindly and unknowingly bring into the theatre. Jess' work asks us some hard questions: who is art made for? Who is permitted to enjoy it? Who is permitted to make it?
Backstage in Biscuit Land is a rare, exceptional piece of art that doesn't just give us a good time at the theatre, it renders the brain as a thing of beauty in all its creation.
Catch Backstage in Biscuit Land at the 2017 PuSh Festival—today through Wednesday, 8PM, at the Roundhouse Community Arts & Recreation Centre. Get tickets here.
"The blessed Jess Thom... open, funny, frank, intelligent and enchantingly entertaining"—Stephen Fry
"Extraordinarily entertaining…An adventure in every way. (Four out of five stars)"—The Guardian