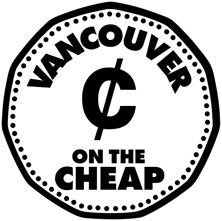 For many of you, the beauty that is Bon's Off Broadway is no secret. In fact, those of you who fall into that category might think that including it in a series on cheap stuff in Vancouver is like including Golden Girls in a list of the best TV shows of all-time: too obvious to mention. To you people, I say "pish posh!", and I say it for two reasons. First of all, new people move to Vancouver every day, and they deserve to know about Bon's. Secondly, it is at least a little bit possible that there are veteran Vancouverites who have yet to hear about this joyous place.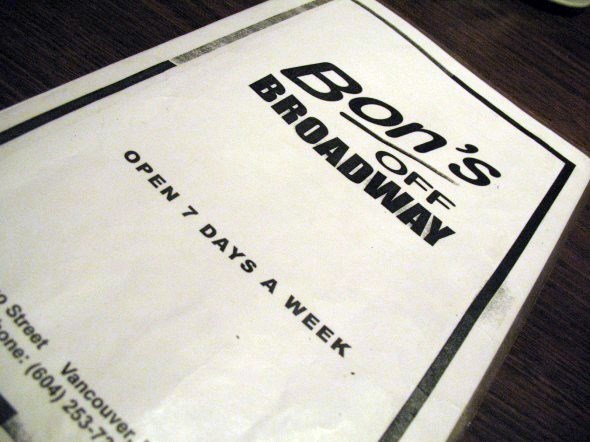 What's so great about Bon's, you ask? Simple: $2.95 all-day breakfast.
Yeah yeah, there are other $3 breakfasts in town. Trust me, none of them stand up to Bon's. Here's why:
Reason #1: Bon's will probably not give you a tummy ache. Or at least not as bad a tummy ache as most cheap breakfasts will give you. Yes, it is greasy, but it's real food!
Reason #2: they allow substitutions and don't charge extra! Don't eat meat? Get extra potatoes or mushrooms or tomatoes instead. No fuss, no muss.
Reason #3: the staff is friendly, efficient, and awesome.
Reason #4: dependability. You know how other restaurants start off cheap until they get popular and then jack up the prices? Not Bon's! The price has been the same for at least 15 years.
Reason #5: ambiance. Bright yellow walls, graffiti, and posters for the worst movies of all time. What more could you want?
Reason #6: portions. Most of these other $3 breakfasts have a measly egg, a sad piece of toast, and maybe some hash browns and a slice or two of bacon. These guys fill your plate with 2 eggs, 2 pieces of toast, meat (if you want it), and hash browns filling in all the empty spaces on your plate. You will be full for hours, trust me.
Check out this overflowing plate of food that my breakfast date Keri can't wait to eat: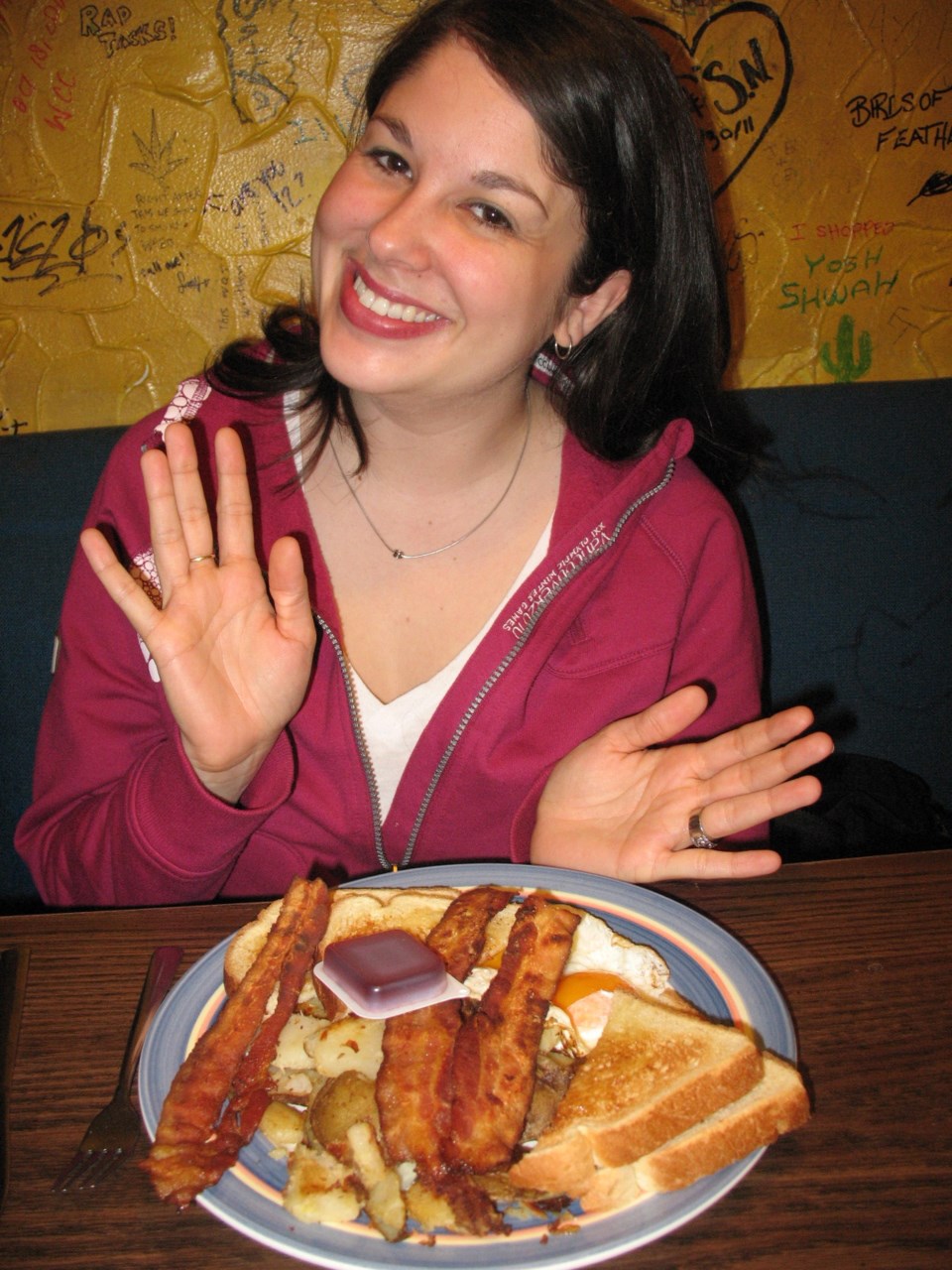 Some key things to expect from your visit to Bon's: there will be a wait if you arrive at peak slacker breakfast times, but it's never too long, so don't fret. Coffee and tea aren't included in the breakfast special, and you can help yourself to refills from the station in the middle of the restaurant anytime.
Last but not least, get ready to dine with a major cross-section of Vancouverites - everyone loves Bon's!