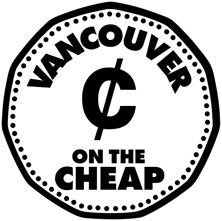 If you were to create a Venn diagram where one circle was labeled "cheap" and the other labeled "awesome", the middle point where they cross over could be labeled "Vancouver on the Cheap". In other words, this is a weekly series on things to do and places to go in Vancouver that fall into that magical category of being both cheap and awesome.
Got a cheap-living tip you'd like to share? Send it in here or tweet it to @andreaxuaxua (#cheapthing)!
It's getting into summer, and we all know what that means: moving season! Who knows why, but it seems like everyone moves when it gets sunny out. Add to that the city-dweller's eternal dilemma of how to pick up or drop off a large piece of furniture when none of us own cars, and this is how moving companies make their racket. Enter Truck Please. It's a different kind of moving system: you post what you need to move and companies or individuals post offers of what amount they'll do it for. Then you pick the best deal and go! Check out a recent move full apartment move here, or a longer-distance, last minute couch move here.