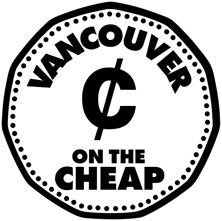 If you were to create a Venn diagram where one circle was labeled "cheap" and the other labeled "awesome", the middle point where they cross over could be labeled "Vancouver on the Cheap". In other words, this is a weekly series on things to do and places to go in Vancouver that fall into that magical category of being both cheap and awesome.
Got a cheap-living tip you'd like to share? Send it in here or tweet it to @andreaxuaxua (#cheapthing)!
If you're anywhere near the internet (or Main Street) in Vancouver, you probably already know about The Fox Cabaret. Main Street's little porn-theatre-that-could actually couldn't and now is owned and operated (and cleaned) by the folks behind The Waldorf. This is good news for many reasons, including the fact that they are launching with a whole series of cheap events! Ice Cream Social with FREE cover is back every Monday night, as well as a host of $10 events: Sunday Service (improv comedy night), and concerts by the North Americans (April 4), and The Gay Nineties.
2321 Main Street