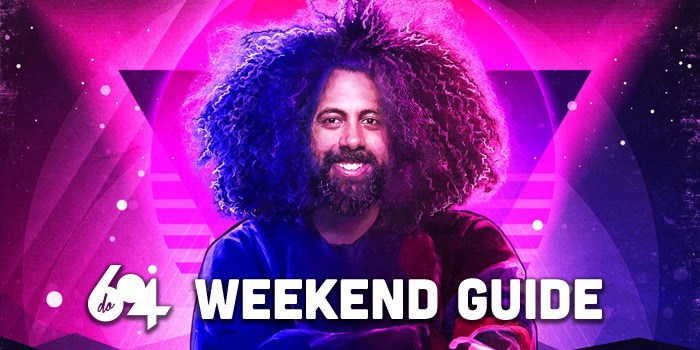 Vocalist, beatboxer, musician, comedian and an improvisor. Is there anything Reggie Watts can't do? Be prepared to get blown away by his formidable voice and looping pedals.
But this is just one of the 27 top things to do this weekend, as picked by our city's #knowfun Selectors at Do604. Here they are...
Thursday April 6
Mayflower Madame at The Cobalt
Lose yourself in their dark and distinctive blend of psychedelia, shoegaze and post-punk.

Frank Nitt at Alexander
Drawing you in with masterful rhymes and catchy hooks. 

The Zolas at the Vogue
Flashy grungy guitar with stirring rhythms and wavy fluid piano melodies to tie everything together.

Helms Alee with Waingro at The Biltmore
City and Colour at The Queen E
Friday April 7
Secret Signing with Bad Animal and Douse at The Fox
It'll be our little secret if you enter to win tickets! 

Vanessa Carlton at The Rio
Fall in love with her hauntingly lush melodies and aesthetic vibes.

Creative Mornings with Wil Aballe at SFU Woodward's
Get a little creative and indulge yourself on how to remove barriers between everyday life and art.

Black Joe Lewis & The Honeybears at Fortune
Eraserhead live score at Merge
Saturday April 8
Brian Wilson: Pet Sounds at The Queen E
Be sure to catch Brian Wilson's final live performance of Pet Sounds before it's too late!

Jenn Grant at The Biltmore
Get lost in Jenn Grant's melodious storytelling that's fluttering with psychedelic folk.

The Velveteins at The Cobalt
Grab your sunnies out and bask in their warm beachy vibes.
Arctic Moon & Indecent Noise at Harbour Event Centre
Sunday April 9
Reggie Watts at The Vogue
Blurring the barriers between comedy and music, he'll take you on a wild ride with his lyrical approach.

Courage My Love at The Biltmore
Meet the power trio of punky pop, and alternative metal. They'll leave you feeling uplifted and wanting more.

Jack Broadbent at St James Hall
He'll be killin' it at St. James Hall with his slick guitar licks and soulful voice.
10th Annual Nifty for Fifty Indie Designer Sale at Heritage Hall
All weekend 
Snowbombing Canada at Sun Peaks
Have a great weekend checking out these events! You can always head to our Vancouver Events calendar, powered by Do604, for a full list of our recommended things to see and do in Vancouver.