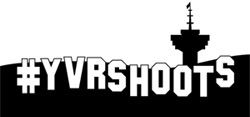 This series had its genesis when I began photographing Vancouver area location shoots in the summer of 2010 to get over a post-Olympics funk. Film and TV productions like Mission Impossible: Ghost Protocol, Fringe, Supernatural and Once Upon a Time showcase our city in similar fashion and sometimes put a celebrity actor or two in the frame. You can find more on my daily blog yvrshoots.com
The second season of sci-fi summer hit Falling Skies takes place three months after Noah Wyle's father of three boys boarded an alien spacecraft in a bid to protect his middle son. It's said to be an even darker look at the trials and tribulations of a small band of insurgents fighting against an occupying alien force which has killed most of the world's adults and captured their children. So it's appropriate they filmed it in Vancouver over the fall and winter durng our Rainocalypse, instead of in the Toronto area over the summer and fall in the mainly sunny weather of season one.
Noah Wyle (from ER) is former History professor Tom Mason, the civilian second-in-command of a Boston insurgent group named after the 2nd Massachusetts of the American Revolution and made up of about 300 fighters and civilians. Mason, whose wife was killed in the initial attack, has three sons --  Hal, played by Drew Roy, and Ben and Matt, played by  Connor Jessup and Maxim Knight.  Middle son Ben has been captured by the insectoid multi-legged aliens known as Skitters and harnessed. These harnesses are attached to the children's spines and act as some kind of biomechancial device that allows the aliens to control their minds. Much of the first season is spent trying to get Ben back and to figure out how to remove his harness without killing him. But even when they do get the harness off Ben, it's clear he's not free from alien mind control. And that's why his father boards the alien spaceship in the season one finale to find a way to protect Ben and stop the harnessing of kids.
This is the family show in a post-apocalyptic setting that legendary director Steven Spielberg had envisioned. Other key civilians are Moon Bloodgood as pediatrician Anne Glass and Seychelle Gabrielle as Lourdes, who've formed a makeshift medical clinic for the group. Will Patton is Captain Dan Weaver, the military leader of the 2nd Mass and Mpho Koaho as Thomas (a former Boston cop) and Peter Shinkoda as Dai are two of its best fighters. Jesse Schram is Karen Nadler, who starts off as Ben's girlfriend and fellow scout until she is captured and harnessed. Sarah Carter's Maggie takes her place on the frontlines of 2nd Mass and maybe as Ben's girlfriend too in the upcoming season.
Maggie happens to be the survivor of a gang of marauders headed up by Colin Cunningham's charismatic and wickedly funny John Pope, an ex-con who causes mayhem wherever he goes, nicknaming Tom Mason, "Papa Smurf"; Karen, "Sexy Freedom Fighter"; Hal. "Strapping Young Man"; Anthony, "Black....Looks Like a Gangbanger"; and Dai, "Oriental of Some Kind" when they're briefly in his custody early on. No one has better lines than Pope in this series, like his protest, "What am I? Canada", when his 2nd Mass captors insist he go unarmed on a sortee. Here is Cunningham in character as John Pope on set in Vancouver.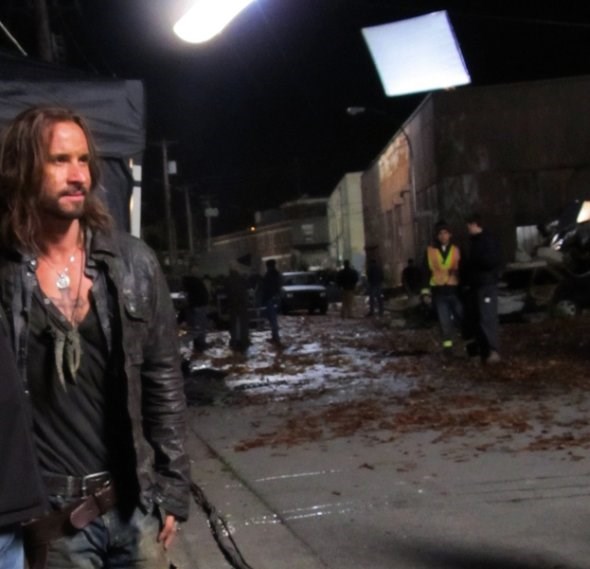 At the Falling Skies panel at the Emerald City ComicCon last Friday in Seattle, new showrunner Remi Aubuchon (an SGU Stargate Universe writer/producer) and cast Colin Cunningham (SG-1's Major Paul Davis) and Drew Roy talked about the upcoming second season and showed a three-minute teaser The Resistance Continues.
Noah Wyle's Tom Mason has not been seen or heard from in three months. Many of 2nd Mass have died as they fled the Boston school of the first season  and began a long march to Charleston, South Carolina. Ben has joined the fight with older brother Hal against aliens but they butt heads in their father's absence over who's in charge.
Ahead of production, second season showrunner Remi Aubuchon had to hire a new writing team for the 10-episode second season. I've heard some whispers about the quality of the scripts in the upcoming season but this is a tough series to write for, presented entirely from the viewpoint of the characters with no flashbacks or cutaways to the aliens whose intentions are being revealed ever so slowly. Apart from Skitters (who are harnessed just like the children in their care), we've met Mechs (mechanical attack drones) and their masters, the grey-skinned aliens who look like tall skinny versions of the aliens in Close Encounters of the Third Kind.
But it's the production of the series that presents the biggest challenge. With no studio, Falling Skies went on  location for every day of filming for four long months all over the Vancouver area. It seems there was a 2nd Mass base camp in North Vancouver under the 2nd Narrows Bridge, but it was nowhere near as convenient as having a basecamp in a school.
Remi Aubuchon started scouting Falling Skies locations early last October in the rain, with several months of rain to come. On October 17th, the second season cast of Falling Skies came together for a table read ahead of filming, with our own Ryan Robbins of Sanctuary excited to be "hanging with this rag-tag crew of misfits". Colin Cunningham returned the favour, tweeting a photo of Connor Jessup, himself and Ryan Robbins on set, with the caption, "Hanging with these two knuckleheads last night".
When I finally found a Falling Skies set near Main & Terminal in Vancouver on November 1st, I heard Ryan Robbins's voice way off in the dark. I couldn't make him out but later overheard his animated conversation with Colin Cunningham in a black tent near where spectators watched the action. It's here that Cunningham walked right up to us to pose for photos with fans and chat for a bit. Eventually the cold drove me away, but those who stayed on saw some spectacular fireball explosions, with flames so big they scared cast and crew alike, who hadn't expected either their volume or magnitude.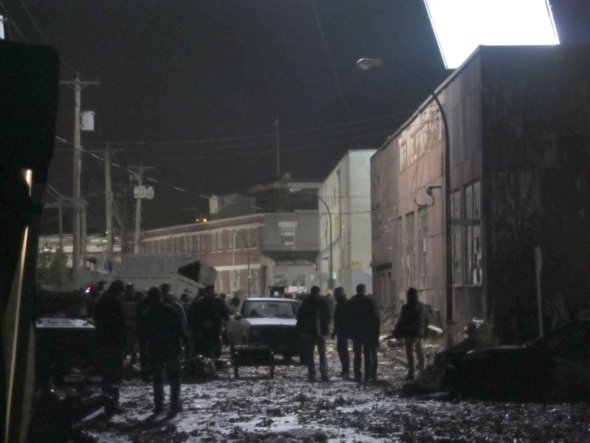 A week or so later, I walked up to the Kwantlen First Nation roadblock on Brae Island near Fort Langley to snap a few photos of the 2nd Mass calvacade parked in the distance. Daytime filming appeared to be further on past a bend in the road.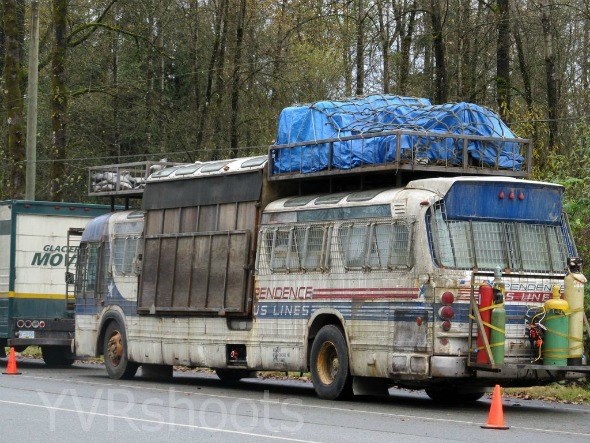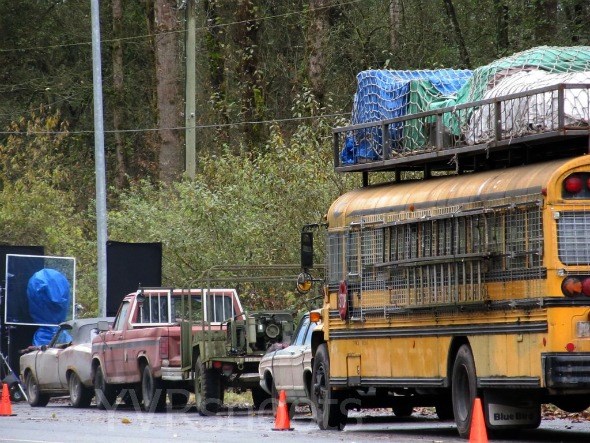 Apparently, the shoot on Brae Island was not without excitement. Someone told me later that a body washed up on shore at 3 a.m. one night and crew had to make room for the coroner, which used some of the Falling Skies lighting to examine the corpse. This was only one of several long nights of filming out on Brae Island, so long that production assistants got in a accident driving home and were put up in a nearby hotel for the remainder of the shoot.
Nobody found a Falling Skies set over the next little while but Ryan Robbins kept us informed, tweeting about filming in the "freezing cold, pouring rain and a dark, dark night.." And later about "wind blowing, tents flying....a typical day on the Vancouver set of #FallingSkies." But whatever the conditions, "them Skitters gonna get some anyway." On that everyone agreed.
On November 22nd, someone spotted Falling Skies out at Boundary Bay Airport on what was described as a "futuristic set", but that proved too far and possibly too private to check out. I did find them again near the end of November filming inside the Terminal City Ironworks complex in east Vancouver and caught a glimpse of a 2nd Mass bus parked inside. Local Falling Skies fan Sean Koo returned that night to meet Drew Roy, Connor Jessup and Sarah Carter outside doing a scene with burning cars.
The next day others spotted burnt-out cars at a Falling Skies set on Raymur at a Hastings underpass in the Downtown Eastside. From there returned to 2nd Mass base camp under the 2nd Narrows Bridge. That weekend in early December, cast and crew drove up to Whistler to catch a screening of Marilyn the Movie at the Whistler Film Festival starring Ryan Robbins, who later called the show's cast and crew "hands down some of the coolest cats on the planet."
Heading up to the Christmas hiatus, young Max Knight decorated a Christmas tree outside the hair and makeup trailer. And I found a Falling Skies circus on private Metro Vancouver Ports land. From the other side of the railroad tracks, I could see vans coming and going from the set on the waterfront near BC Sugar but that's as close as anyone outside of production would get. Then, on December 15th, I finally found an accessible Falling Skies sett in a Canada Way business park near the BCIT campus in Burnaby. I sat up on the hill in the cold on damp grass to watch Drew Roy and Sarah Carter and their big guns film a scene.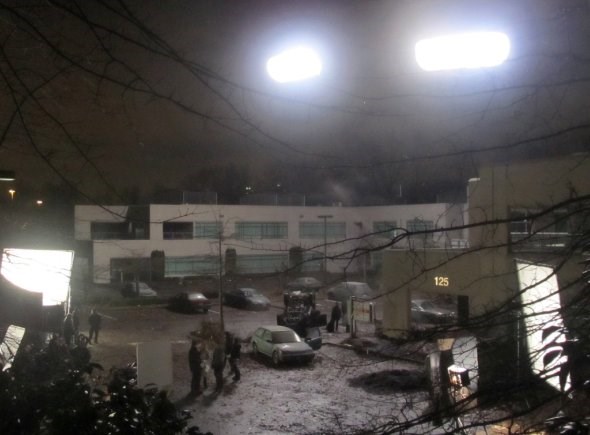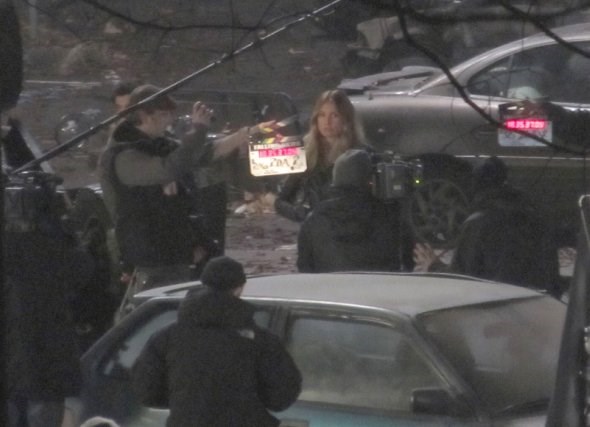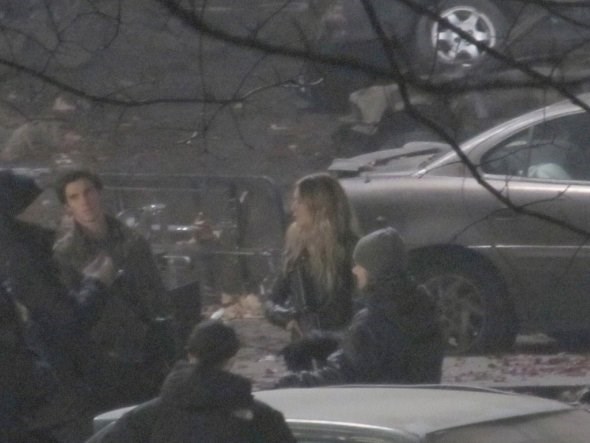 Some crew had headed out to Riverview Hospital in Coquitlam that night to set up the next location shoot, where local actor and stunt coordinator James Bamford would join fellow Stargate alumni for a little Falling Skies action. Coming up on the holiday hiatus, crew was crazy tired. Some had been working from eight up to 13 days straight. Meanwhile, Colin Cunningham made Christmas cards for every fan who asked for one.
Falling Skies resumed filming on January 5th this year, with the first day of shooting episode six. On January 16th, they returned to Riverview Hospital in Coquitlam for a much shorter shoot than normal. And then again about a week later for big 2nd Mass battle scenes "with them nasty E.T".
I missed another exterior scene that month at the Terminal City Ironworks complex in east Vancouver. This one in daylight with the tough-to-find Noah Wyle, Moon Bloodgood and Will Patton on set. I got there just after they'd gone back inside TCI except for Colin Cunningham in costume as John Pope, who gave us a wave as he strolled down Victoria Drive to his trailer.
You can't say I didn't try to find Falling Skies. Some international fans and bloggers got invited in on January 27th to "Shake hands with a Skitter!" I could see the Falling Skies circus set up on the PNE grounds and enjoyed a vicarious set visit by reading tweets from bloggers at ThreeifBySpace.com and WormholeRiders News Agency.
I was determined to find their locations for the last two episodes of season two because of a certain guest star -- Terry O'Quinn, aka Lost's John Locke, as a former history teacher and Tom Mason's mentor, unexpectedly photographed in military fatigues on set.
On February 7th, Falling Skies finally came downtown, setting up at Costco near BC Place to film the first day of episode nine, but the set was in underground parking. It didn't seem worth returning to that long shoot (scheduled as a 14-hour camera day it turned out to be 16 hours or more), but some fans did and found ten cast members and almost a 100 extras milling about in between scenes.
From downtown Vancouver, Falling Skies decamped to an empty new building complex in Surrey which the developers couldn't afford to complete. See the photo below and note the 2nd Mass station wagon parked on the right, the same one I photographed on Brae Island.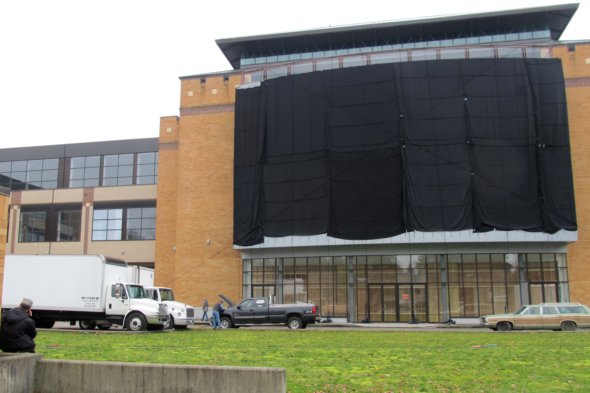 After almost two weeks in Surrey, Falling Skies returned downtown to Costco underground parking to do big battle scenes for its season finale directed by Greg Beeman. It proved to be another long 18-hour shoot, wrapping around 4:30 a.m., but this time I decided to go check out all the cast and hundred or extras milling about the tents under the Georgia Viaduct. I knew I'd run out of time to find exterior scenes. It turns out Noah Wylie, Moon Bloodgood, Drew Roy, Connor Jessup, Maxim Knight, Will Patton, Sara Carter, Mpho Koaho, Peter Sinkoda, Colin Cunningham and Ryan Robbins were all on set but I only spotted two cast members among all the uniformed extras. As I stood on the sidewalk, Sarah Carter brushed past me from behind, wearing a big down jacket. And then walking towards me, who else but Colin Cunningham? There's a certain symmetry to Cunningham being the only Falling Skies cast member I met: both at the beginning and at the end of shooting here.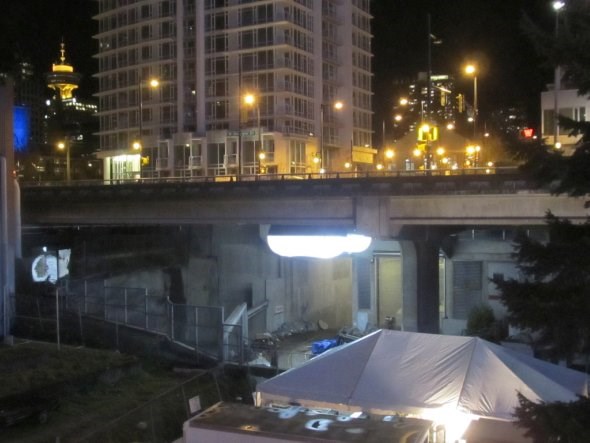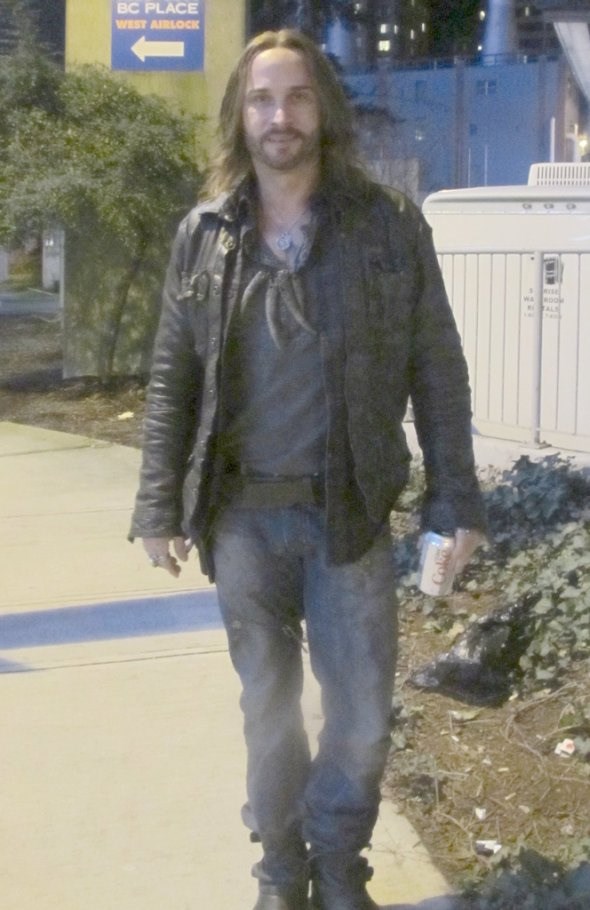 Lucky Falling Skies fan Shannon Meade from New York State had won a walk-on role at the Costco shoot, a background role later upgraded to a speaking part, with one line to say while handling guns alongside Sara Carter's Maggie. Here she is in her soldier's camouflage uniform, with corporal decal Reddy, posing with cast Peter Shinkoda, Mpho Koaho and Ryan Robbins. She also got a photo with Drew Roy during her nine hours on set, which she wrote about in a guest blog post on Three If By Space.
From February 23rd to the end, Falling Skies filmed on a closed set in North Vancouver which featured the inside of an alien ship, as showrunner Remi Aubuchon promised at Emerald City ComicCon a week ago. Jesse Schram flew in for the final days and the wrap party, where Aubuchon hoped to introduce a new dance, the Skitter Shuffle. The final day of shooting on Leap Day extended well into the morning of March 1st, with Jesse Schram tweeting "Maaaaaadnessssss" at midnight and then grabbing some cake to eat in her trailer around 4:30 a.m Two hours later, Ryan Robbins tweeted he was about to shoot his final scene.
Controlled chaos seems to be the story of Falling Skies for its entire second season of filming here. Controlled chaos which led to extreme bonding. The weekend after filming wrapped found Colin Cunningham, Drew Roy and Peter Shinkoda skiing together up at Whistler, proof that this cast is a family like no other. No doubt that will show on the screen again this summer.
The two-hour second season premiere of Falling Skies airs June 17th on TNT.
**************