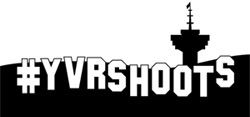 This series had its genesis when I began photographing Vancouver area location shoots in the summer of 2010 to get over a post-Olympics funk. Film and TV productions like Mission Impossible: Ghost Protocol, Fringe, Supernatural and The Killing showcase our city in similar fashion and sometimes put a celebrity actor or two in the frame.
Vancouver as Yellowknife. That's a first. Upcoming CBC adventure series Arctic Air works on two episodes at a time, filming the exteriors in Yellowknife for a week and the interiors on Vancouver sets for two weeks. Walk into these sets out in Aldergrove and you'll feel like you're in real-life Yellowknife institutions like Bullock's Bistro and The Explorer Hotel, or flying in a cramped, ramshackle Buffalo Air DC3.
Years ago,  I experienced all three: flying up to Yellowknife on a prop plane with someone's household goods in the back; staying in The Explorer (long before Will & Kate made it famous); and walking very quickly in sub-zero temperatures down the hill to Bullock's Bistro, where everyone signs their name -- on walls, on tables and on the bar.
Is this the CBC's next Beachcombers? Adam Beach, whose American credits include big feature films like Cowboys and Aliens and Flags of our Fathers, and Pascale Hutton, who sang beautifully on Sanctuary's Glee-meets-The Exorcist episode last week, hope their new series will represent Canada's North to the world as well as The Beachcombers did with the West Coast. Although perhaps not for as long. Beach looked taken aback at the thought of matching The Beachcombers record of nineteen seasons. In Arctic Air's 10-episode first season debuting on January 10th,  Beach is the headstrong son of the now-dead partner of a renegade prop airline, who after a decade down south returns to Yellowknife where he reunites with his childhood friend Hutton, whose TV father Kevin McNulty is the very much-alive and cantankerous other partner of this dysfunctional two-family business. The fourth lead has to be the place itself. "Yellownife is another member of our cast," Hutton told me.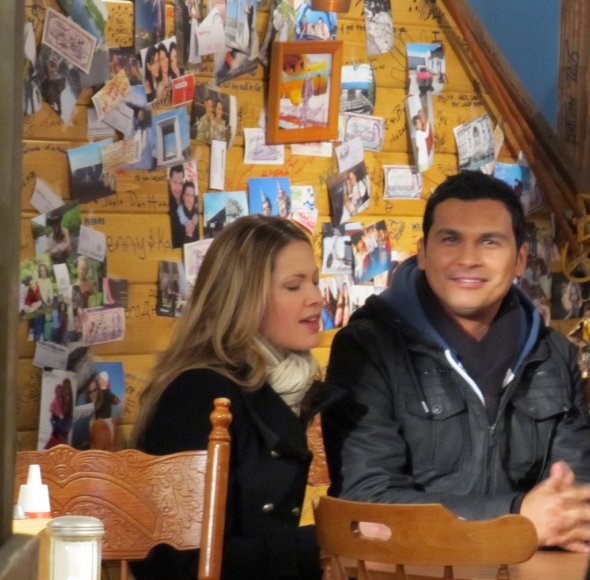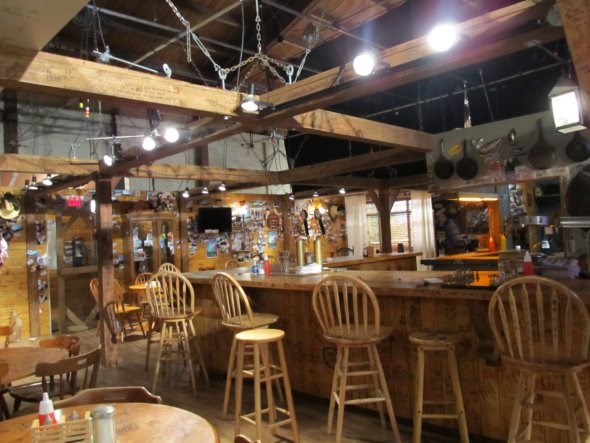 Since Arctic Air owes its inception to the success of documentary series Ice Pilots NWT, I expected filming of the new drama series to be done up north too.  CBC Live in Vancouver at the end of September seemed like my only opportunity to see the show's star Adam Beach.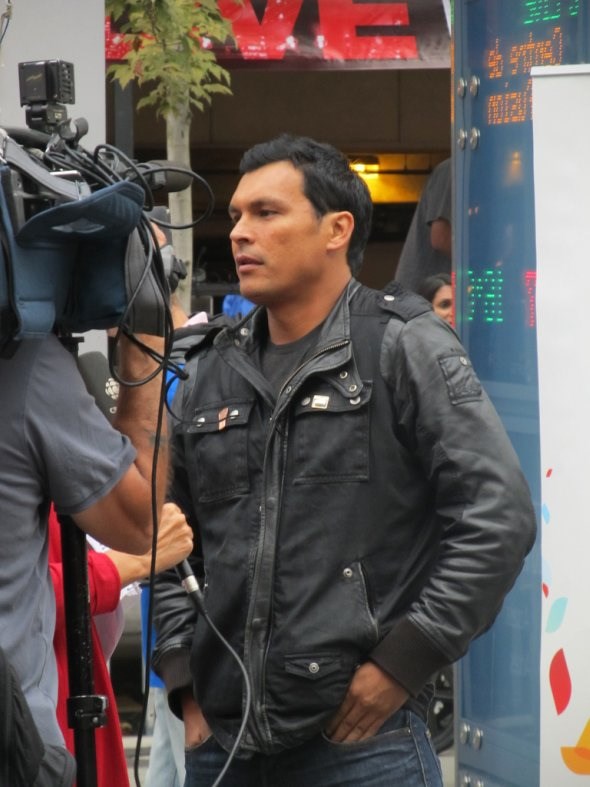 Of course I didn't take into account the harsh conditions of filming in the far north, where frozen camera lenses crack in the extreme cold and cast and crew can get lost in the whiteout of a blizzard. Turns out, Arctic Air is doing the bulk of its filming here, beginning right after Labour Day and scheduled to end in early January. People have spotted their APL production signs at the Pitt Meadows and Langley airports, as well as Fort Langley and in Coquitlam near the Lougheed Mall.  Last week Arctic Air even made an unexpected trip downtown when it needed Vancouver to be Vancouver at a two-day shoot at the Woodwards' Redevelopment complex in Gastown. The prop Vanny's cab parked in the courtyard is a bit of an anomoly in our cityof hybrid taxis.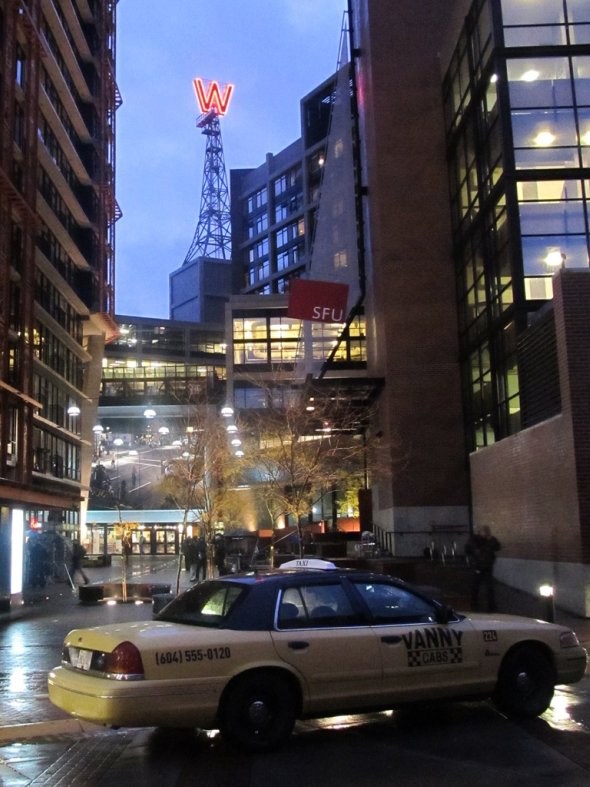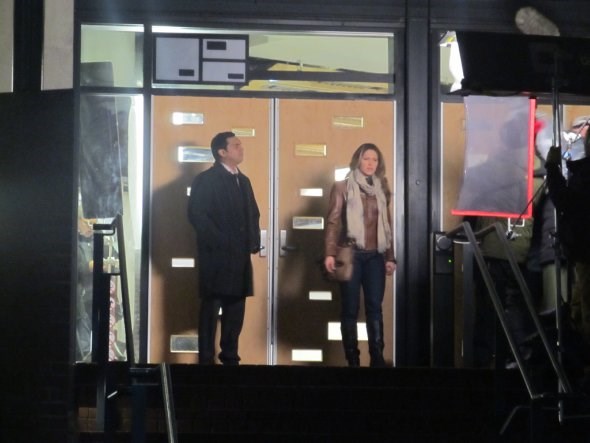 Adam Beach and Pascale Hutton did a dimly-lit exterior scene of them entering SFU's Goldcorp Centre for the Performing Arts for the aptly-titled episode, Vancouver is Such a Screwed Up City. The show's RED cameras will capture it perfectly in the rainy gloom of  that night where mine didn't.
Arctic Air executive producer Gary Harvey later told me how thrilled the cast was to be downtown for once and not an hour's drive away in Aldergrove where the permanent sets are. I got to experience that lengthy drive myself  this Tuesday, albeit on a black luxury bus packed with media of all types heading out for a set tour.
It began in the DC-3 fuselage, with too many of us crammed in to even have a hope of hearing what Harvey, Beach and Hutton had to say. Behind me, Marketplace host Erica Johnson pronounced the aircraft unsafe, getting a big laugh. Clearly the DC-3, purchased in the U.S., hadn't been airborne for years but that doesn't matter for on-the-ground green-screen flying scenes. A removeable cockpit is rolled away and green screens put in front of the actors who must pretend to know the fine art of flying a DC-3. Ahead of filming, cast did fly with real-life Buffalo Air pilots to get an idea what it's like navigating those cold, clear northern skies, but the idea of Beach piloting a real prop plane got another laugh from Hutton.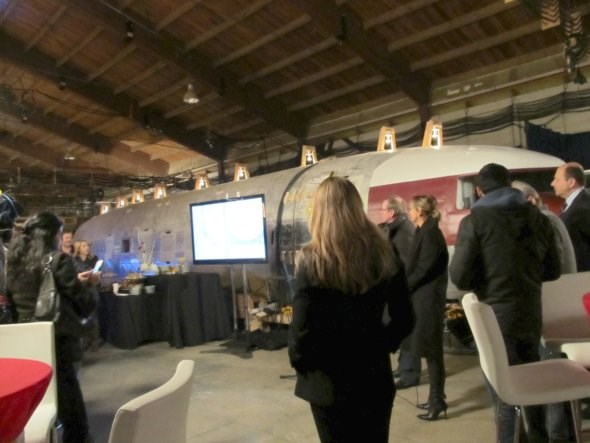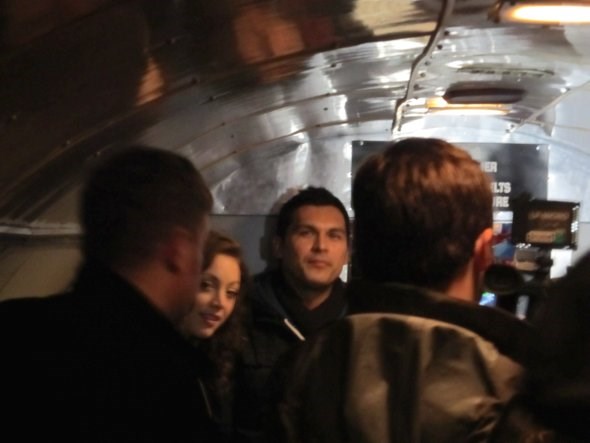 That's Leah Gibson, who plays Candy from the hotel reception desk and is Adam Beach's real-life girlfriend, peeking through the media throng. Next up on the tour, Bullock's Bar -- a much roomier version of the real thing but with all the homey touches like a stuffed deer sporting a hat and a red thong, as well as postcards, photographs, Yellowknife Northern Festival posters and Northern-men-make-better-lovers and No-clothes-beyond-this-point bumper stickers. Harvey invited us to add to the ambience with our own autographs. I later snapped a photo of Globe and Mail TV critic John Doyle's signature on the bar, not knowing  that fellow TV critic Bill Brioux had signed Doyle's name in fun.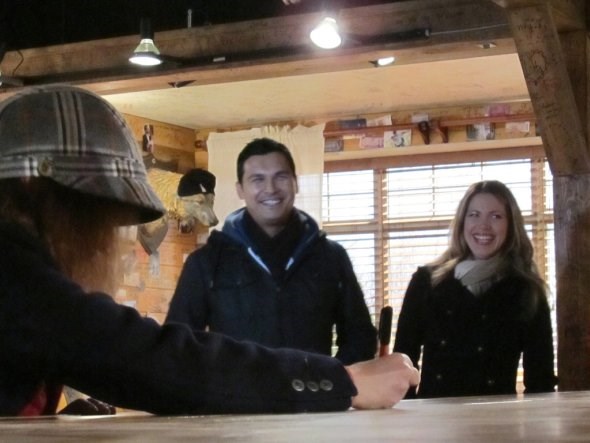 The antler chandeliers and other northern touches in the hotel set looked vaguely familiar from my stay at The Explorer but Arctic Air's Frontier Hotel is much more upscale befitting all the new money flowing into Canada's North.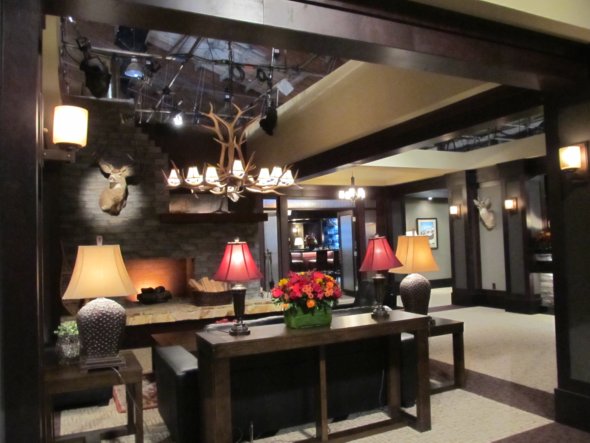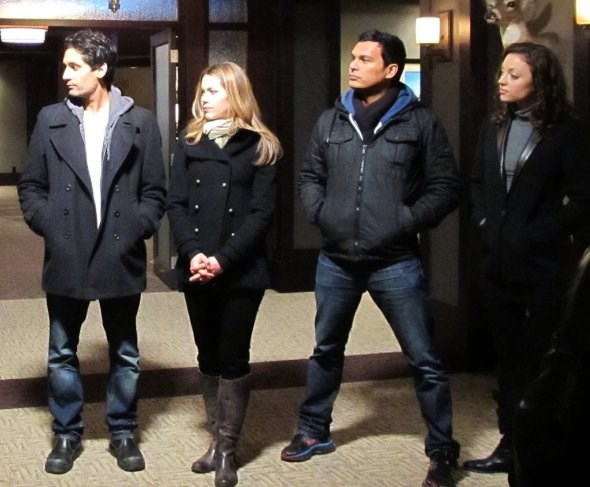 New money brings new immigrants. On the far left of this foursome is Stephen Lobo who plays a rookie pilot from India, part of the yearly fresh crop of people from around the world flocking to this boomtown. Most will take the next plane out when they confront the reality of living in this land of harsh extremes.
At the opposite end of the luxury scale to the hotel, check out Arctic Air's office set, where Beach entertained us by dancing with a mop and pail like a Disney cartoon.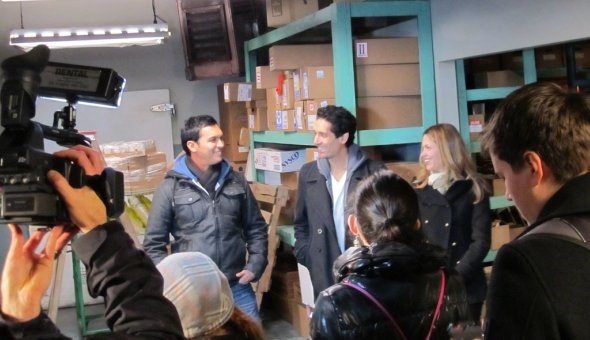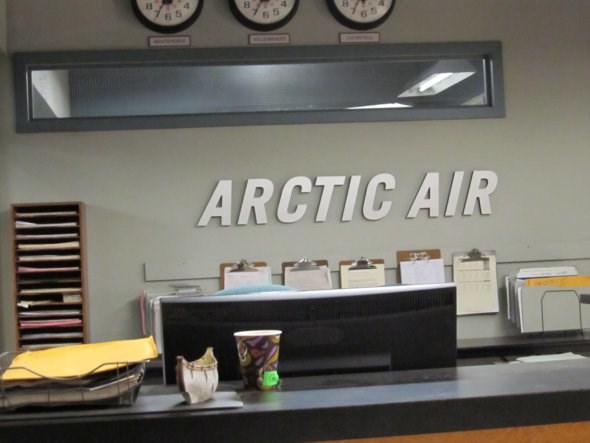 Nobody has as much fun on set as Adam Beach to the bemusement of his co-star Pascale Hutton, who's apparently not as keen as him to get started on their on-screen romance, joking that it won't happen until season twelve at least. Something to look forward to.
Arctic Air debuts January 10th, 2012, airing Tuesdays at 9 p.m. on CBC.
**************
Follow Susan on Twitter at Twitter.com/SusanGittins, watch her photo stream on her Flickr for daily updates and watch V.I.A. for more from her #YVRShoots series!