Fans of one of winter's most comforting sweet drinks have something delicious to look forward to in the coming weeks - 106 things, to be exact.
That's because Vancouver's 12th annual Hot Chocolate Festival is taking place Jan. 15 through Feb. 14, 2022, and this year's tempting event features a staggering 106 hot chocolate creations at 67 participating locations (from 44 businesses) across Metro Vancouver.
The Hot Chcolate Festival calls participating bakeshops, cafés, and restaurants their "Chocstars," and it's easy to see why. Year after year participants tend to pull out all the stops to come up with their Hot Chocolate Festival drink creations, working in unusual ingredients, decadent add-ons, revving things up with booze, or making sure plant-based eaters have plenty to enjoy.
For 2022, the Chocstars are bringing their "A" games for sure.
Head to Fufu Café in February to find their Lady Chestnut, which is 28% white chocolate milk infused with English Breakfast tea and house-made chestnut puree, topped with chestnut whipped cream and served with a chestnut-shaped, English breakfast tea-infused Madeleine that has been dipped in white chocolate and roasted almond bits then sprinkled with icing sugar.
Or you can head to Kafka's for their "Drove my Dulce to the Leche but the Leche was Chai" which is a blend of dark and milk chocolate with house-made dulce de leche and a hint of masala chai that comes with a 70% dark chocolate brownie with a dulce de leche swirl - you know, because you need a little more chocolate and dulce de leche in your life, naturally.
The chocolate lovers at KoKo Monk always go the extra mile, and at their West Broadway location they'll be pouring a tribute to jazz legend Miles Davis with their "Chess and Tango," a vegan cilantro dark hot chocolate with pineapple and chili caramel.
Vancouver's Mink, which always flirts with headline-making ingredients and themes for their annual entries, is making "Dr. Gustav Von Mink's Booster Shot for Tranquility Seekers," offering hot chocolate in a syringe to go with these strange times.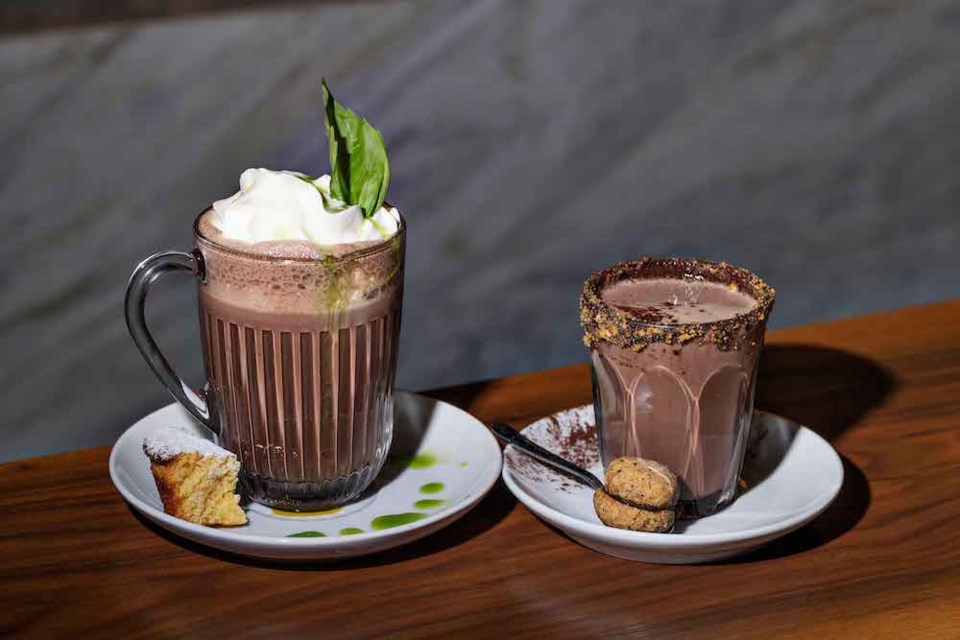 The Italian beverage pros at Giovane Caffe will be making a couple of beautiful hot chocolate drinks, including the "Aria Fresca," which is a basil mint creme dark hot chocolate that's served with a Limoncello Ricotta cookie on the side.
There is obviously a lot to choose from, so use the list and map below to inspire your Hot Chocolate Festival adventures. You'll find particpating venues from West Vancouver to Richmond and down in White Rock, all through Vancouver, and across into Burnaby and Burquitlam, too.
Hot Chocolate Festival 2022 Participants
(T) Takeout Only; (LCS) Limited Cafe Service; (GF) At least one Gluten-Free Option; (DF) At least one Dairy-Free Option; 🌱 At least one Vegan Option; ⏰ At least one branch on one day open late (past 6 p.m).
Check out this handy map of all 2022 Hot Chocolate Festival participants: