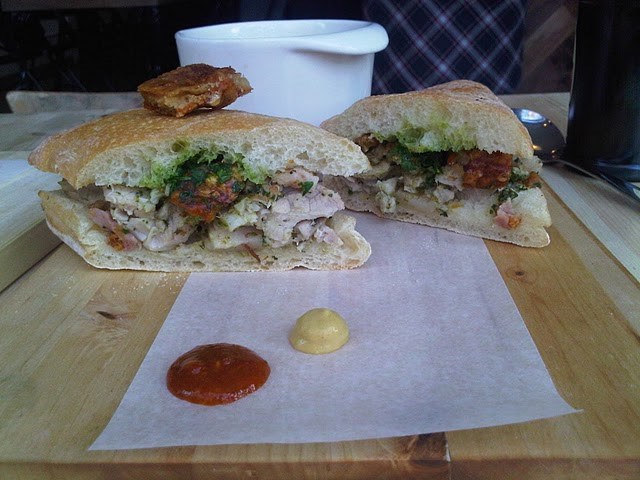 It's day three at Meat and Bread, the new Gastown sandwich shop, and co-owner Frankie Harrington is out meeting the masses.  As openings go, this is an extremely busy one, though Harrington is taking great lengths to meet each patron individually to explain the concept, the menu, and the lack of a debit/credit machine (next week!).  His partners, Cord Jarvie and Joseph Sartor, are both behind the counter, among a deluge of others, each taking part in this sandwich conveyor belt of a system.  At the front of the line is a gorgeous hunk of porchetta, a better indication than any as to the priorities of this place, in case you missed the name.
Porchetta is a commitment.  One does not approach porchetta half-heartedly: when done well, it is something to ponder and reflect upon, each bite steeped with anticipation, paid back in spades with the crunch of its crackling.  Saveur has anointed it the "king of all pork dishes," and we are its humble servants.
Meat and Bread's version ($8) does justice to porchetta's majesty.  The porchetta is carved on order, served on freshly baked ciabatta with a slight touch of salsa verde.  The latter is thankfully given a light touch: porchetta is best served bare, its porcine meatiness swimming in its own juices.  A further drop of both sambal and mustard are spooned onto a wood plank, and served as communion.  This sandwich alone is an opening statement, a bold gesture announcing the restaurant's welcome arrival.
There are other options to be had, but let it be clear: this new restaurant is not called "Vegetables and Sides."  There is a central theme here, one that vegetarians will be leery of.  The menu features a daily sandwich with an ever-changing choice of protein.  The day we visited, a slow-cooked bbq chicken sandwich ($8) was featured, the chicken in its heavy sauce - not quite smoky, more tangy - nestled atop fennel and apple slaw, again served on the ubiquitous ciabatta.  Sides are spare: $4 nets you either a cup of salad or a cup of soup, both changing daily.  Ours was a bean soup in a lamb broth, assumedly made from the remnants of the prior day's lamb sandwich option, hearty and satisfying.  Each, however, pale in comparison to the porchetta, its heavy presence weighing heavily on the already minimal menu.
As the crowd swells further in size, Harrington moves the line away from the door, snaking it along the beautiful wood counter, the patrons peering down at the carving station watching each slice fall to the board.  Most silence themselves in observation, anticipation.  As appreciated as Harrington's hospitality is, that porchetta is the only introduction this newcomer needs to offer.
Joe.
370 Cambie Street