From sizzling hot pot to weekend dim sum brunch, or the hand-held marvels of the Night Market: Richmond's food scene has immense depth and breadth but still has room for inventive status-quo shakers. Enter Bruno, the bold new restaurant inside the equally-new Versante Hotel, a boutique offering in the Bridgeport area in the expanding YVR-adjacent hotel zone.
Bruno is definitely not the kind of restaurant Richmond is used to; while visitors and locals alike have come to understand the area's tremendous wealth of well-executed - and often highly regional - Chinese cuisine and its vast array of global taste treasures, what this newcomer puts on the table veers into fresh territory.
Showcasing hyper-local ingredients (so local, in fact, that some things like the lavender that features prominently in a duck dish are grown on a farm with ties to the restaurant), Bruno isn't even merely a Pacific Northwest restaurant, it's aiming to redefine what it means to be a Richmond restaurant.
The menu at Bruno, overseen by B.C. hotel and fine dining vet chef Will Lew, certainly takes hotel dining to another level. You have some impressive high-quality ingredients, including many with a luxury bent - think foie gras and tomahawk steaks - presented with a bit of theatrics.
But this isn't just table-side salad making; we're talking torching a spicy sauce on oysters for something hot or setting down a cold seafood platter amidst the wafting grey of dry ice vapour, meant to emulate our coastal fog. The aforementioned lavender duck dish is presented nestled in a bed of lavender inside a picnic basket. For dessert, they'll make you creamy and fruity mini popsicles in front of you on an anti-griddle - a pro kitchen toy that freezes things on the spot that TV fans might expect to see Alton Brown demonstrating.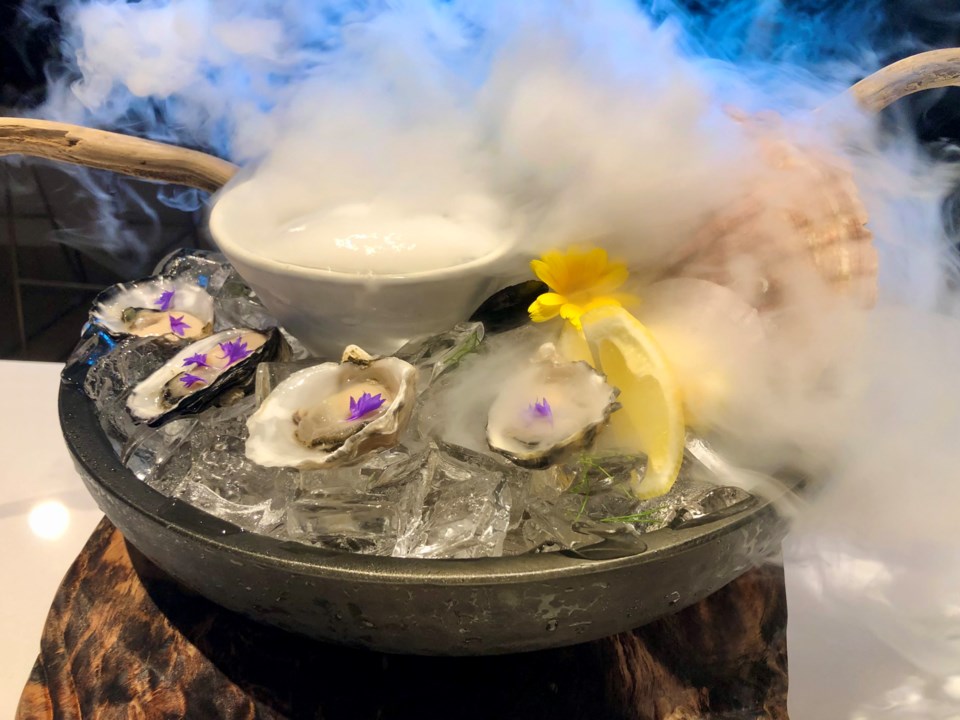 The dishes are designed to be enjoyed family-style, which gives Bruno another opportunity to show off a little. An end-of-summer salad arrives in a large dish, the rainbow hues of stone fruit, heirloom tomatoes, cucumber and edible flowers artfully arranged around a mound of creamy burrata making the whole thing look like a massive mosaic flower. Luckily it's not too pretty to eat, and it also eats pretty nicely - it's a lovely tribute to the season and the bounty of B.C.'s farms and orchards.
You'll interact further with dishes like the foie gras that is finished with a hard sugary shell top, meant to be cracked into a la creme brulee and scooped up with buttery, flaky pieces of pastry that have also been tricked out with foie. It's a bit over the top, but if that is where you begin your dinnertime journey at Bruno, it's a sign of what's to come, and also to pace yourself - indulgence can easily be a guiding force here.
There's also an ongoing air of mystery about Bruno - they haven't yet released menus online, though the restaurant officially opened to the public Aug. 29, after previously being accessible only to hotel guests and media previews. Since it's a hotel restaurant, Bruno does offer daily breakfast and dinner service in its beautiful and modern dining room that features Instagram-friendly spots and fun touches, like orange tin water pitchers and hand-carved wooden pedestals for holding visually exciting dishes. A fun cocktail program and a B.C./European wine list are companions to the food, with promises of future offerings that would be one-of-a-kind for the restaurant (I'm sorry, I was sworn to secrecy).
With a hotel setting, Bruno has a captive audience, but as the condo towers continue to crop up and more hotels move into the neighbourhood, an established special-occasion restaurant will be a welcome feature in the area. Richmond's appetite for high-end dining can also take a bite out of Bruno, and Vancouverites in search of a little entertainment with their meal will find much to savour here.
Bruno is located at the Versante Hotel - 8499 Bridgeport Road in Richmond. Make reservations online.