Before the day I decided to try out their food truck, I'd heard of Mangal Kiss only in passing. Its name seemed familiar, and I'd seen their truck several times at the Food Cart Fest last summer, but I've got a habit of settling for food trucks that have short lineups. I've become accustomed to using my Street Food Vancouver app to find something nearby, and I'm not sure how I even functioned before smartphones and food apps.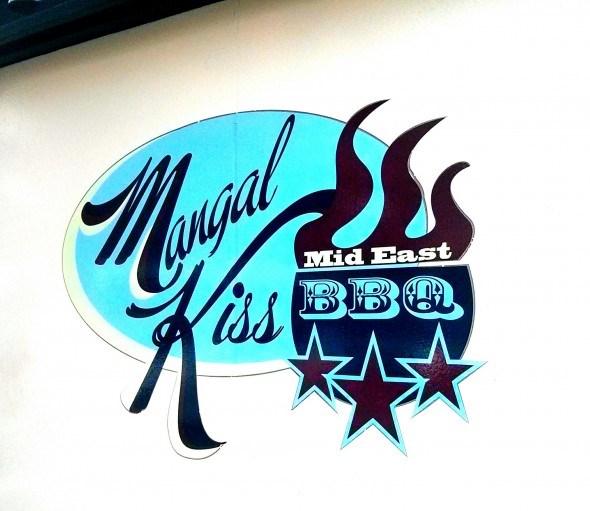 Mangal Kiss was on my way between my work and the chocolate store, set up outside the VAG on Georgia, so obviously I had to make a pit stop for lunch. First impression: super interesting menu. There's chicken, lamb, beef, vegetarian, and a vegan-friendly option, and they all appeared to be made with ingredients with which I rarely get a chance to cook at home. Second thing I noticed: everything is under $10. A super important aspect for whether I'll stop and try anything is whether or not it seems affordable. Since the biggest blackboard featured a lamb kebab for only $8, I figured that must be the best thing they make. I always want the best.
As I waited a few minutes for the lamb to be prepared, I took a couple pictures to pass the time. It was lunchtime in downtown Vancouver, so I expected a fair number of people walking by. However, I noticed that as lots of people walked through the frame of my shots, many slowed down as they approached Mangal Kiss, and several seemed to be as fascinated as I was by the menu. "Oh, wow, they use daikon and a fig vinaigrette in their kebab," one man said to his girlfriend. Those intriguing comments captured the attention of other passersby, and suddenly a gaggle of folk formed around the truck. I was glad to have placed my order when I did, because now the line was getting deep with hungry bellies.
Refraining from using too many superlatives is hard when experiencing something awesome for the very first time. My lamb kebab was huge and looked pretty good, but eating it was altogether another experience. This thing had complexity, with flavours I hadn't ever thought of combining. Harissa aioli, hummus, mint, and zhug (which I had to look up) made the lamb sing sweet songs of delight to my soul. Suffice it to say, this kind of food truck is exactly what reflects the awesomeness of Vancouver: it's multicultural, authentic, adventurous, and worth experiencing all over again. If I can't convince you to try it out, consider that its Urbanspoon rating at time of writing is 96%, on par with the best food in the city. This is one of those early foodie secrets that will eventually turn into a Vancouver fixture, mark my words. Thanks for following! @tonyhajdu