While I try to keep with the VIA mantra of 'if it's not rainbows and teddy bears, it's not going up...' ie no politics, when someone throws in hamburgers to the mix, I just can't pass it up...
Ipsos Reid?  Angus Reid?  How about De Dutch Hamburger Poll...yes the famed pannekoek house not only sells burgers, they're running their own informal survey.  If you ask me this kind of survey is the best, the phone ones are o.k. but yelling "I won! I won!" into the phone is getting a bit old, and answering the door naked just isn't what it used to be.
John Dys the restaurant founder started the poll in 1963, and it ran until the mid 80's but now they are back again.  For $5.00 you get a delightful hamburger and a chance to cast a vote for the party of your choice.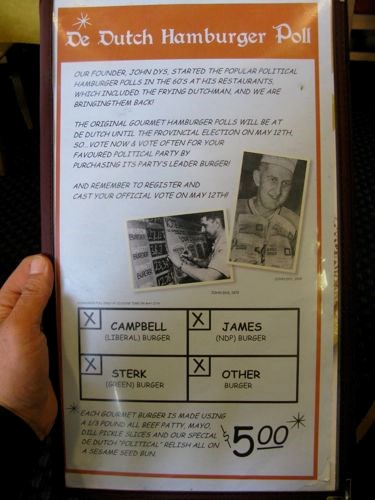 At the De Dutch I went to the NDP and the Liberals were neck and neck...The Greens were getting killed so I voted for them.  I think it's kinda loaded, it's like having the same thing at the Naam w. tofu dogs, I don't think the Conservatives would garner many votes.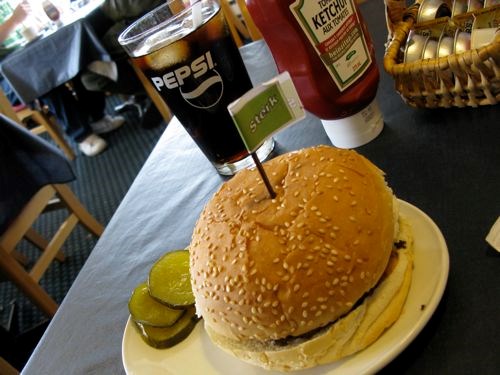 Here's Bob...abstaining by ordering...mmmm.....De Bacon....