Monday is usually a quiet day for restaurants, in fact, it's often the one day a week they're closed, but this year, Valentine's Day - one of the biggest dining-out "holidays" - takes place on a Monday, and Vancouver's restaurants are stepping up big time.
From elegant dinners to indulgent brunches, celebrating love and romance with delicious food while out and about in Vancouver has perhaps never been easier. It seems in 2022 Valentine's Day is getting a lot of love from local chefs and restaurateurs, considering the wide array of options on offer.
Check out a few tantalizing options for Valentine's Day dining out in Vancouver. Though many restaurants are putting on worthy feasts, we're spotlighting some of the most exciting meals you can sit down to in Vancouver to eat with your sweetie.
If you love afternoon tea: Bacchus
Executive chef Montgomery Lau and his talented team have created an exquisite dining option: A Valentine Afternoon Tea. The Bacchus Valentine Afternoon Tea ($65 per person) highlights the royal tradition of high tea with indulgent-worthy delicacies. Available now through Feb. 27, guests can choose between two seatings in the dining room - 2 p.m. and 2:30 p.m. The menu features finely cut gourmet sandwiches, a selection of house-made pastries and sweets, and classic savoury cakes.
Celebrate love day with special features inspired by cinema's famous date scenes, the features are available a-la-carte or as a three-course for $70 per couple with optional wine pairings at $15 per person. The dishes are available from Feb 11 to 14.
If you love tropical vibes: Havana
Heat things up with dinner at Commercial Drive's Havana, where the eats will include things like Albacore Tuna Tostones, Caribbean Curry, and a Diablo Skillet Steak, plus heaps of special cocktails, including the cheeky Cupid's Arrow shot; Havana suggests you order two and send one anonymously to your secret crush.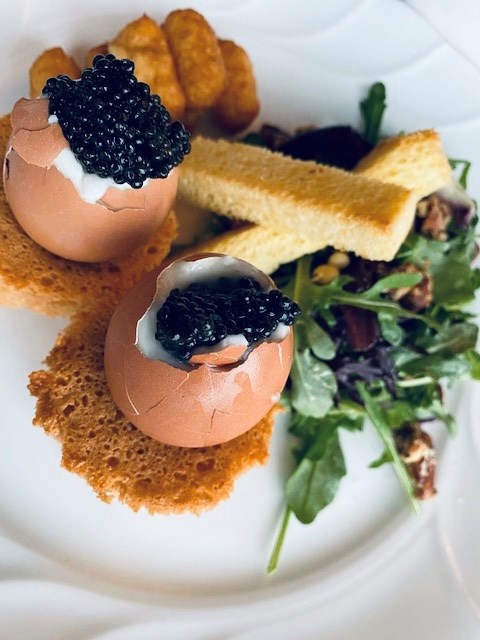 If you love decadent brunches (with views): Five Sails
Wake up and get the V-Day eats going on the weekend, as Five Sails offers a special Caviar Brunch on Feb 12 and 13. Space is limited so reservations are required.
If you love high-end cuisine: Boulevard
This Valentine's, Boulevard Kitchen & Oyster Bar tempts patrons with a weekend of features and on Feb. 14 four courses of opulence. Executive Chef Roger Ma celebrates the regional bounty while implementing woo-worthy techniques that are sure to impress. Boulevard's Valentine's Day menu is available for $145 per person. Vegetarian options will be available upon request. A note: On Feb. 14, the Valentine's Day menu will be the only menu available.
If you love Japanese food: Minami
To celebrate the day of love, Yaletown's contemporary Japanese restaurant Minami will offer a one-day-only Valentine's Day Shokai dinner. Available exclusively on Feb. 14, executive chef Alan Ferrer, pastry chef Nikki Tam, and the team have created a menu featuring bright flavours and artfully crafted surf and turf dishes, Aburi sushi, and an indulgent-worthy dessert.
If you'd love to travel to Italy: Carlino
The brand new Carlino restaurant is ready to show you some amore for Valentine's Day with a couple of options, starting with a savoury and sweet Valentine's Brunch Board for Two, beginning with hot beverages and a round of bubbles. Prefer an evening escape? They'll have a special dinner beginning with a handcrafted Aperitivo cocktail followed by a romance-inspired fai tu (chef's choice) dinner, designed by the chefs and complete with a gift to take home featuring a specially-bottled cocktail and house-baked Venetian cookies - sure to keep the deliciousness going back at home.
If you're plant-based: Mila
Chinatown's Mila, a fully plant-based restaurant will woo veggie lovers with some "throwback" specials, throwing it back to 2021 and their popular Lemon Custard Bar and Lover's Lane cocktail. Punctuate a meal featuring their monthly special, which is a whole roasted cauliflower with gojuchang, or try some of their enduring faves, like the aburi lox oshi sushi, smashburgers, or noodle dishes.
If you love seafood and oysters: ShuckShuck
Seafood lovers, this one's for you: ShuckShuck has a special Valentine's Day menu available Feb. 12-14, featuring a Seafood Plateau Special (6 Naked Oysters, 4 Topped Oysters, Shrimp & Scallop Ceviche, Gojuchang Shrimp Cocktail, Steamed Clams with Lap Cheong, Beet & Fennel Salad & Salmon Rillette). Clink glasses with 15% off bottles of Charme De L'ile sparkling wine.
If you really like sharing: Trattoria
Glowbal's Trattoria (Kits, Park Royal, Burnaby) is counting on lovers sharing everything, including platters of decadent, celebratory food. Their Platter for Two ($95 per couple) has Roasted Rack of Lamb and Brown Butter Poached Lobster Tails served with delectable sides. Finish the meal with something sweet, and, yes, it's another sharing platter: The Love Platter for Two features Cappuccino Mousse, White Chocolate Panna Cotta and Long Stem Chocolate Covered Strawberries. The V-Day platters are available Feb. 11-14.
If you love things spicy: Maenam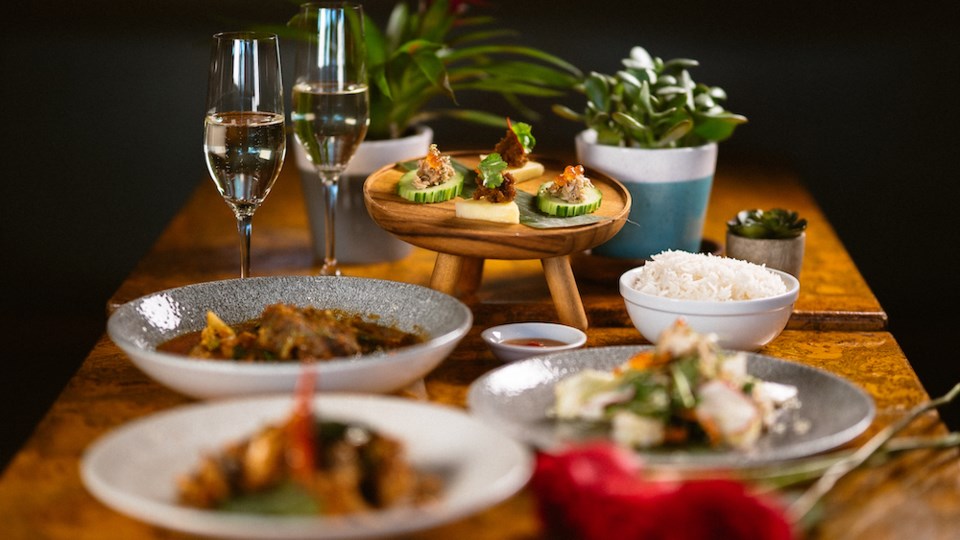 Designed for sharing and packed with bold flavour, Maenam's Chef's Tasting Menu will ignite a spark between you and your perfect match this Valentine's Day. For an intimate dine-in meal, choice courses from the Valentine's Day Chef's Tasting Menu include spicy ahi tuna cupcakes, hot and sour duck soup, banana blossom salad, Massaman leg of lamb curry, and chocolate csemifreddo.