Our friends at Arsenal Pulp Press are releasing a new cookbook! Anastasia Koutalianos from Nadatodo.com and her mother Helen have put together this wonderful book called From The Olive Grove and in case you couldn't tell it contains Mediterranean recipes that involve olive oil. It features family recipes, Mediterranean treats and dishes by 13 top chefs.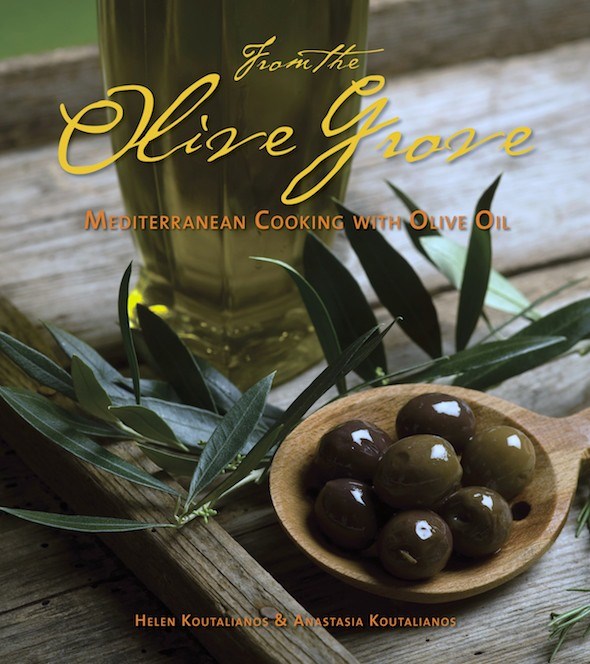 They're having a launch party next Thursday at the Northwest Culinary Academy on Main Street and Anastasia was nice enough to share one of the recipes with us to announce it! Learn about the launch HERE and more about the title HERE and be sure to RSVP for the party before October 6th.
*****
An excerpt from the cookbook From the Olive Grove by moi and mama (meaning Helen and Anastasia Koutalianos)! Published by Arsenal Pulp. Out in October 2010.
Pita Bread
My daughters loved this bread as kids. We would make it for breakfast and top it off with crumbled feta or Kefalograviera, a hard Greek cheese, diced tomatoes, and fresh oregano. Of course, it can also be used to wrap up souvlaki or chickpea patties with fresh veggies drizzled with tzatziki sauce.
1 tbsp quick-rising yeast
½ tsp sugar
1 tsp salt
6–8 cups unbleached white or whole wheat flour
¼ cup olive oil
1 tsp dried thyme (or oregano)
½ cup grated Kefalograviera cheese (or any hard, salty cheese)
Mix yeast with 2 cups warm water in a large bowl. Add sugar and let sit for 10 minutes, or until bubbles begin to form.
Combine the salt and flour in a large bowl. Stir in the bubbling yeast mix and olive oil and combine to form a soft dough. Cover and let rise for 30 minutes. Punch down dough and roll into 6–8 round, flat pieces, about 6–8 in (15–20 cm) in diameter. (Note: Can also make into 2 loaves of bread. If so, skip steps below, and put half the dough in each loaf pan and brush olive oil on each top. Bake at 375F or 400F--depending on how hot your oven is--for 30-40 minutes, or until golden brown. Once cooked, remove from pan and let cool on a rack. Butter those slices and enjoy!)
Heat olive oil in a large frying pan and fry pitas for 2–4 minutes on each side, or until golden brown on the outside and cooked through in the center. Sprinkle with dried herbs and grated Kefalograviera cheese.
Makes 6–8 pitas or 2 loaves.
Reprinted with permission from, From the Olive Grove: Mediterranean Cooking with Olive Oil by Helen & Anastaisa Koutalianos (Arsenal Pulp Press)