There's a shift from the stream of contemporary pop muzak across the sound system and after a brief bit of silence the delicate, distinctive strains of Thai music beckon. Inside the high-ceilinged light-filled restaurant the servers have retreated from the dining tables as a solitary woman, dressed in traditional Thai garb, steps into view and begins to dance.
She turns to each filled table to connect with the diners, who, understandably are perhaps a mix of enchanted and uncomfortable. After all, it's not every day that you sit down at an elegant restaurant in Metro Vancouver that includes this kind of entertainment with your meal.
The meal is, in fact, a feast, done as what amounts to a 13-course tasting menu, showcasing "Royal" Thai food. The restaurant is Baan Lao, which opened in 2021 in Richmond's Steveston area, and while they've had to do some pandemic pivots, the goal has always been to offer a premium signature Thai dinner experience truly like no other you'll find in Metro Vancouver.
Baan Lao is the project of Chef Nutcha Phanthoupheng, who opened the restaurant along with her husband, with an aim to elevate Thai cuisine in tandem with spotlighting incredible local produce and proteins.
The result is a pricey ($190 a person) tasting menu dinner that will reshape your understanding of Thai food - it certainly did mine.
My earliest memories of trying Thai food find me sitting cross-legged on my studio apartment floor with a sweaty styrofoam take-out box of Pad Thai, or sharing mounds of deep-fried noodles coated in a neon orange sticky sauce (Meegrob). In Los Angeles - the U.S. city with the highest population of Thai people - I was spoiled for choice when it came to Thai cuisine, but at the time, I tended to stick to my comfort zone of BBQ chicken, Tom Kha Gai (coconut soup), and the aforementioned noodles.
The thing about Thai food, I've since come to learn in recent years, is that what might strike the palate or the eye as simple is actually an incredible layering of flavours and technique. It's one reason why many home cooks, myself included, have shied away from trying our hands at Thai dishes; the ingredient lists are long and might feature components that require a trip to a specialty grocery store and there are numerous steps in order to build the flavours and the final product. No wonder we turn to Thai for take-out, lunches out with office mates, or jarred sauces to kick up our home cooking.
Baan Lao, on the other hand, draws from a whole other sector of Thai cuisine, the "Royal" tradition, and it's rare to encounter this exacting style of food in a Canadian restaurant. If you thought Thai food was a myriad of ingredients masterfully prepared before, Baan Lao and Royal Thai cuisine might blow your mind.
Though the dishes may be similar to typical central Thai fare, the cuisine follows a set of explicit rules: "First, all ingredients used must be the best and freshest available. Second, all dishes must have bones, pits and stones removed. Third, all flavours must be perfectly balanced, without extremes in any particular direction, including spiciness," describes a Michelin Guide explainer on Royal Thai fare.
To that end, Phanthoupheng deploys things like organic free-range duck from Sumas Mountain Organic Farm in the Fraser Valley and two varieties of organic rice grown in her own family's fields in Thailand. For the Bpet Yang Sauce Gaaeng Phet the duck is prepared sous vide (in an immersion circulator) then finished on a charcoal grill and served with a silken red curry that offers a simmering tingle on the palate, cut by sweet bits of pineapple and tempered by mellowing bites of rice.
Each course is its own kind of delight, whether that's because it is a single morsel that erupts in flavour, like the minced pork amuse bouche to start, or a take on a familiar dish, like Pad Thai, that tips what you know of it into modern, refined, and "wow" territory. Even though I'd had Baan Lao's Pad Thai for take-out before, as part of its "signature" dinner, their Phat Thai Goong is presented beautifully, with a web of egg wrapped around the bundle of tender noodles coated in that crave-worthy sweet-sour-spicy sauce.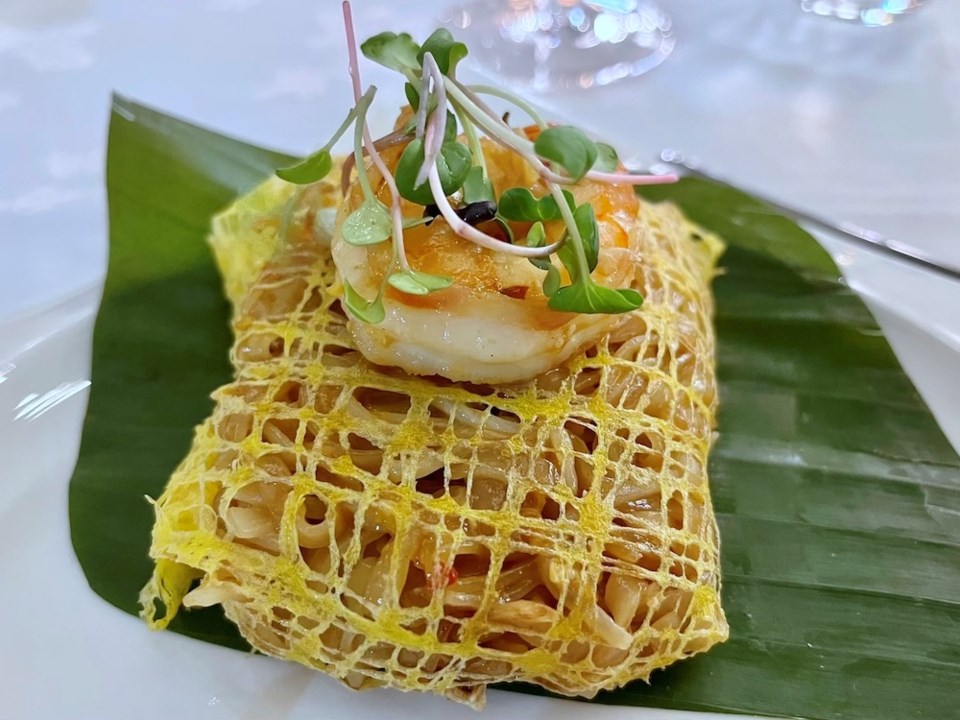 Sometimes Baan Lao stacks the deck with presentation, like when a course comes carried to the table via a sort of yoke contraption balanced on the server's shoulders. It's not smoke and mirrors, though - just a bit of dry ice causing a fog around your morsels of charcoal-grilled organic grass-finished beef tenderloin salad. There's a soup that's heated up with some gear that is like the kind of science lab equipment in use at high-end coffee bars, and the salmon course features Ocean Wise caviar and edible gold.

In between sections are refreshing palate cleansers, and the finish offers some sweet bites, like Woon Gathi, a coconut milk jelly in a fish-shaped mold, sticky rice, and fresh fruit. The total course count is over a dozen, and each one is delivered with a flourish with very traditional fine dining white glove service. Extra touches, like coat check, a personal letter of greeting and a beautiful card signed by the staff upon to bid you farewell, put Baan Lao in that vaunted class of restaurants that is in slim quantity in Metro Vancouver.
Gracious Chef Phanthoupheng will also step out of the kitchen to personally thank you for dining at Baan Lao. The restaurant is the product of the former nurse and cancer researcher's deep appreciation of her girlhood roots in Thailand, her connection to the land and a reverence for food.
As a delightful talking point, Baan Lao's walls are graced with paintings of elephants that happen to be done by an elephant (yes, you read that right). They are by Suda, a world-famous Thai painting elephant.

To take your meal to the next level, and perhaps further deviate from your usual Thai restaurant experience, you can opt to have wine pairings with dinner, featuring selections from B.C. and abroad curated by Master Sommelier Pier-Alexis Souliere. If you're more of a tea person, fear not - they have a list from a tea sommelier too. Tea pairings are an additional $60, wine $80.
Obviously, Baan Lao is a singular dining experience that isn't for everyone, and comes at a price tag most will find prohibitive (dinner for two $380 before tax and tip and without beverages; it's $540 before tax and tip with wine pairings), however, it could easily land itself on any "bucket list" of fine dining must-trys in and around Vancouver. For those looking to get in and spend less, the restaurant is currently developing an approachable and more family-friendly lunch offering and also plans to re-launch its take-out program again soon.
Baan Lao is located at 4100 Bayview St in Richmond. Dinner is served Wednesday through Sunday, with two seatings nightly, at 5 and 7 p.m.