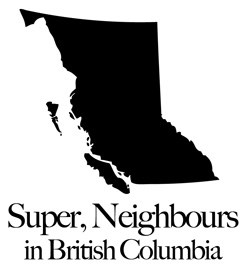 In last year's Georgia Straight BEST OF awards we took home an editor's pick for "Best Navel Gazing Web Site", and while our non-profit organization that supports our web site (Vancouver Is Awesome, Inc) is focused on celebrating all of the awesome things that make up our city one of those things is it's proximity to other awesome places. In Super, Neighbours in British Columbia we take you on adventures to other BC locales that we think you should check out.
**********
We recently took a trip to Tofino for the launch of the first annual Feast!, a month-long culinary event taking place on the beautiful West Coast Vancouver Island communities of Tofino and
Ucluelet, BC. The event celebrates the abundance of locally available seafood and the sustainable boat-to-table practices commonly employed by the area's restaurants and the Tofino-Ucluelet Culinary Guild.
Yesterday I introduced you to the Pacific Sands Resort where we stayed. I'll be doing a couple more posts on that but first wanted to share with you the great brunch we had on Mother's Day at Shelter Restaurant.
The brunch was the first of 50 individual Feast! happenings. Over the next 4 weeks each week has a theme: starting with Salmon Festival Week, then Crab Festival Week, then Spot Prawn Festival Week and finally concluding with Food & Wine Festival Week. You can view the entire schedule of 50 happenings HERE.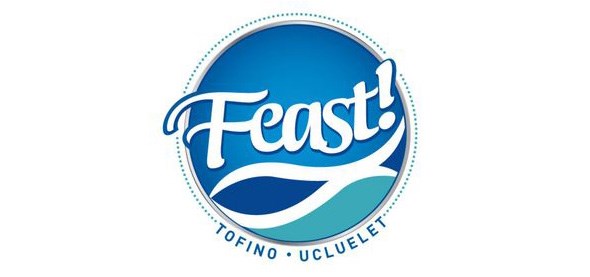 But now, back to brunch! As it was Mother's Day, they had a small army of children helping to cook and serve, which was a lot of fun. My 2 year old son and I were given the task of taking my wife's order and delivering her a meal from the buffet. She was given a menu and a pen to circle her selections, here's what she ordered: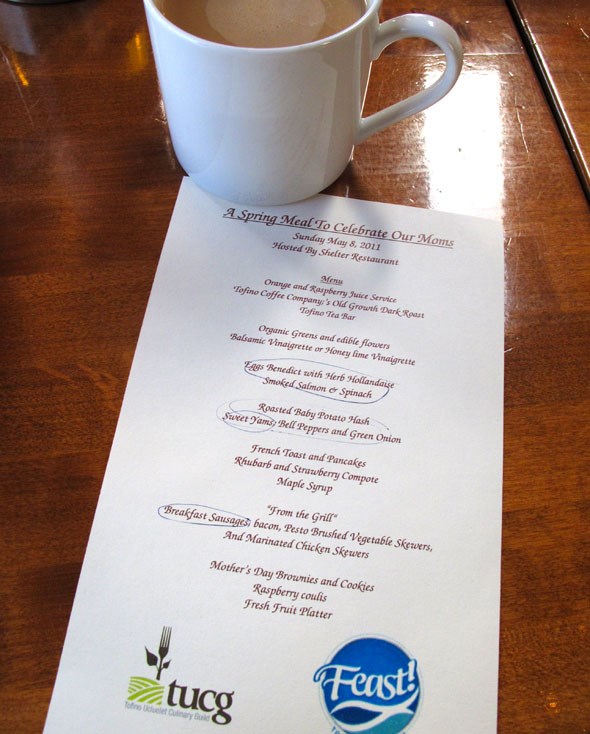 And the two of them enjoying a nice brunch!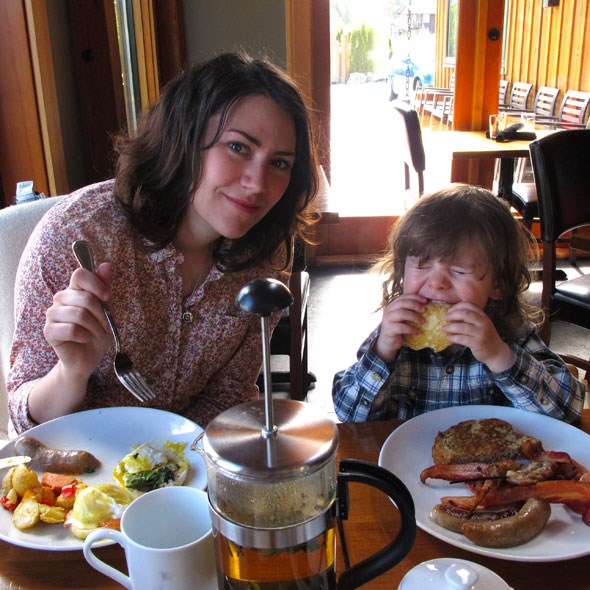 As usual, Shelter Restaurant (or "The Shelter" as it's known) delivered a great meal with great service (way to go, kids!). I've been to Tofino a few times in the past few years and have wound up eating here at least once, if not twice, upon every visit. Aside from having a great menu and a great location right in the heart of Tofino, one of the things I love about the restaurant is how versatile it is; you can find yourself here for a Sunday brunch with Mom, for drinks and hockey with friends in the evening and then upstairs for fine dining the very next evening.
Stay tuned for the next post where we head back to Pacific Sands Resort to discover some of it's secrets!