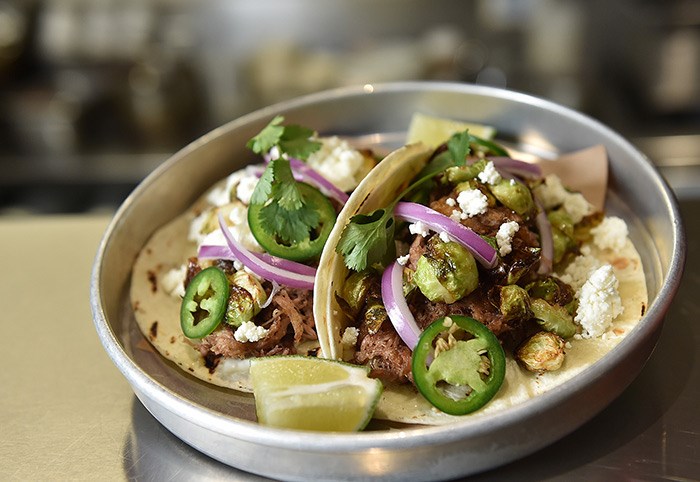 When it comes to cooking with beer, Tacofino regional executive chef Stefan Hartmann looks for dark, rich beers that can stand up to the bold flavours he cooks with. True to Tacofino's roots as a Tofino-based taco truck, Hartmann is a big fan of Tofino Brewing Co.'s Kelp Stout.
"I've found that the Kelp Stout goes well with anything grilled, especially sausages, chicken and fish," he says. "Countries like Ireland and Belgium use dark beers like porters and stouts for even the most traditional dishes."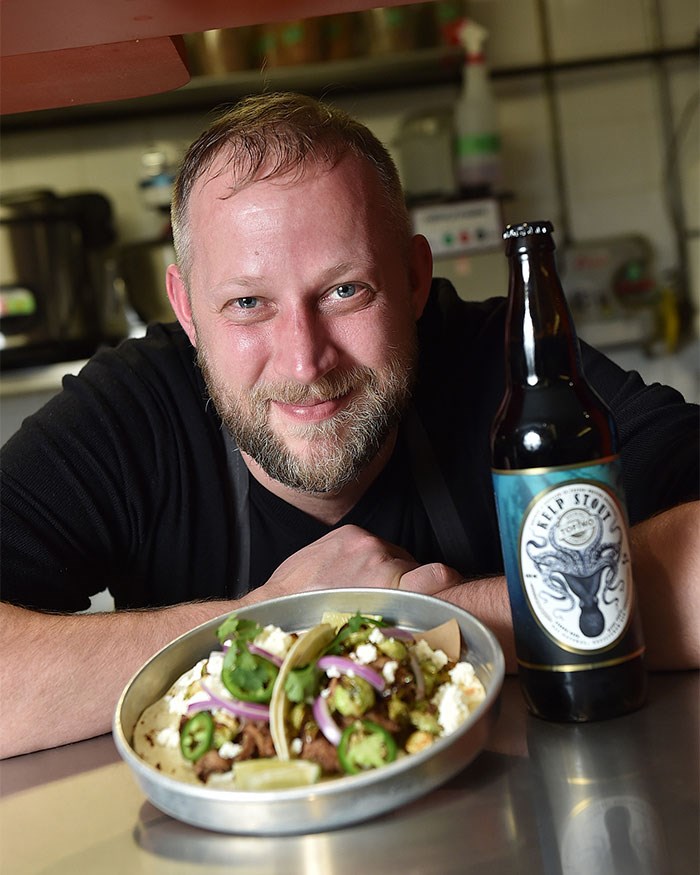 There's nothing traditional about Hartmann's recipe for beer-braised wild boar shoulder tacos, however.
"This is definitely not your everyday taco, but this recipe is a great way to introduce yourself to a cut of meat that you may not be all familiar with," he says. "If wild boar isn't your thing, it's very simple to substitute with beef or venison.
"It's also worth mentioning that telling your friends that you cooked wild boar will certainly impress them—trust me, they've never had a taco quite like this."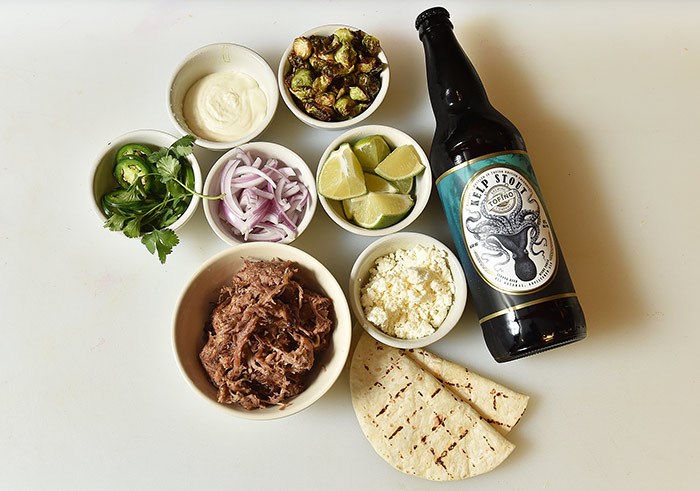 Beer-Braised Wild Boar Shoulder Tacos with Tofino Brewing Kelp Stout
By chef Stefan Hartmann, Tacofino restaurants
Ingredients
• 1 kg wild boar shoulder (boneless)
• 20g salt
• 10g Mexican chili mix
• 10g brown sugar
• 10g black pepper
• 1 onion
• 1 stalk of celery
• 1 carrot
• 3 cloves garlic (crushed)
• 1 sprig of thyme
• 1 sprig of rosemary
• 300mL beef or vegetable stock
• 1 650mL bottle of Tofino Brewing Co. Kelp Stout
• 4 bay leaves
• 8 wheat tortillas
• 100g Brussels sprouts (cleaned and quartered)
• 50g queso fresca or feta cheese
• Red onion
•Serrano pepper
• Juice from ½ lime
• Mayo
• Cilantro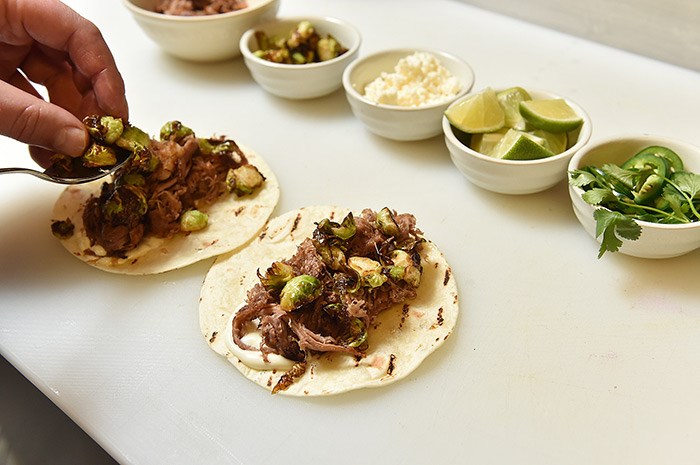 Method
Preheat oven to 320F.
Season the meat with salt, black pepper, chili mix and sugar, then sear in a large cast iron skillet with canola oil.
Once seared, remove the meat from the skillet and set aside. While the pan is still hot, sear diced onion, celery, and carrot with garlic, thyme and rosemary until lightly browned.
Place the meat back into the skillet then add stock, beer and bay leaves. Cover with a lid or aluminum foil then place in the oven for three hours.
Once cooked, allow the meat to cool before pulling it apart into small pieces.
Strain the juice in a small pot and reduce the liquid by half. Use this to season your meat.
Deep-fry the Brussels sprouts until crispy or season with olive oil and oven roast on high heat before seasoning with salt, pepper and lime juice.
Combine mayo with lime juice.
Slice the red onion and serrano pepper very thin.
Grill the tortillas then build your taco with a drizzle of lime mayo. Add pulled meat, then cooked Brussels sprouts. Finish with cheese, sliced serrano pepper, red onion and cilantro.

To learn more, visit thegrowler.ca