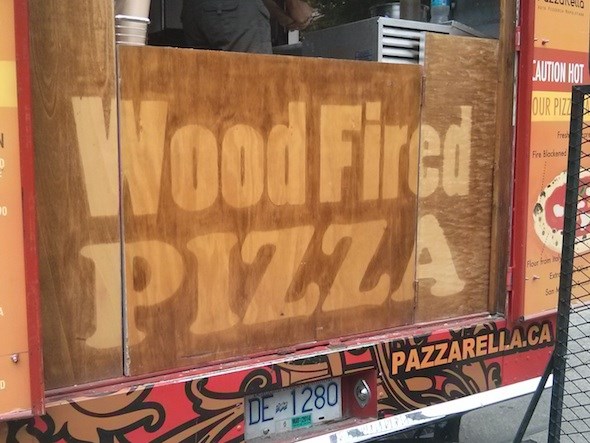 If you're reading this, you probably call Vancouver or one of its surrounding cities home, and so you understand that the cost of travel can be prohibitive. One of the wonderments of the city is that you can virtually travel without having to leave at any point. "What's that?!" you say to yourself. "This guy is insane," you whisper to your colleague reading over your shoulder. Ah, not so, friends. You see, when I manage to scrounge up enough dough to travel to faraway lands, the greatest memories I seem to retain usually involve food. So, when I hear about a food truck that does Italian food in an authentic style, my ears perk up and my focus sharpens.
The assumption going into it is that if the dishes offered by any restaurant or food truck are good enough, I would feel like I'm back on vacation, eating for the sake of gluttonous delight rather than simply refuelling. I must approach these types of food trucks with a certain degree of skepticism, for if I put too much trust in them, my favourite memories of Italy could get lost in the mayhem of ho-hum pizza. One thing I learned was that pizza in Italy is not made the same everywhere you go. Romans will insist their pizza is the best. Sicilians will bunch together their fingertips and shake their fists at anyone who disagrees that their pizza is the most traditionally authentic. Cooks from Naples won't even argue; they'll let their thin crusts do all the convincing. There are some brilliant Venetians who combine gorgonzola and prosciutto to perfection. I am reluctant to pick any particular region as my favourite area to get Italian pizza, but one Vancouver food truck has won my vote as the best example of street pizza in the Western hemisphere. Yes, there's no need to leave the country. Just take a walk down the street to Pazzarella.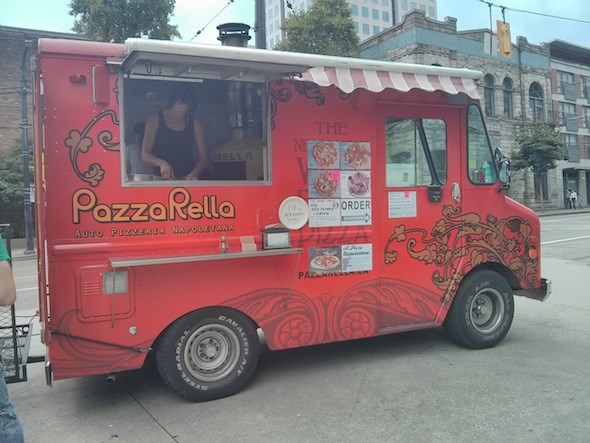 Pazzarella has four regular pizza options and one weekly special. The Hungarian in me loves meat, so I ordered the salami pizza. Watching them stretch and pull the dough by hand in a pizza truck is a sight to behold! Liberal amounts of olive oil brushed onto the fresh dough, and my mouth is already watering. They make their pizza to order, and they use a 750F stone wood-fired oven that's sitting inside the truck! Crazy. Pizzas only take 90 seconds to cook, which is the Naples tradition. None of this "20-25 minutes at 350" nonsense. The centre must be very thin and a little wet, and it shouldn't be too crispy on the outside. I walked away pleased with my full belly, and considered buying another pizza just to share with random passersby. Now, the same pizza in Italy will run you about 6 euros, and by today's exchange rate, that equals $8.25 Canadian. So I'm not mad at all that they're charging $9 for what is essentially almost the exact same thing that you'd find in the back streets of Perugia's steep cobblestone alleyways. It was delicious, filling, and I loved every bite.
Nobody's really sure what Jamiorquai was talking about in his 1997 album of the same name as this article. He was probably trying to make a statement about silly fur hats. Nevertheless, I decided to lift the title from one of the first CDs many of us owned to describe Vancouver and what its food does to me. It brings me back to the places I love and it only takes a walk down the street to get there. Although I love this city and all the awesome borne from it, it also attracts the very best from around the world. If you're from Italy, throw me a message to let me know if you agree or if you agree wholeheartedly. See you on the street! @tonyhajdu