The third day! This morning I woke up slightly less sick than I was on Tuesday at the ripe ol' hour of 6:30am to talk about #TweettoEat with The Early Show on CBC radio. Needless to say, coffee this morning was really calling my name.
Coffee!
As usual, I meandered over to Bean Around the World at Main and 20th (@BeanonMain20th), for my morning brew. I was able to surprise the wonderful Mike (as you can see below) with his coffee. In his morning daze, he thanked me and was very surprised. I just love this!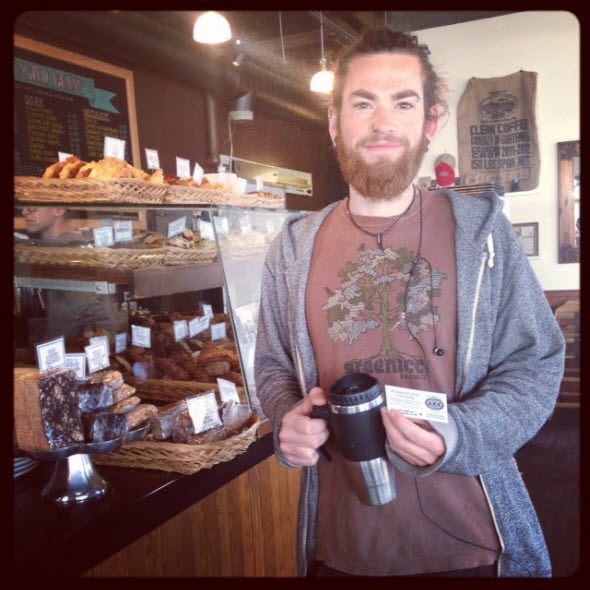 The rest of the day was full of wonderful food surprises at the office!
Snacks & Visits
The beautiful, Emily from @FineChoiceFoods delivered me some Vegetable Gyoza, Spring Rolls & Samosas! Fine Choice Foods started out as a  little retail store on Cambie Street in Vancouver selling frozen Dim Sum and sauces. They now are available all over the city.  I may need to have a giant party to get through these! Looking forward to trying them out. Thank you for coming down to my office today.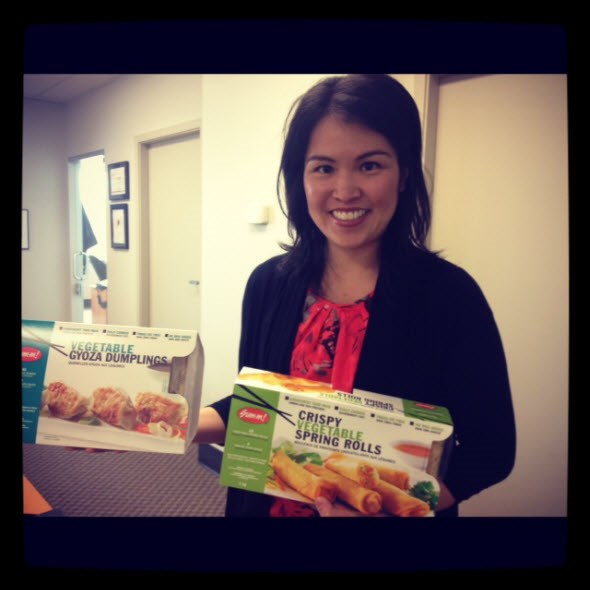 I was also surprised by @VanVantage, a great local Vancouver blog, with a care package of delicious snacks for when I'm in between meals! I feel so taken care of. Thank you to everyone at Van Vantage! Too kind.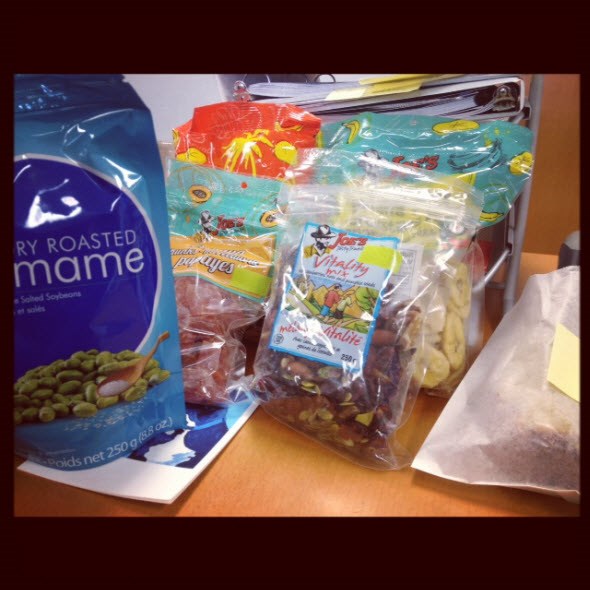 Dinner
Tonight I had the pleasure of meeting up with @rcooper102 who reached out to me right away who describes himself as a 'mildly maniacal photographer'. I met up with Ryan at this unbelievable African restaurant. This place was like nothing I have experienced in Vancouver. SO much flavour and it was 100% vegan and gluten free. This place was on Broadway and called Cafe D'Afrique and is a MUST TRY! The bread is made of a buckwheat type of flour with just water, and the tofu stew and veggie platter cannot be skipped. Ryan was such an interesting person and really great to get to know. He told me about his father's battle with MS and how a trip to Poland for 'The Liberation Treatment' completely cured his father of the disease. He went from not being able to do much, and being forgetful to going for hikes and living a full and very fulfilling life. Ryan also used to be very overweight (me too when I was younger! That was our bonding moment), and he switched to a vegan lifestyle and immediately felt much better. He is an avid photographer and works in Web Development. So much to learn!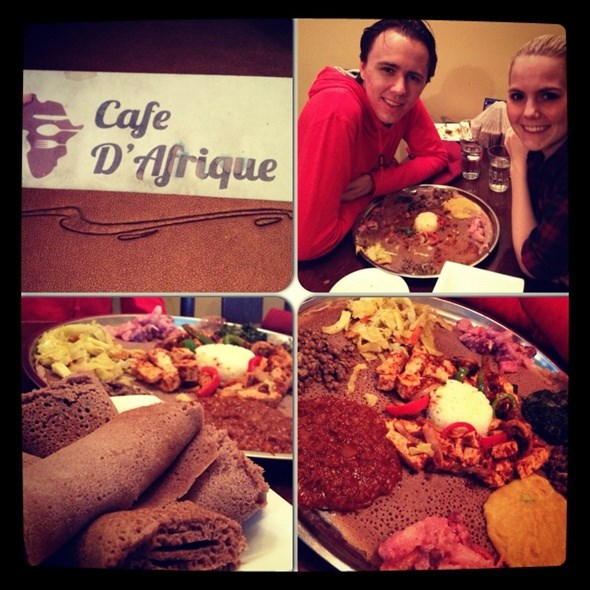 Quest Food Exchange
I have received so much generosity, that any of the food I cannot eat, I am planning to donate to questoutreach.org. Quest is a local not-for-profit organization that offers access to affordable and healthy food choices for those facing barriers to this basic necessity.
Follow up on the latest #TweettoEat news by following the hashtag or by following me, @VancityAmy on Twitter!