What an incredible two week experience I've had. Not only did I meet over 32 new people, 10+ people were surprised with coffee each day and about 6 old friends during this project, I learned a lot along the way. Not only is it important to put yourself out there are be a little uncomfortable from time to time, but it's also so valuable to know where your food or who your food is coming from. Having an added layer of awareness with what you're eating makes you appreciate and value your food so much more.
The people I have met over the last two weeks have shown me that taking a moment to share a meal or share food in some way, allows you to share a basic human necessity that connects us all. This basic connection opens you up to so much when you are meeting someone new. Some of the stories you have when you are sitting and eating with new people is outstanding. The way each of the people from my journey have opened up to me, has made me feel incredibly happy. I have been overwhelmed with joy the last two weeks and I credit all the people I have met who have let me in to their worlds.
The Last Day
Today was the last day and I was pretty sad about it, but headed over to Kits to meet for first friends Adam & Kev of Adam & Kev photography and of Playground.is (which is coming in Calgary and Edmonton in MAY make sure you sign up if you live in those cities! It's an amazing evening of music and community collaboration @Playgroundis). We grabbed a coffee at 49th Parallel and chatted. It was nice to get a coffee since I didn't have time to run over to @BeanOnMain20th this morning!
Brunch
Then I wandered down a few more blocks to @FableKitchen to meet @lloydgo. Well I thought I was just meeting Lloyd! It turned out to be 7 other amazing strangers who were all so wonderful, hilarious and ready to seriously drink on this #BoozyBrunch Sunday morning! We had a killer brunch and way more laughs than seems normal. Thank you for the best time! Yes, there may or may not have been morning shots happening!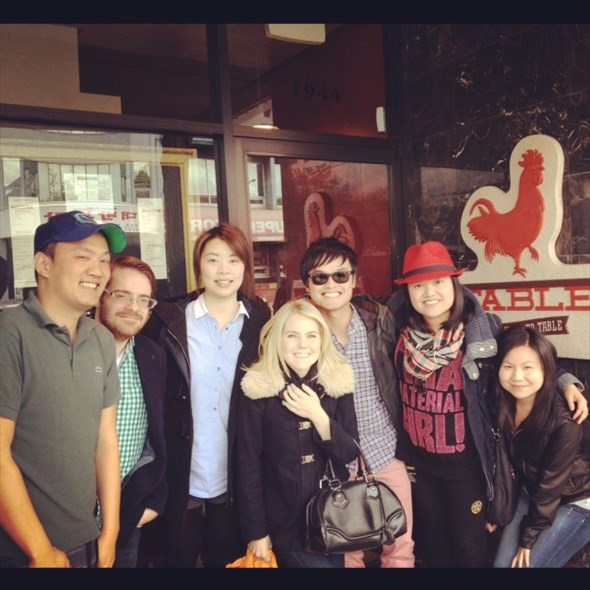 Dinner
Tonight I headed over to Cyndi AKA @Fairlite's house to meet with her and @Pastaboypeter who makes amazing pasta www.pastafamiglia.ca. Take a look! Local amazing pasta and he is so unbelievable! Peter not only makes his own homemade pasta (with Canadian wheat!), he is also an actor and has been in a ton of movies and TV shows filmed around Vancouver! We had so much fun and it was just laughs and jokes all night long. It was like we were all long lost friends. We were also joined by Cyndi's wonderful roommate Ainsley! What a wonderful evening and the perfect way to finish off #TweettoEat. We are already planning our next dinner together!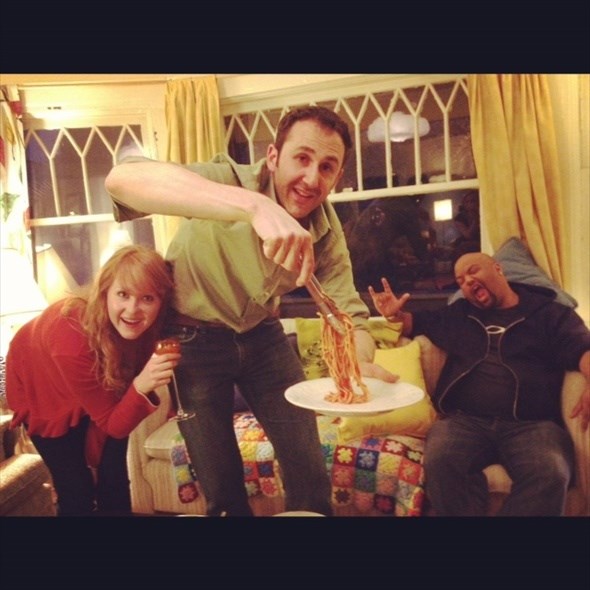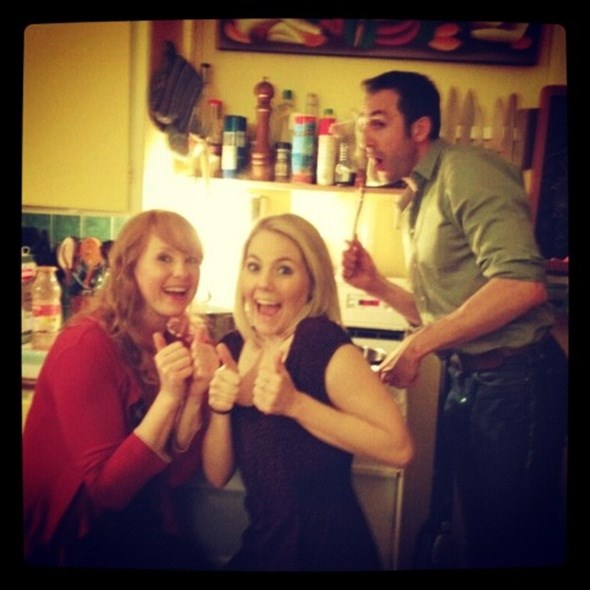 Thank you to each and every person I met along this incredible journey! I have been forever changed by the beauty that exists in Vancouver. I am already thinking about what is next and how I can continue to build on these great friendships. I will be planning something this month for everyone who was involved, so keep your eyes open. That is it from me for now, but I will return.
If you want to keep in touch, follow me @VancityAmy on twitter or instagram and search the hashtag #Tweettoeat to see all the great photos of the past two weeks! What a ride.
I love you Vancouver! Vancouver really IS awesome!