Welcome the Year of the Rabbit this Lunar New Year with dine-in and take-out restaurant feasts, gift boxes, and treats from incredible businesses from around Vancouver.
Many of the 2023 offerings are not only delicious but also, as is tradition, the dishes and ingredients symbolize good health and prosperity for the New Year.
"Our eight-course feast was so popular last year, we had to bring it back for Year of the Rabbit, but with a variety of new dishes inspired by our combined Asian heritage," says chef Justin Cheung of this year's Potluck Hawker Eatery special take-out menu. For two days only, Prosperity Toss, Gado Gado, truffled Hainan Chicken, and whole lobster Pad Thai are available as part of a spectacular multi-course meal. "Every dish symbolizes an important part of Lunar New Year traditions -- from longevity noodles, plentiful whole fish, to togetherness with chicken and good luck with my favourite Prosperity Toss," explains Cheung. Pre-orders are available now online for pick-up on Jan. 21 and 22.
Mott 32, located inside the Paradox Hotel, is serving up a special eight-course Lunar New Year menu (available set or a la carte) from Jan. 20 to Feb. 5. Created in partnership with executive chef Lee Man Sing from Hong Kong, the Year of the Rabbit menu dishes symbolize good fortune, good health, luck and prosperity, and showcase specialty ingredients such as whole lobster, dried Abalone, fried arrowhead, garoupa, and Alaskan king crab. Traditional dishes like Fried Arrowhead Cake hand-crafted with the bulbs of the arrowhead plant are only available at Lunar Near Year and each course has an optional wine pairing. "The Year of the Rabbit is predicted to be a year of hope; the sign of the Rabbit itself is a symbol of longevity, peace, and prosperity," says wine director Robert Stelmachuk.
Tawainese eatery A. Bento has assembled three Year of the Rabbit gift boxes with specialty house-made sauces, treats, and easy-to-warm vacuum-packed dishes that feed four to five people. Each gift box also includes a special red envelope. The largest of the three boxes ($158) includes four symbolic dishes. The most culturally renowned of which is Buddha's Temptation, also known as Fo Tiao Qiang or Buddha Jumps over the Wall. Made with abalone, fish maw, scallop, and quail egg, the soup is simmered for hours with taro, water chestnut, and pork. The name is derived from the belief that its alluring aroma is enough to entice the vegetarian Buddha to jump over the wall of his sanctuary just for a taste. The box also includes braised pork hock, braised Lion's Head, and Sesame Oil Chicken Sticky Rice in Lotus Leaf. Limited quantities of the boxes are available for order and pick up now until Jan. 23 via A. Bento's website.
Top Chef Canada Season 10 runner-up Chef Deseree Lo is hosting a virtual interactive cooking class in celebration of the Lunar New Year and in support of St. Paul's Foundation Scotiabank Feast of Fortune. Participants will receive pre-packaged ingredients and have the opportunity to ask questions and get live feedback. Lo will share two dishes, a main and dessert, and offer tips and tricks on how to improve your cooking skills. At the end of the event, there is a competition to determine the best-looking dish. Tickets are $138 and the class runs Saturday, Jan. 21, ​from 11 a.m. to 12:30 p.m.
In celebration of the Lunar New Year, meal kit delivery service Fresh Prep is teaming up with Michelin Guide Bib Gourmand restaurant Anh and Chi to create two limited-edition meal kits: Lemongrass Chicken Vermicelli Bowl and a vegan tofu version. Deliveries are available now until Apr. 1 and customers will have access to special cook-along videos with Anh and Chi co-owner Amelie Nguyen. "We wanted to make Vietnamese cuisine approachable as Vietnamese cuisine generally requires a long list of ingredients," says Nguyen. "Our lemongrass vermicelli bowls are classic Anh and Chi items, and definitely guest favourites. The dishes also have meaning, especially during the Lunar New Year. Long vermicelli noodles are central to the bowls and signify longevity."
The recipes come together in less than 30 minutes and include a bottle of Me's sauces, developed and made by Anh and Chi head chef and family matriarch Ly Nguyen. Depending on the kit, customers will receive either the award-winning Me's Chilli Fish Sauce or the plant-based Me's Sweet Soy Sauce.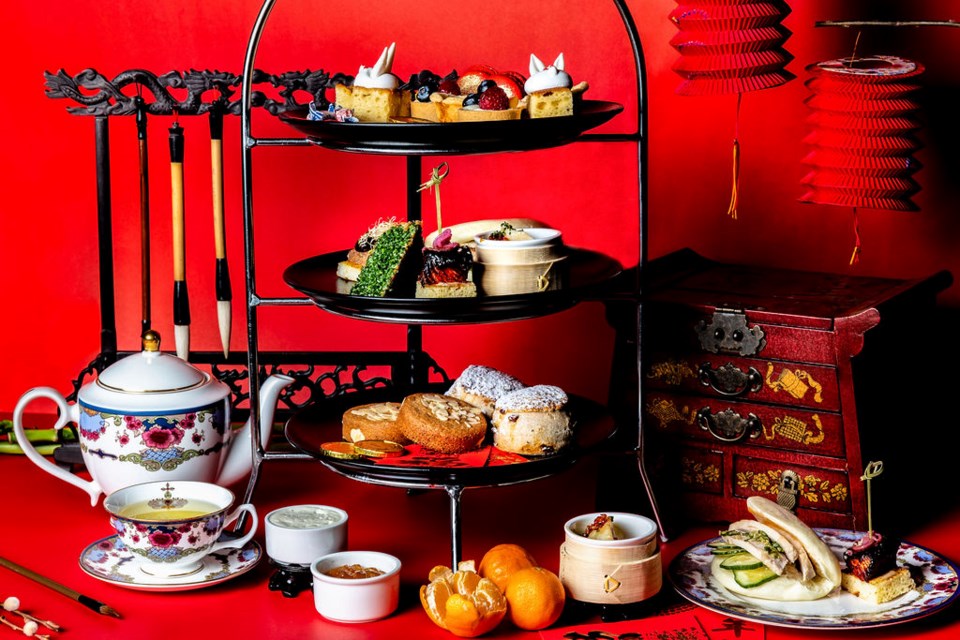 Notch8 at Fairmont Hotel Vancouver is hosting a special Lunar New Year afternoon tea now through Feb. 19. Led by head chef Danai Hongwanishkul, the experience begins with a selection of Fairmont's Lot 35 Tea, followed by sweet and savoury bites such as chilled char siu sablefish on milk bread, typhoon shelter prawn toast with mandarin orange aioli, pork dumplings, foie gras turnip cake with pork floss, Hainan chicken steamed bao, egg custard tart, red bean macaron, and a special red envelope with chocolate coins.
An omakase experience curated by Michelin-awarded chef Masayoshi Baba is coming to The Lobby Lounge inside the Fairmont Pacific Rim from now until Feb. 12 as part of the annual Oakridge Park Lunar New Year Celebration. From 11 a.m. to 6 p.m. daily, the Pacific Rim will also host activities such as Lunar New Year family portraits, children's ballet classes with the Goh Ballet, floral arrangement workshops, and musical performances.
Lunar New Year Gifts of Fortune are back for 2023 as part of Scotiabank's Feast of Fortune Charity Gala in partnership with the Chinese Restaurant Awards in support of St. Paul's Hospital. There are three exciting gift boxes to choose from: a Premium artisan XO sauce and tea box, Supreme White Peony and Monkey Picked Tieguanyin premium giftset, and a Poon Choi feast. Poon Choi is a communal feast for the Lunar New Year and the gift box comes with dried oysters, sea cucumber, tiger prawns, marinated chicken, pork knuckles, duck paws and more to create a Cantonese meal that serves up to six people. The Gifts of Fortune special edition tea set includes a delicate white tea and a green tea which are the cornerstones of tea pairing. There are only 150 sets available and 30 per cent of the proceeds are donated to charity.
Five Sails pastry chef Daria Andriienko has created a special dessert to celebrate Lunar New Year. Starting Jan. 21, customers can order Mandarine with layers of feuilletine, citrus chantilly, mandarin marmalade and orange chocolate.
Beaucoup Bakery is rolling out a whole Lucky Rabbit Collection of sweet treats for Lunar New Year including new flavours and innovations like a scallion pancake cookie. Mango Yuzu Cake, gift boxes, cookies, an Oolong Peach Tiramisu with rabbit motifs are meant to be shared or gifted according to co-owner Betty Hung. Beaucoup has also partnered with Chinatown BBQ to create a limited edition savoury Golden Goose Foie Gras Croissant with truffle sauce, plum sauce, and mirabelle plum jam⁠.
​Lunar New Year Cocktails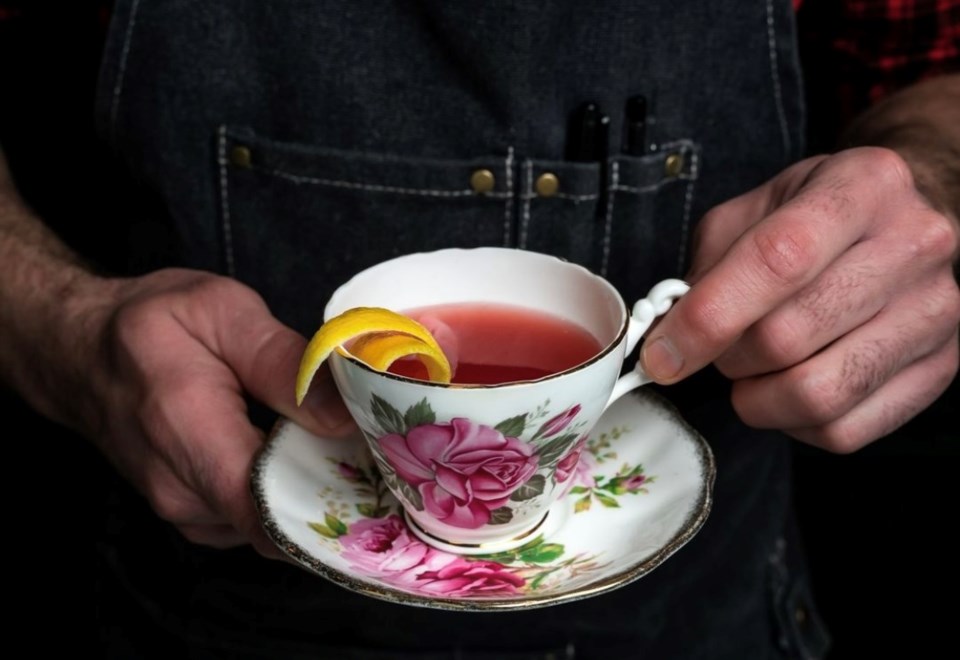 For the weekend of Lunar New Year, Straight and Marrow is offering a special White Rabbit Negroni served in a vintage tea cup with White Rabbit Candy Gin, rose Campari, Bianco vermouth and lemon oil.
The Victor will be putting two cocktail features on the menu for Lunar New Year, available from January 20th to January 27th.
The "Lucky you!" has hibiscus-infused Baijiu, lychee liqueur, and MomoKawa Pearl Nigori Sake garnished with a fortune cookie. The "Jade Rabbits" is a martini with a Cazadores reposado tequila base, Baijiu, yuzu juice, jasmine syrup, and one drop of lime leaf bitters with a stem of lemongrass.
Ring in Lunar New Year with Gotham's Lunar New Year cocktail feature the Fortunate Bun with Absolut vodka, Giffard Ginger of the Indies Liqueur, fresh lemon juice, charred lemongrass and tamarind syrup and Goji berries.
The Rabbit's Foot cocktail of Aperol, elderflower, bubbly, and club soda garnished with a Dry Orange is just one of the special Lunar New Year offerings at Smitty's Oyster House Main Street this year. Guests will also receive a red envelope with every order of the cocktail feature filled with a lottery scratch ticket or chocolate coins. One of the envelopes will be filled with a surprise $88 Gift Card.