The coronavirus pandemic undoubtedly changed the way many in Vancouver do business, but for Aaron Kafka it presented a particular entrepreneurial challenge.
The proprietor of a namesake local café, Kafka's, with three locations around the city, Kafka says he realized as the pandemic held his business in its grips he needed to determine "how to be better after."
To answer his own query, Kafka found himself in a familiar place, and what some would consider the starting point for any coffee business: roasting beans.
Roasting their own beans was "the one thing we didn't do," Kafka tells Vancouver Is Awesome over a cup of coffee and a breakfast sandwich at the Gastown location - which opened its doors not long before the COVID-19 crisis hit Vancouver. Kafka admits he had been thinking about adding roasting and selling packaged beans to the café business prior to the pandemic, but he was finally able to put the wheels in motion when the business slowed down thanks to COVID, giving the long-time coffee enthusiast the opportunity to create a business plan and secure a provincial small business grant.
In terms of a roasting space, Kafka is making part-time use of the former Agro roastery - which became available when that local biz transitioned into new roasting digs - similar to how new Vancouver breweries get off the ground by renting brewing and canning space from existing businesses.
Having worked since Kafka's inception with a Seattle-based coffee roaster, Kafka tapped into their savvy and connections and got to work forging connections directly with growers.
Discerning coffee consumers have turned in recent years to single-origin coffees, meaning the beans come from one farm. This practice and product means the farmers cultivate strong ties to roasters, and in turn, the drinker can enjoy a cup with a pure terroir. Yes, just like wine, coffee can offer a distinct "taste of place" and the land on which it is grown.
Making coffee for the nerds and the regular folks
For their roasts, Kafka's is indeed offering single-origin beans, aimed at showcasing coffee-producing countries Kafka is particularly excited to spotlight, including their initial offering from producers in Guatemala and Ethiopia.
Kafka says he had two distinct kinds of coffee drinkers in mind when creating the new roasts: The "coffee nerds" in one camp and the average coffee drinker in the other.
For the real "nerds," Kafka is pleased to offer roasts for those passionate coffee lovers who are careful about what beans they buy and have some education on various exacting brew methods. In brewing Kafka's Guatemalan or Ethiopian beans at home, Kafka hopes the drinker can enjoy each roast's unique and nuanced flavour profile reflecting classic tastes from those countries of origin.
On the other hand, Kafka is also delighted that they're selling the Simpler Times blend, which he says is a versatile and approachable roast that holds up to less vigilant measuring during brewing and pairs great with several foods - in fact, Kafka says he would love to see Simpler Times as the house coffee at Vancouver restaurants.
Of course, Kafka himself is firmly rooted in the "coffee nerd" camp, and he says the process of starting up a roasting arm of the business, a dozen years after his first café opened on Main Street, has given him a revitalizing jolt. "It's super fun, and has reinvigorated my excitement about coffee," he describes. it doesn't hurt that he's a big fan of what Kafka's is roasting, and brewing: "This is legitimately wonderful coffee," he adds.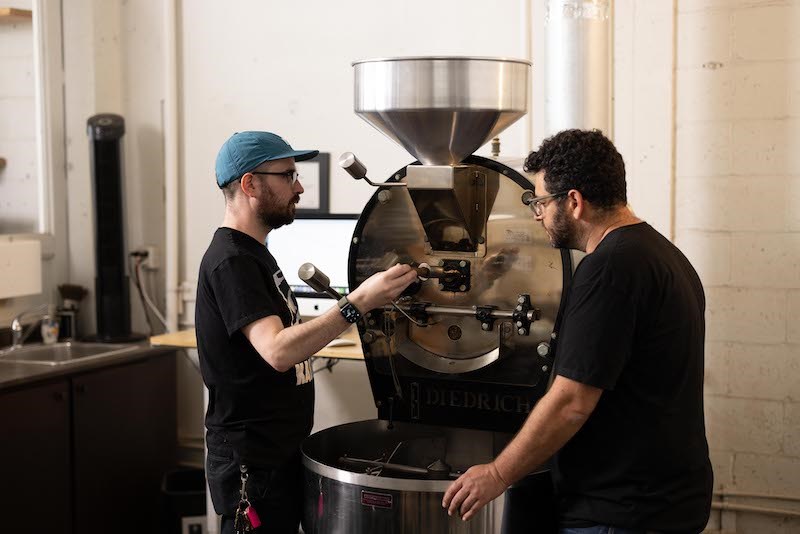 Additionally, Kafka's is also making an espresso blend for those dedicated at-home baristas.
Kafka says he's learned over the years in the business how much value there is in creating relationships with suppliers and extending that to new connections with growers is another exciting development that's come from adding roasting. The café has some longtime employees, including Paul Rose who has been able to move into a management role with the roasting operation.
A move from being a barista and cafe team member to being a roaster is actually a tenet of what's considered the "fourth wave" of coffee culture. Kafka's began its tenure in Vancouver as the city moved into the so-called third wave, which was about artisan coffee shops. It was a good seven or eight years from the launch of the first Kafka's coffee shop before Kafka felt ready to add another location to the roster, and since then he and his team have focused on not only serving up great coffee but also growing their in-house food program, which showcases a lot of scratch-made items including bread and baked treats.
Ultimately, though, it all comes down to two things for Kafka, who wants to "make coffee and be nice to people."
You can find Kafka's house-roasted coffee beans for sale at all three Kafka's locations and online.