Summer is music festival season.
From England's epic Glastonbury to Montreal's massive Osheaga to Vancouver's new Ambleside Music Festival coming up, the summer is by far the most popular time for heading to a music fest somewhere outside.
And while Vancouver's music festival has been a bit shaky at times, music outside stretches back into local history. In the early days of the city there were seven bandstands built as musical gathering points.
The above photo was taken at Georgia and Granville, a very different intersection these days. In it people have gathered for music on Canada Day in 1892 (at the time it was known as Dominion Day).
"(A) music festival in (the) C.P.R. park on the northwest corner of Georgia and Granville Streets," states the archival description of the event.
We can't quite make out the musicians, who appear to be somewhere in the middle of the crowd. But we can see plenty of the crowd, and there are a few notable differences and similarities.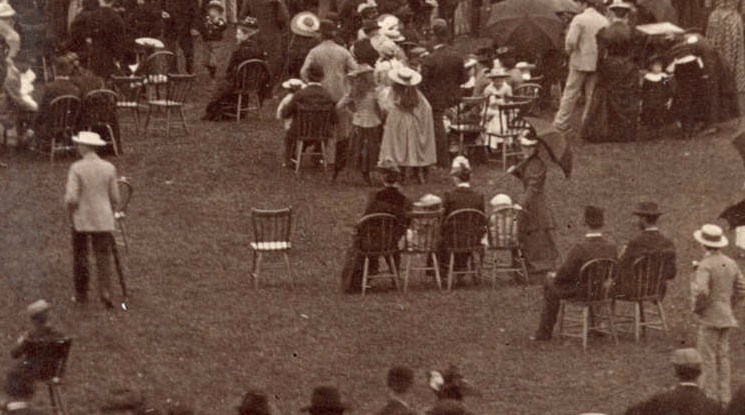 The biggest difference, other than the changes that intersection has gone through in the intervening 130 years, is the fashion. Summer music festival-goers from 2022 would likely cause quite a stir amongst this audience. And while the stir might not be quite as dramatic, if some showed up to FVDED IN THE PARK in a suit with a hat or cane, or in a large dress, they'd likely get a few sideways glances.
While fashion has changed wildly (and we can't see the merch stand or how much bottles of water were going for to comment), the fact that people showed up with their own chairs shows they aren't all that different from many people nowadays.
In fact, it shows an outstanding commitment to sitting, as the chair appears to be wooden and not foldable.