The Haywood Bandstand is located at 1755 Beach Ave in Vancouver's Alexandra Park.
The Heritage Foundation indicates the bandstand was built in 1914, but the archival photograph is dated 1912.
If you look closely at the older image, you can see two small children posing in front of the bandstand. When I took my photo in 2020, a homeless man appeared to be camped under the shelter of the overhang.
The North Shore mountains in the background of the old photo appear much closer than in my shot because the original photographer used a much longer lens than mine. You can see the old English Bay Pier in the background.
More from the Heritage Foundation: Its Queen Anne architecture is characterized by a light and airy wooden structure, curved brackets cantilevered floor, ornate fretwork, and hipped roof. In 1987-88, the bandstand was restored by the Vancouver Park Board with financial assistance from Haywood Securities, Amon Industries, and the B.C. Heritage Trust, and was renamed the Haywood Bandstand.
It is the only one of the seven bandstand structures that once graced the city to survive.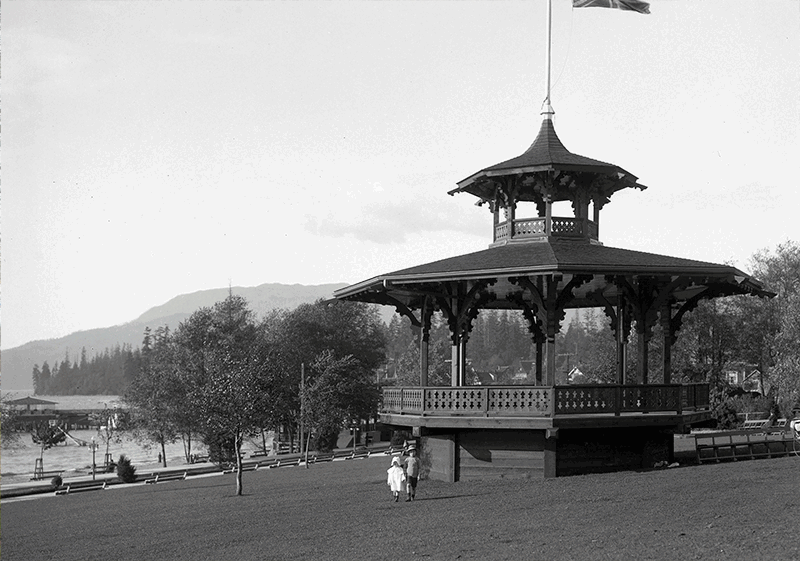 Want to learn a little more about the Haywood Bandstand and the history of bandstands in Vancouver's parks? Check out this 2014 Vancouver Courier article about the Haywood Bandstand's 100th anniversary.
John Bentley is an architectural photographer who has photographed the inside and outside of thousands of buildings around Vancouver. Using images from the Vancouver Archives he offers a glimpse of the past and present on his site Vancouver Now & Then.