It's a new dog twice a week! Click here to find out how to get your dog posted if you haven't sent in your photos yet!
Today's dog featured in Dogtown Vancouver is Johnny, Julia N's pup. Here's what she had to say about him...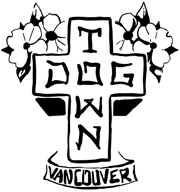 NAME: Johnny.
BREED: Terrier.
HOOD: South Granville.
FAVOURITE SNACK: Any type of dog treat cause he was on a strict diet for a long time!
OTHER INFO: Johnny is one of the amazing success stories from my friend Alexis Adam's non-profit dog rescue (The Penny Foundation, http://www.penniesfordogs.org/) which saves dogs from Mexico, Los Angeles, and even Taiwan! He used to have no hair (hence the fetching sweater in the photos) due to an unknown condition that kept him constantly itchy and smelling like yeast. He was due to be put down in a shelter until Alexis picked him up and started bringing him to every vet possible and figure out his condition to stop his constant scratching and uneasiness. After 2 years, she finally was able to diagnosis his correct allergies and he is finally running around like a happy dog and growing his hair back (even though his belly will always remain soft and pink like a pig). Johnny is super loveable and now VERY playful. He has been given a second chance at the life he always deserved. Potential dog owners should look at rescues and shelters to obtain their new pet, so many amazing dogs await them. They might need a little more time and love initially, but they are so worth it!!!
If you're interested in adopting a pet, check out our Happy Tails feature. If you adopted your pet from the SPCA and would like to share your awesome story on Happy Tails, send an email to Rory.Blanchard@novusnow.ca.