Canada's housing minister Ahmed Hussen showed interest Monday (Nov. 15) in a City of Vancouver-led strategy to spend an estimated $1 billion over several years to purchase privately owned single-room-occupancy buildings.
The city has publicly stated it wants the provincial and federal governments to create a tri-government pact to replace what are commonly known as SROs — many dilapidated with over-priced rents and poorly managed — with self-contained social housing.
While the B.C. government has indicated its interest, the Trudeau government had up until Monday not shared its assessment of the city's strategy, or whether it is feasible in one of the most expensive real estate markets in the world.
Hussen, who spoke at city hall on a separate announcement to fund two affordable housing projects in the Downtown Eastside, took reporters' questions on the city's $1 billion plan.
In response to whether the federal government would contribute money, the minister said a $4 billion "municipal accelerator fund" was available for various housing programs in the country.
But, he pointed out, it would be up to each city to choose the projects, adding that the federal government would not "micro-manage" Vancouver's housing priorities.
"There's a lot coming down the pipeline, and this particular project could conceivably fit into that framework," said Hussen, noting the municipal fund is designed to go directly to cities "that are thinking outside the box" when it comes to providing more affordable housing.
Hussen noted various federal funding streams have allowed cities to acquire buildings. Earlier this year, the city used federal money to buy the former Days Inn on Kingsway.
"We've proven through our partnerships with the City of Vancouver that we're willing to deploy different pockets of money in our federal toolkit to do things directly with the City of Vancouver and in other municipalities in British Columbia, but also in partnership — sometimes when it's needed — with the provincial government," the minister said. "So I don't see how this is any different."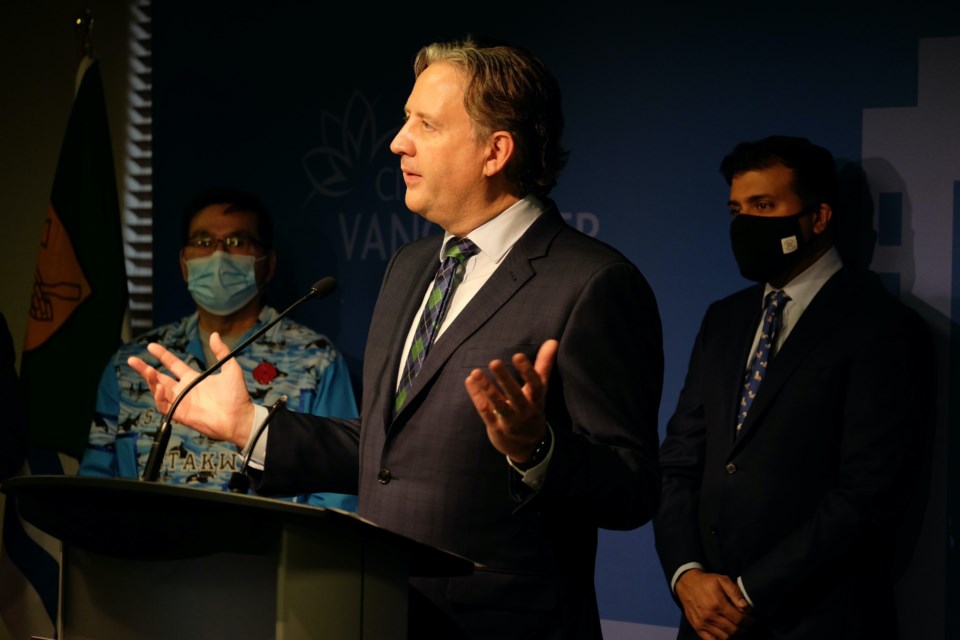 Mayor Kennedy Stewart said he was not surprised by Hussen's interest, noting the two politicians have discussed the city's strategy to purchase privately owned SROs, with the long-term goal of either renovating them or knocking them down to build new social housing.
"I have to come to the federal and provincial governments with specific pitches, and that's what I'm working on — what would this look like? Who would own it? How will we transition?" the mayor said. "The staff has already done a report on it here at the city. But the feds also have to approve their budget. So, once that's all done, I feel like I'm really hopeful that we can make this happen."
'Ambitious goal'
B.C. Attorney General David Eby, who is also responsible for housing, said in an emailed statement that SROs do not offer the standard of housing the governments wants to see in any community in the province.
"For too long, the conditions of many SRO buildings have made Vancouver's homelessness problem worse, instead of providing safe and secure homes for those in need," said Eby, noting many people housed in SROs would rather live in encampments because of the poor conditons in the buildings. "That is unacceptable and why we need an end date for these SROs, and a transition plan for housing people in safe and culturally appropriate conditions."
Eby said discussions continue with the city and federal government "to phase out, or improve SROs," either by renovating the units into self-contained suites or replacing them altogether with better housing.
"It's an ambitious goal, but we must end this type of housing, which is substandard and contributing to homelessness," he said. "I look forward to working with Vancouver and Canada to address this longstanding issue."
The provincial government already owns several SROs and the city purchased the Balmoral and Regent hotels on East Hastings Street last year from the Sahota family. A Glacier Media investigation earlier this year found that the provincial government owns more than 20 SROs along the Hastings Street strip, between Abbott Street and Dunlevy Avenue.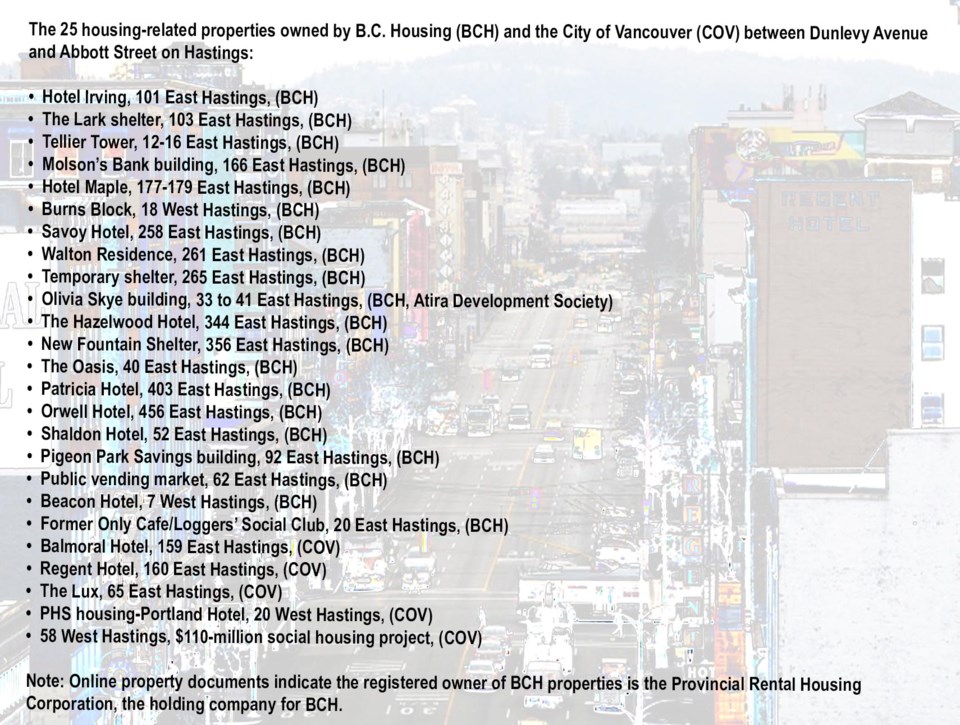 The B.C government also owns SROs near the strip, including the Gastown Hotel, Pender Hotel and Rainier Hotel, which it purchased in 2008 from owner Robert Wilson, who ended up selling a total of 10 of his buildings to the province.
Wilson told Glacier Media Monday that government-led purchasing programs of private SROs are not in taxpayers' interest, with the development community better suited to build safe, secure housing for the city's most vulnerable.
But, he added, governments have not been interested in providing enough tax-free incentives to developers. Over the years, he said, he approached the city several times about the need to provide him and other developers with incentives, but got rejected.
"I'm sure between the top five or 10 development companies in Vancouver — from Polygon to Aquilini to Jim Pattison to Reliance — that they could come up with a plan which wouldn't cost the taxpayers any money to provide social housing," Wilson said.
'Take their money or face huge losses'
Wilson acknowledged he made a profit in the sale of his 10 SROs — the Rainier alone sold for $6.9 million — but said he decided to sell after he concluded they were no longer viable operations.
The government made him an offer for his buildings, and he took it.
"It was clear that the province — in collusion with the City of Vancouver — was consistently making it extremely difficult for private owners to continue to manage SRO properties in a viable financial manner," he said. "And rather than condemn and expropriate the SRO buildings, decided to purchase all they could. So it was take their money or face huge losses."
Wilson wanted to make it clear that in the time he owned the buildings, he never charged his tenants more than the $375 shelter rate for people receiving social assistance. He also said he did not buy the properties on speculation, noting his first purchase was in 2002.
"When I bought my buildings, I cleaned them up and did all the repairs that were necessary to make them habitable," he said, noting the work and management strategy reduced the number of police calls to his buildings. "These hotels that I had went from number one on the list to the bottom of the list."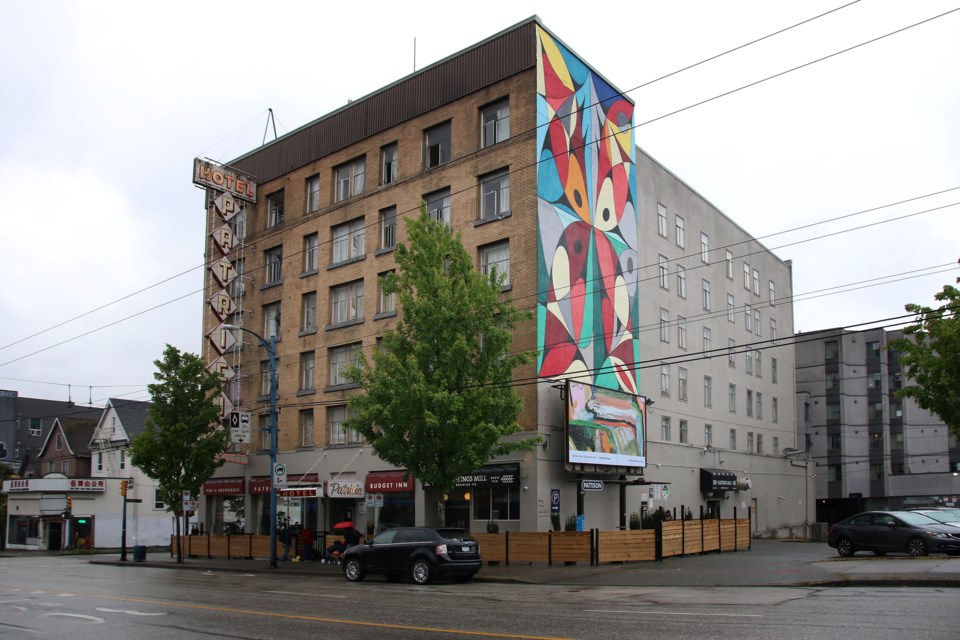 Earlier this year, the B.C. government announced it bought more SRO buildings in the Downtown Eastside, including the Patricia Hotel and its adjacent parking lot for $63.8 million. Wilson said he was shocked by the price.
"It's ridiculous — a private investor would not pay [the owners] that kind of money," he said. "And then what does that do? Every other guy on the street, his land value just went up. You understand what I'm saying?"
Wilson's comments come as city council is set to hear a staff presentation Wednesday on the need for "vacancy controls" in private SROs. The policy is aimed at preventing huge rent hikes and stopping speculation on purchases of the buildings.
Wilson doesn't support the policy.
"I put millions of dollars into the 10 hotels that I bought — to renovate them, to fix them up, to bring them up to standards," he said.
"The government never gave me any money — the province didn't, the city didn't. So if they want me to operate an SRO, and they want to put rent control on it — and they want me to fix it up so that I don't have the inspector coming and telling me I've got to put in a new elevator and a new roof, or fix the toilets because the drains are clogged with needles, then lend me the money."
@Howellings