Locals looking for a career change may want to go back to school to learn computer programming.
That's because open jobs in the tech sector are among the highest-paying in Vancouver.
Indeed, a global employment website, notes that salary is the first consideration for many people who are considering a new job. But the pandemic has revamped the job market. Many high-paying industries see jobs fill quickly while others have seen extensive job loss.
The company notes, however, that many industries are now on the lookout for talent. In particular, there are talent shortages in skilled-based, high-paying industries.
If you live in B.C., your best bet for securing a high-paying position is in software engineering. In Vancouver specifically, half the roles (50 per cent) for senior software engineers remain open on the platform for over 60 days. The lucrative roles also command an average salary of over $100,000, too.
But it isn't only senior software engineers that make the big bucks. Software engineers who aren't in senior roles also make close to $100,000, taking in a mean salary of $84,809 in Vancouver. Nearly half of the listings (46 per cent) for these jobs stay on the job site for over two months.
Another computer science career is Indeed's third most in-demand, high-paying job in the city: software architect. About 40 per cent of these job listings stay on the platform for over two months and the average salary is $96,169.
The third and fourth most sought-after candidates in high-paying fields are front end developers and full stack developers. Product and project managers also crack Vancouver's top 10 in-demand, high-salary careers.
The data listed represent roles that have been open for longer than 60 days in 2021 on Indeed's website. While job postings can be opened for longer than 60 days, the company used this measure as a proxy for difficult hiring.
Here are the most in-demand, high-paying jobs in Vancouver.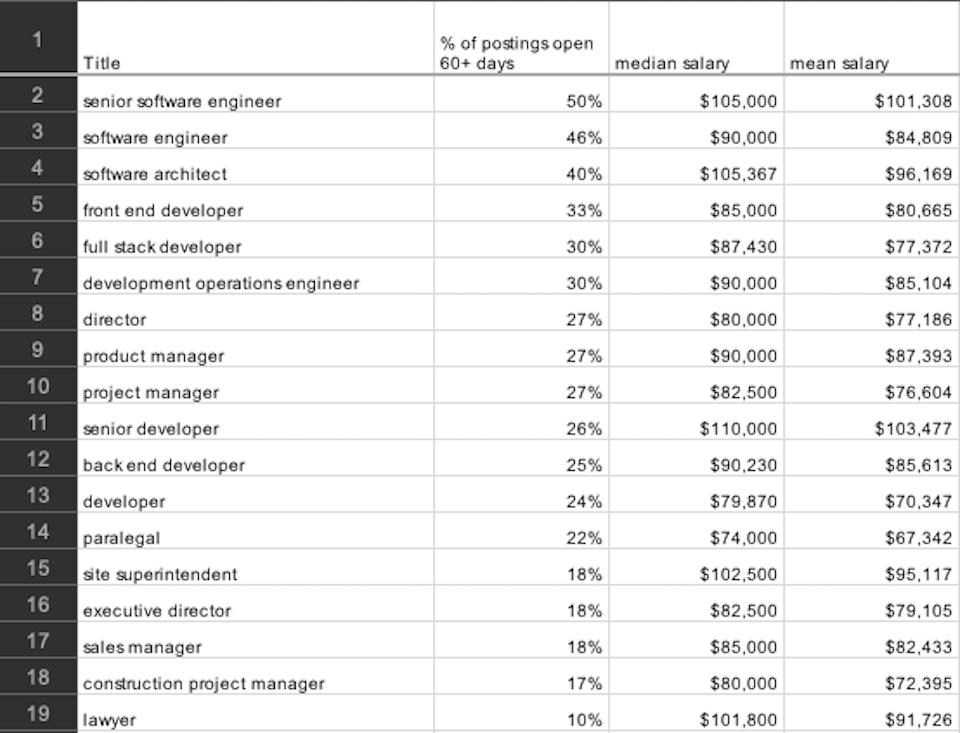 Curious to see how Vancouver's job market compares to B.C. and Canada? Check out the top five in-demand, high-paying jobs in the province in the country.