Vancouver police have apprehended an average of 4,632 people under the Mental Health Act over the past nine years.
That includes apprehending one person 79 times in four years.
Those statistics are contained in a recent report to the Vancouver Police Board that explains why and how police apprehend people under the act, with Section 28 often cited publicly by police when speaking to reporters.
But what does that section mean?
And what is a "form four," or a "form 21" as it relates to the act — and how and why do police cite these forms when a person is taken into custody?
Here is an explanation:
• Section 28 apprehension
Under Section 28 of the act, "a police officer may apprehend and immediately take a person to a physician for examination if satisfied that the person is acting in a manner likely to endanger themselves or others and apparently has a mental health disorder."
In 2022, police used this section 2,540 times and it involved 1,896 people.
Police say 30 per cent of the people were previously apprehended under Section 28 within the previous four years, with an average of four apprehensions per person, including one person apprehended 79 times in four years.
• Form 21 apprehension
Under the act, a form 21 "director's warrant" allows a director or designate to recall a patient back to a hospital. A recall would occur when a person who is living in community under certain conditions imposed by their doctor and does not abide by these conditions (such as failing to take required medication).
A form 21 may also be issued if a patient leaves a hospital without permission.
Police recorded 1,460 apprehensions last year under form 21, a substantial increase from 996 in 2014.
• Form four apprehension
A medical doctor may issue a form four for involuntary admission. This form is a medical certificate that allows a person with mental illness to be apprehended, transported, admitted, treated and detained as an involuntary patient for up to 48 hours after admission.
After 48 hours, the person must be discharged from the facility or admitted as a voluntary patient. A second examination by another doctor may then be completed, which allows the hospital to keep the person involuntarily for up to 30 days.
Between 2014 and 2022, police made 4,025 apprehensions under form four of the act, including 468 last year.
Prior to 2012, police only collected data for section 28 apprehensions. Data collection for form four and form 21 apprehensions was implemented in the first quarter of 2012.
Total apprehensions in 2022 — when totalling three categories — was 4,468.
Police data shows Section 28 and form four apprehensions have remained relatively stable over the past seven years, while form 21 apprehensions have seen a steady increase since the 996 recorded in 2014.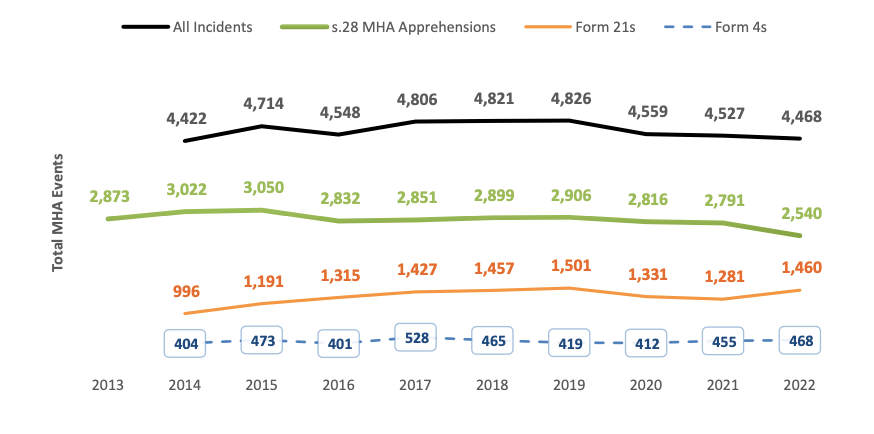 58 mental health workers to be hired
The statistics come after Vancouver council was unanimous Feb. 14 in approving an unprecedented city-funded plan that now allows Vancouver Coastal Health to begin hiring 58 mental health workers and expand services to respond to people living with a mental illness.
The multi-pronged initiative will cost $2.8 million this year and increase to $8 million next year, with the long-term goal to have 100 mental health workers devoted to addressing what experts have described as an ongoing crisis that worsened during the COVID-19 pandemic.
The majority of the 58 positions — a total of 32 — will be dedicated to create a non-police "de-escalation program" that would be responsible for helping people whose mental health is deteriorating.
At least 12 health workers will help bolster police-led crisis intervention teams such as the VPD's Car 87/88 programs, which pair plainclothes officers with psychiatric nurses to respond to citizens experiencing mental health issues.
Another dozen people will be hired to "strengthen Indigenous approaches" across all of the health agency's urgent mental health services and "develop a comprehensive and seamless referral network to culturally specific programs and services," according to a city staff report.
Two people will be hired to answer and triage calls toward the most appropriate and efficient service available in the city, where several programs already exist but need to be expanded to handle the workload, which has increased since the pandemic was declared in 2020.