Vancouver council was unanimous Tuesday in approving an unprecedented city-funded plan that now allows Vancouver Coastal Health (VCH) to begin hiring 58 mental health workers and expand services to respond to people living with a mental illness.
The multi-pronged initiative will cost $2.8 million this year and increase to $8 million next year, with the long-term goal to have 100 mental health workers devoted to addressing what experts have described as an ongoing crisis that worsened during the pandemic.
"It's a pretty big day here today — this is awesome," said Mayor Ken Sim after his seven ABC Vancouver colleagues along with Green party councillors Pete Fry and Adriane Carr, and OneCity's Christine Boyle voted 11-0 to support the plan.
Council approval occurred after hearing a presentation from Vancouver Coastal Health's chief medical health officer, Dr. Patricia Daly, and Bob Chapman, the health agency's vice-president for Vancouver Community.
The agency was tasked with creating a plan that responded to ABC Vancouver's campaign promise to hire 100 mental health nurses. The recommendation from VCH was to hire a variety of people with different skill sets, including 25 of the 58 workers being nurses.
Social workers, cultural support workers, peers and community liaison workers, with support from a psychiatrist, will also be hired. Daly told council she was confident the agency's human resources department will find the people needed to do the work.
"It will take time to fill these positions," she said. "We do have a health human resource crisis in B.C., but we also have a very robust plan to address that put forward from [Health] Minister Adrian Dix."
'De-escalation program'
The majority of the 58 positions — a total of 32 — will be dedicated to create a non-police "de-escalation program" that would be responsible for helping people whose mental health is deteriorating.
At least 12 health workers will help bolster police-led crisis intervention teams such as the Vancouver Police Department's Car 87/88 programs, which pair plainclothes officers with psychiatric nurses to respond to citizens experiencing mental health issues.
Another dozen people will be hired to "strengthen Indigenous approaches" across all of the health agency's urgent mental health services and "develop a comprehensive and seamless referral network to culturally-specific programs and services," according to a staff report that went before council Tuesday.
Two people will be hired to answer and triage calls toward the most appropriate and efficient service available in the city, where several programs already exist but need to be expanded to handle the workload, which has increased since the pandemic was declared in 2020.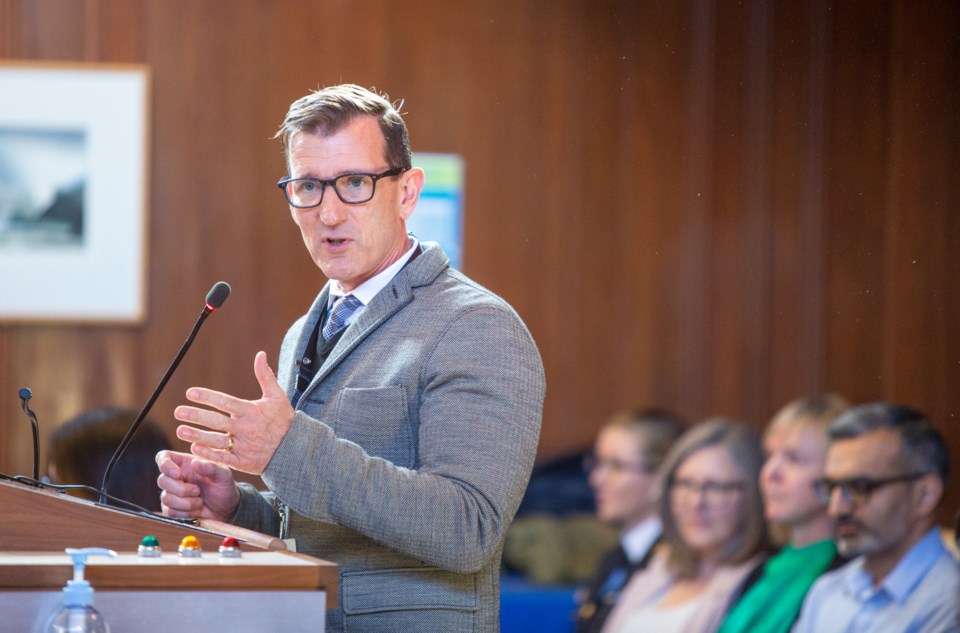 'More need now than there has ever been'
"With COVID, we've had a very profound change in people's mental health," Chapman said. "There is probably more need now than there ever has been. We need to ensure that this [new] response is integrated with all of our services across a continuum."
Added Chapman: "Our goal is to not have people escalate to the point where they need to be hospitalized and taken to the emergency department. If we can intervene earlier and support them with other health services that exist out there, we're hopefully going to be much more successful."
Roughly $2.4 million of the budget will be spent on staff, with the remaining dollars dedicated to evaluating the services, other non-labour costs and $66,000 for "engagement and honorariums."
Council heard what's missing from the initiative is indoor drop-in space to help de-escalate a person in crisis. Sandra Singh, the city's general manager of community services, said the city continues to have conversations with senior governments about the need for more social service spaces.
"It's really important for people to have an indoor space to go or, as you see, they end up in other unsuitable situations — alleys, sidewalks, parks," Singh said.
Some councillors said they were concerned that a municipality paying for health-care workers might put other cities with smaller budgets at a disadvantage — and that health care is really the jurisdiction of the provincial government.
"A multimillion-dollar investment in mental health is not necessarily an investment that other local governments like Victoria, like Prince George, like Terrace and others can afford to make," said Fry. "And I can tell you that this move has raised a few eyebrows with some of our colleagues in local governments across B.C."
Premier David Eby
Glacier Media posed a question to Premier David Eby at a recent news conference about that concern. Eby said his government's community safety plan includes "millions of dollars" for the expansion of Car 87/88 program across the province and additional funds for non-police crisis intervention teams and "complex care" housing for vulnerable people.
Eby said a program is also being worked on with St. Paul's Hospital to treat people in an on-site detox facility who have overdosed and are living with a mental illness, the goal being to stop people from cycling in and out of emergency rooms.
"We're doing a lot of work, but I wanted to be here today to recognize when a city steps up and is willing to try things differently," the premier said at a Feb. 5 news conference on the campus of Vancouver City Hall.
"For Vancouver, they've identified an opportunity where they can step up and support the efforts that the province is rolling out provincewide and across the Vancouver region."
Property tax increase
Council heard the new initiative will be evaluated, with positive feedback possibly leading to expansion of services in Vancouver and across the province, with any scaling up expected to be paid for by senior governments.
"In Vancouver, we have a more unique challenge in our inner city," Chapman said.
"I'm not suggesting that doesn't happen elsewhere in other municipalities and areas of the province. But I do think that if we can really demonstrate the success of this response, we will certainly have a commitment to work with our provincial municipal partners around what this can look like spreading across the province elsewhere."
Council will now need to confirm as part of the 2023 operating budget being brought forward in March whether the $2.8-million grant will be funded from property tax or through reallocation of existing funding.
If the grant is not reallocated from other current city activities, it would be equivalent to a 0.29 per cent property tax increase. For future years' consideration, $5.2 million (increase anticipated for 2024) is the equivalent of a further 0.55 per cent tax increase in 2023 dollars.