Mayor Ken Sim delivered a speech Tuesday to a business-friendly crowd of more than 700 people and told them that Vancouver is "open for business again" and to spread the word when travelling abroad.
In his first "state of the city" address to the Greater Vancouver Board of Trade since elected mayor in October 2022, Sim urged the audience to "tell everyone you meet that Vancouver wants their investment."
"Vancouver wants their business, and we will do what it takes to help them succeed," he said from a ballroom stage at the Fairmont Hotel Vancouver.
He acknowledged that success though will mean first tackling Vancouver's housing crisis, with his administration focused on driving down permit wait times so more housing of all kinds can be built.
"Attracting and retaining the talent we need to drive our economy forward is intimately connected with housing," he said.
"We are committed to reducing barriers to attainable housing. To be very clear, our biggest barrier on housing is connected to permit wait times and this will be a major focus of our council."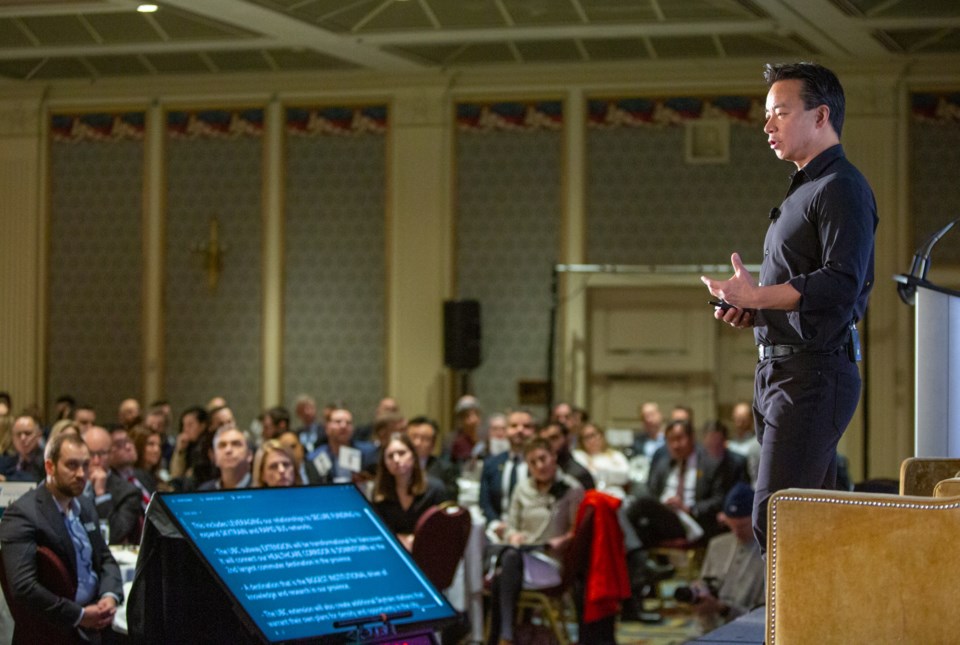 'We have a housing crisis'
Though he didn't provide an example, Sim was critical of previous development applications before the city that were delayed or rejected because of concerns a new building would create shadows or affect a view cone corridor.
"I want to be very clear once again, Vancouver does not have a shadow crisis, Vancouver does not have a view cone crisis," he said. "In Vancouver, we have a housing crisis."
In a question-and-answer session following his speech, Sim said the city could be rezoned for hundreds of towers across the city, but if developers have to wait six to 12 years to get a permit, "we're not doing anything."
He focused some of his speech on boosting small businesses, which comprise the majority of businesses in Vancouver. He pointed to cutting "regulatory red tape," the need for more safety and security, street vibrancy and affordability.
He said his administration made a recent $710,000 investment in Chinatown and will launch initiatives to revitalize Gastown and the Punjabi Market, along with reimagining the Granville entertainment district.
'Awakening the giants'
The mayor acknowledged the challenges the city faces with its most vulnerable citizens, some living with a mental illness, an addiction, or both and how hiring 100 mental health nurses will help people in crisis.
"This is an evidence-based, empathetic, effective way to support the individuals who most need [help]," he said, while also noting the importance of boosting the economy in the Downtown Eastside.
"We want to work to enhance social enterprise and commercial opportunities to ensure that in the success, the Downtown Eastside is just a big a winner as everyone else."
Sim and the ABC Vancouver-dominated council were inaugurated Nov. 7.
Sim listed some of the council's actions since taking office, including unlocking funds for new police officers and mental health nurses, advancing work on having police wear body cameras, stopping city staff's work on transport pricing — which Sim calls a "road tax" — and establishing fixed community amenity contributions for developers building low and mid-rise projects.
"I believe in working together and so we worked across political lines to reduce barriers on housing affordability for non-profit, co-op and social housing sectors," he said, referring to a motion — amended by ABC — that was introduced by OneCity Coun. Christine Boyle to add those housing types across all neighbourhoods.
What Sim didn't mention in his speech is that last week he and his councillors rejected a $7,500 art grant to the Vancouver Area Network of Drug Users and shut down the city-led renters' office, with funds instead being redirected to the Tenant Resource and Advisory Centre.
By the summer, Sim said, he and his colleagues plan to scrap the 25-cent disposable cup fee currently in place for customers at food businesses.
He was speaking to the crowd on his 101st day since being elected. He said he envisioned a Vancouver in the not-so-distant future with "a renewed swagger."
"The next four years are going to be about awakening the giants of Vancouver industry," he said.
"It's going to be about unlocking the creativity and the innovation of a new generation of Vancouverites. And it's going to be about positioning Vancouver as the best place on earth to live, work and play. So make no mistake about it, Vancouver is open for business again."