Ken Sim officially became Vancouver's new mayor Monday.
In an elaborate ceremony at The Orpheum Theatre, where an audience of 1,100 people celebrated the 52-year-old businessman's achievement, Sim was sworn into office along with 10 city councillors.
"You can't lose, if you never give up," said Sim, repeating his mantra several times in a speech that was similar in tone and in content to the one he delivered election night after he ended Kennedy Stewart's bid for a second term.
Sim came within 958 votes of becoming mayor in 2018 as leader of the NPA. Since that result, he has refused to characterize it as a loss, but a learning that he carried with him to help create A Better City Vancouver.
The party that Sim helped build elected seven councillors on Oct. 15, three of them NPA-turned-ABC-incumbents — Lisa Dominato, Sarah Kirby-Yung and Rebecca Bligh — and four newcomers in Mike Klassen, Peter Meiszner, Lenny Zhou and Brian Montague.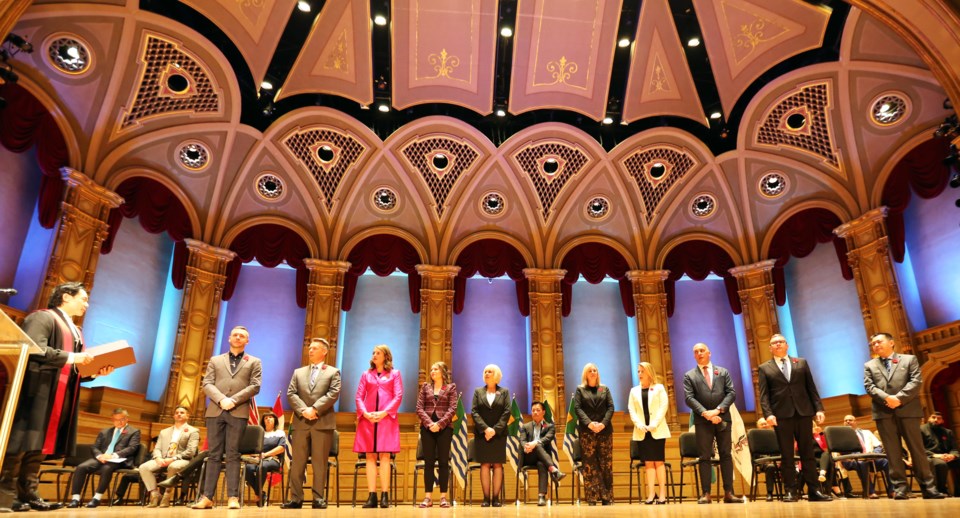 Raymond Louie, Kerry Jang, Tung Chan
He referenced and thanked the incumbents early in his speech before acknowledging the historical significance of his victory: Sim, the son of Hong Kong immigrants, is Vancouver's first Chinese-Canadian mayor and first person of colour to win the seat.
Like he did on election night, he expressed gratitude to some of the Chinese-Canadian politicians that came before him, saying he was standing on their shoulders in victory. The late Vancouverite Douglas Jung, who was elected the country's first Chinese-Canadian member of parliament in 1957, was among the names he mentioned.
Former city councillors Raymond Louie (who emceed the event), Kerry Jang and Tung Chan were also on the list of names he read out to the diverse crowd, which included his wife, children and relatives, some of whom travelled from other countries to attend the ceremony.
"As I look at the journey of the Chinese people in Vancouver, I do want to acknowledge the incredible friendship between the Chinese community and Indigenous peoples," said Sim, who began his speech with a land acknowledgement in which he thanked the Musqueam, Squamish and Tsleil-Waututh nations.
"There was a time not too long ago where Chinese people or people of Chinese descent couldn't own land in Vancouver."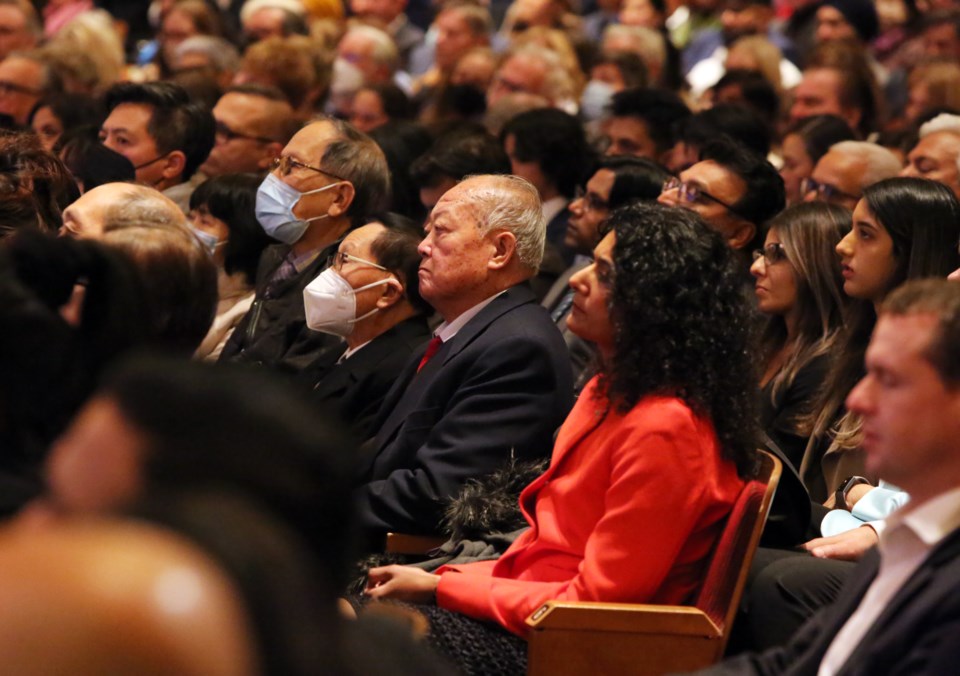 Musqueam, Squamish, Tsleil-Waututh
During this time, he said, the Musqueam stepped up and leased farmland to people of Chinese descent to grow their own food and build a better life.
"I do want to acknowledge that we are standing on your shoulders as well — thank you," he said. "We're going to rely on deep rooted friendships not only to overcome the painful history of the Chinese community during the last 135 years, but to embrace reconciliation and to acknowledge the injustice of the last 400 years."
The path to reconciliation, he added, will be long and hard, saying there will be missteps. He then returned to a common theme in his speech: "But it is achievable if we remember this one thing — you can't lose if you never give up."
The ceremony opened with a welcoming from the three nations, with Musqueam councillor Allyson Fraser reminding Sim and the councillors that "we are not just your constituents, we are the original title holders of this land."
Faith leaders also delivered a blessing to the new council, leading the audience in the Lord's prayer. Vancouver Fire Rescue Services' band performed, as did the Vancouver Police Department's lion dance team.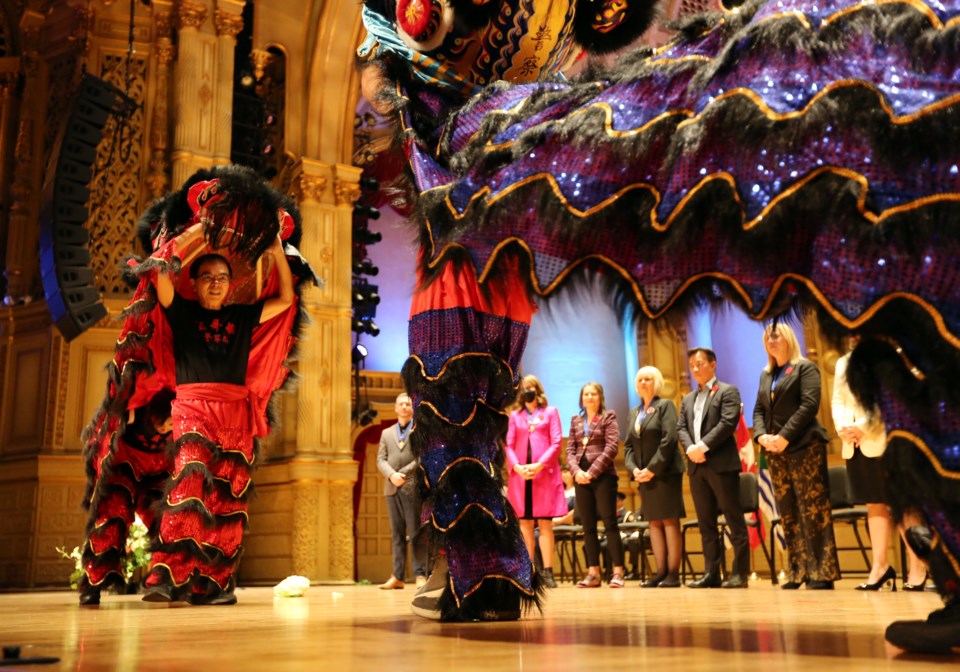 'Vancouver needs your help'
B.C. Provincial Court Judge Derek Mah administered the oaths of office to applause from the crowd, which included former and current politicians, Vancouver's police and fire chiefs, city manager, chief planner, developers, business people and academics.
Sim avoided using his speech to repeat campaign promises — of which there were many, including hiring 100 police officers and 100 mental health nurses — but acknowledged the work to be done on affordability, housing, public safety, climate change and the overdose crisis; 401 people died in the city between January and September of this year.
He made a personal plea to Prime Minister Justin Trudeau and B.C. Premier-designate David Eby, saying "Vancouver needs your help," emphasizing a tri-government push was needed to address the overdose crisis, which he described as "one of the nation's greatest tragedies."
In providing a glimpse into how he will govern, Sim said decisions in government should not be made on the advice of polls, lobbyists, activists or what's trending on Twitter.
"But it should be made on the advice of parents and educators and scientists and health care providers and what's happening in community town halls and coffee shops and the occasional local pub," he said, repeating another line from his election night victory speech.
He recognized Green party councillors Adriane Carr and Pete Fry, and OneCity's Christine Boyle, saying he was "super excited that you're going to be our partners in this journey." Carr, Fry and Boyle shared their thoughts last week with Vancouver Is Awesome on the four years ahead under an ABC majority.
Sim stuck around after the ceremony to pose for photographs on stage with family, friends and supporters before leaving for his inaugural council meeting at city hall.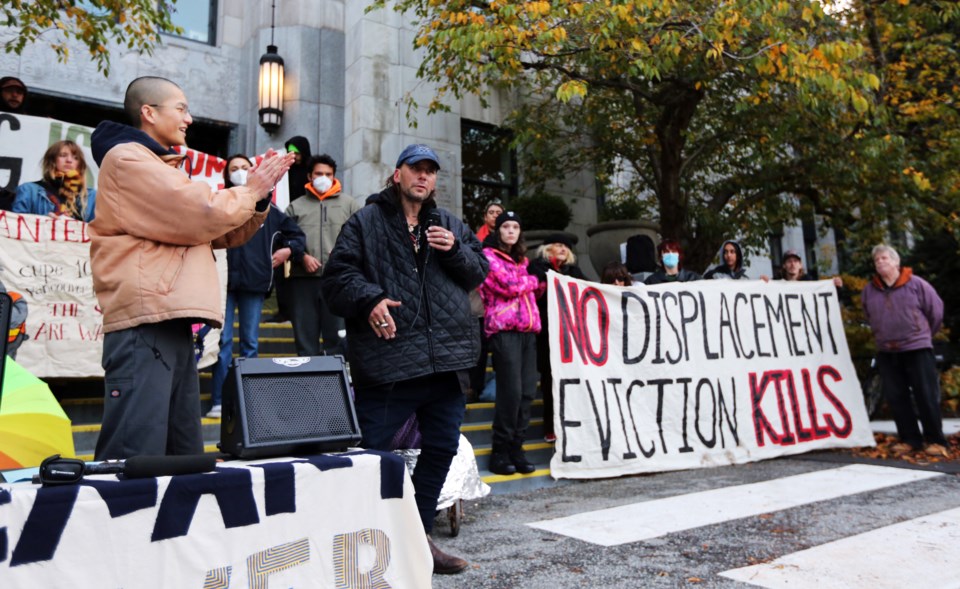 Police called to city hall
But the welcoming Sim received at the Orpheum was not matched by the one he received at city hall, where about 50 protesters were met by at least a dozen police officers at the back doors of the building at 12th and Cambie.
Housing advocates held a rally to announce a list of demands, including for city officials to keep their "hands off" tent cities, but to provide bathrooms, showers, running water and food for people living in tents and makeshift shelters.
The group also called on the city to enforce landlords to fix buildings, allow "tenant councils" to help run a building and ensure all tenants' rights are protected under law. All levels of government must procure, permit and protect shelter-rate housing, too, the group said.
Dave Hamm, a director with the Vancouver Area Network of Drug Users, suggested Sim's ABC majority will be a "green light" for developers in the Downtown Eastside. Hamm said in a news release that gentrification is already "alive and well in our neighbourhood, and across Vancouver."
Police stood guard outside the front doors of city hall when a small bus carrying Sim and the councillors arrived at the front doors. Security and police only allowed media in the council chamber, where the new council held its first meeting, which was brief and cordial.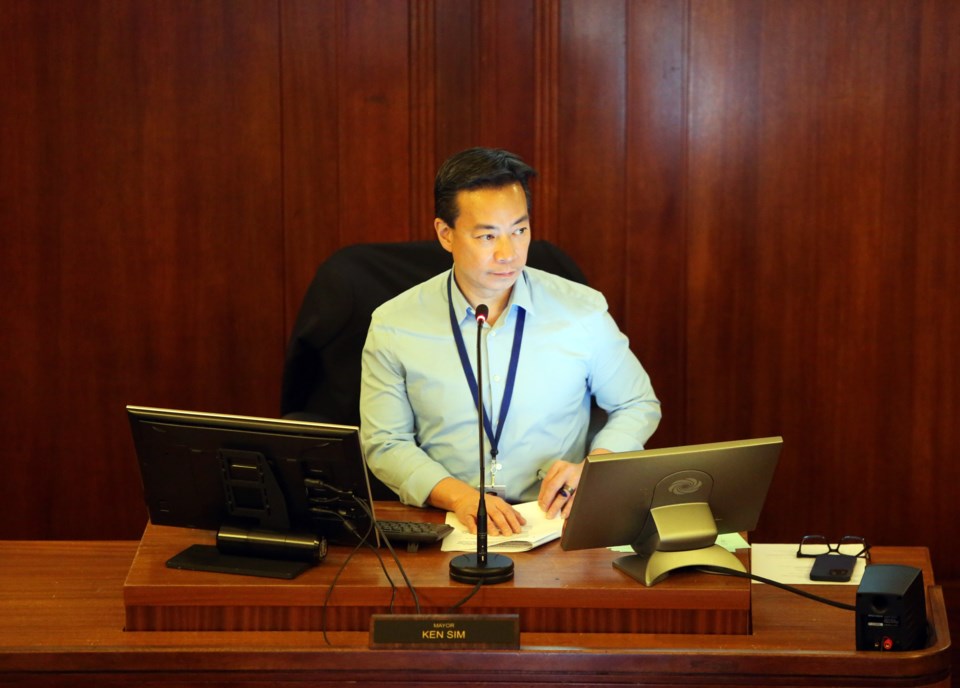 It was the first time in recent memory that a new council had to be escorted by police into city hall. During the campaign, Sim's party was forced to shut down their campaign office one afternoon after protesters held a rally over the Vancouver Police Union's endorsement of Sim and ABC Vancouver.
Asked after the meeting about the police presence, Sim said people have the right to lawful protest and opinions.
"At the end of the day, we came into the building and we had a great first council meeting, we had a great inauguration and there's a lot of hope in this city — people are excited about the change," he said, acknowledging what he described as a humanitarian crisis in the Downtown Eastside.
"But it's a resilient community that needs a lot of help, and we need help from the province and federal government on health care, mental health services, treatment and recovery, we need more housing and the right housing to help people out."
Added Sim: "As mayor of Vancouver, that's what I'm going to be fighting for, and that's what this council is going to be fighting for."
@Howellings