An organization claiming to represent Canadian nurses which spreads dangerous misinformation about the coronavirus (COVID-19) were recently condemned by the national voice for healthcare workers.
Online, it may be easy to see the Canadian Frontline Nurses' (CFN) name and logo and come under the impression that there really is a large subset of nurses fighting against the words and policies laid out by Canada's top health officials.
The organization's white nurse cap logo with its bright red maple leaf has been seen on posters and flyers promoting anti-vaccine rallies since the start of 2021. The group's most recent work includes the anti-vaccine/anti-government/freedom rally held outside Vancouver General Hospital and Vancouver City Hall earlier this month.
However, in speaking with the Canadian Nurses Association which has represented nurses across Canada for nearly 100 years, Vancouver Is Awesome has found the use of the word "nurse" in the bios of CFN's founders and the group's name itself lends a misplaced impression of credibility.
V.I.A. has also found that the group is relatively new, made up of some fired nurses, and represents a small minority of Canada's healthcare workers. It has also been widely denounced by those working with COVID-19 patients across the country.
Who are Canadian Frontline Nurses?
Canadian Frontline Nurses is an offshoot of Global Frontline Nurses, which predates CFN by one year. The foundations for CFN were built mainly on social media by women like Kristen Nagle, a neonatal ICU nurse and Sarah Choujounian, a registered practical nurse both from Ontario.
Before the pandemic, Kristen Nagle's Instagram was filled with photos of her children, healthy recipe ideas and dieting tips. But on Aug. 10, 2020, Nagle made one of her first posts about the pandemic, in which she likened the use of masks and social distancing to Munchhousens, arguing the mentality created by these measures was making more people sick than the virus was.
Over the next few months, she spoke at city council meetings spreading misinformation about masks and went on to attend, organize and speak at anti-mask rallies in Ontario. For these actions, Nagle was eventually fired from her job, according to the CBC.
Still, her protests continued into the start of 2021, when she and Sarah Choujounian met at Pearson Airport awaiting a flight to Washington, D.C.
Three months before that flight, Choujounian made the first post to the Instagram account nursesagainstlockdowns which merged with the Canadian Frontline Nurses Instagram account in May of this year. During that time she too attended and spoke at anti-mask and anti-vaccine rallies in Ontario.
The pair, like-minded in their cause, was headed to Washington to unite with the Global Frontline Nurses (GFN) and partake in a Freedom Health Summit on Jan. 6.
The January 6 Capitol Riot
Nagle and Choujounian, along with other members of the GFN movement, met on the steps of Capitol Hill hours before thousands of supporters of former U.S. President Donald Trump broke into the Capitol to try to stop the presidential electoral vote count.
In the aftermath, the College of Nurses of Ontario confirmed to the Canadian Press that both Nagle and Choujounian were already under investigation for speaking at anti-mask rallies.
Neither woman is reported to have been part of the pro-Donald Trump mob that stormed the Capitol.
Four days after the Capitol riots, the CFN Facebook page was created, sharing a similar logo to that of the Global Frontline Nurses. Around the same time, a website for CFN was also created, listing Choujounian as one of the group's founding members.
According to Choujounian's bio she, like Nagle, was fired from both her nursing jobs at care homes in Ontario.
According to the website, three more are listed as members of the organization. Kristal Pitter, a RN who is still entitled to practice with no restrictions but is no longer employed as a nurse, according to the College of Nurses of Ontario. Jessica Faraone, a RN from Quebec is also entitled to practice but is no longer doing so. Finally, there is Nordia German, another RN from Quebec who according to the Order of Nurses of Quebec is still entitled to practice until 2022.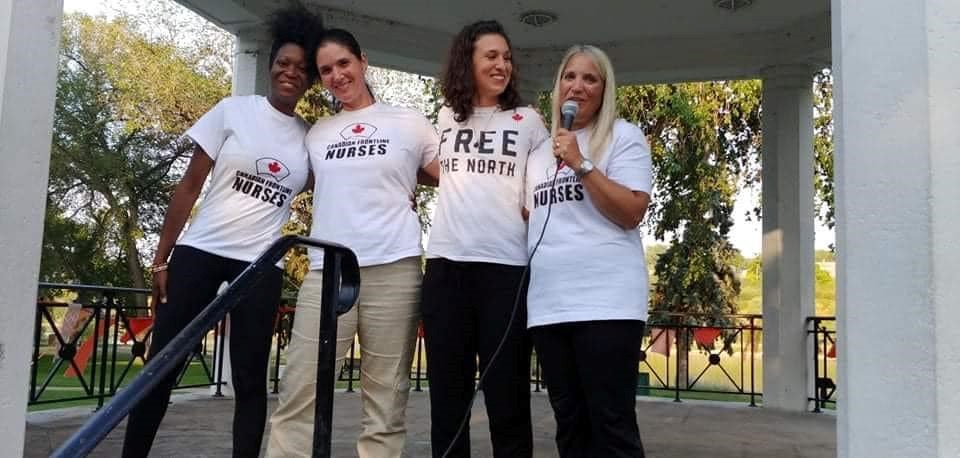 A loud minority
Michael Villeneuve is the CEO of the Canadian Nurses Association (CNA) and speaking from his Ontario home on Friday (Sept. 10), he laid out exactly why Canadian Frontline Nurses represents a small but loud minority.
Villeneuve explained the CNA has been keeping tabs on CFN because the group doesn't represent the values of nursing.
"It's dangerous to put that title out there, meaning a nurse title, which obviously carries meaning for the public and then misrepresents truth or science," Villeneuve said.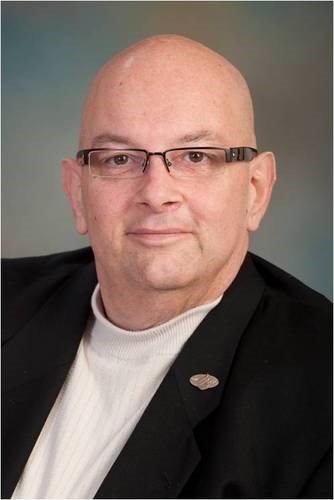 With protests held by CFN at healthcare centres across the country in recent weeks, the CNA released a scathing letter directed to the protest's participants and organizers titled "Enough is enough."
"The reckless views of a handful of discredited people who identify as nurses have aligned in some cases with angry crowds who are putting public health and safety at risk. They have drawn in anti-science, anti-mask, anti-vaccine, anti-public health followers whose beliefs align with theirs. For some reason they would have us believe that millions of the best educated health scientists, public health experts, physicians and nurses globally have all missed something they have not. Their outlandish assertions about science would be laughable were they not so dangerous."
'I've never seen nurses and doctors so tired'
The letter goes on to say anti-public health disinformation threatens to confuse a tired and bewildered public by misrepresenting personal ideology as facts, and science as conspiracy. The letter also attempts to assure Canadians the vast majority of Canada's nurses are duty-bound to use science and evidence to evaluate the care they give.
Villeneuve says in any group, including the hundreds of thousands of nurses across Canada, there are bound to be a few people that don't agree with the rest.
"The problem is when the group is 448,000, half a percent is still a couple thousand people, and they could be very vocal using social media," he explains.
In Villeneuve's 40-plus years in the healthcare industry, he said he has never seen the public's vitriol take such a toll on healthcare workers.
"I've never seen nurses and doctors so tired," he said. "So shaken, and shocked by fellow Canadians lining up and yelling at them."
To sum up, Villeneuve says this about those who claim to represent Canada's nurses while also spreading misinformation about a global pandemic.
"They represent everything that we don't."