The Vancouver Police Department's marine unit issued approximately 100 notices in February and March to boat owners in False Creek who overstayed their allowable anchoring time, a problem that has increased since the coronavirus pandemic was declared in March 2020.
Police cited the Federal Contravention Act in six cases to issue tickets worth $288 each to boaters who refused to leave the Creek, according to Sgt. Steve Addison, a VPD media relations officer.
"Many of the boats in False Creek have been there for months, if not years, and we continue to hear concerns about safety and pollution from False Creek residents, boaters and people who use the area for recreational activities such as kayaking, paddle boarding and rowing," Addison said in an email.
The Vessel Operation Restriction Regulations is federal legislation that applies to boaters in the Creek and states a boat can be at anchor for 21 days out of 40 in winter months, and 14 days out of 30 in summer.
"Many of the boats floating in False Creek are in poor condition, often without working engines and unable to move without assistance," Addison said.
"There continues to be significant pollution concerns, with a number of operators failing to use free mobile pump stations and instead choosing to dump sewage and litter into the water."
3,837 boaters without permits
Park board marina staff also noticed a significant increase over the past two years in the number of boaters who continue to anchor in the Creek without a permit.
Data provided to Vancouver Is Awesome shows 3,837 boaters anchored without permits last year and 1,878 in 2020.
Those numbers compare to an average of 584 boaters anchoring without a permit between 2015 and 2019.
The compliance rate over that same period for boaters who obtained a permit averaged 1,138 compared to the 527 owners who sought a permit last year.
Coun. Michael Wiebe raised concerns during a recent council meeting about what he described as "derelict" boats in the Creek. Wiebe noted the Dragon Boat Festival and other events cancelled because of the pandemic hope to return to the Creek this year.
"I know last year, when regatta organizers wanted to do the regatta, they just said we couldn't do it because there was just too many boats in the way to do a proper course," said Wiebe by telephone.
In some cases, boats have been abandoned and washed ashore, which occurred in March on Habitat Island, near the Olympic Village. The Canadian Coast Guard removed it three days after it was reported.
A boat also washed ashore near the Burrard Bridge during the January storm that pushed a barge onto Sunset Beach.
"It's like dumping a car on the street and just walking away from it," said Wiebe, noting salvage costs are often linked to the reason for abandoning a boat.
"There are some boats that are completely empty, and then someone might come in and start to sleep in it. They do that for a while and then just leave it."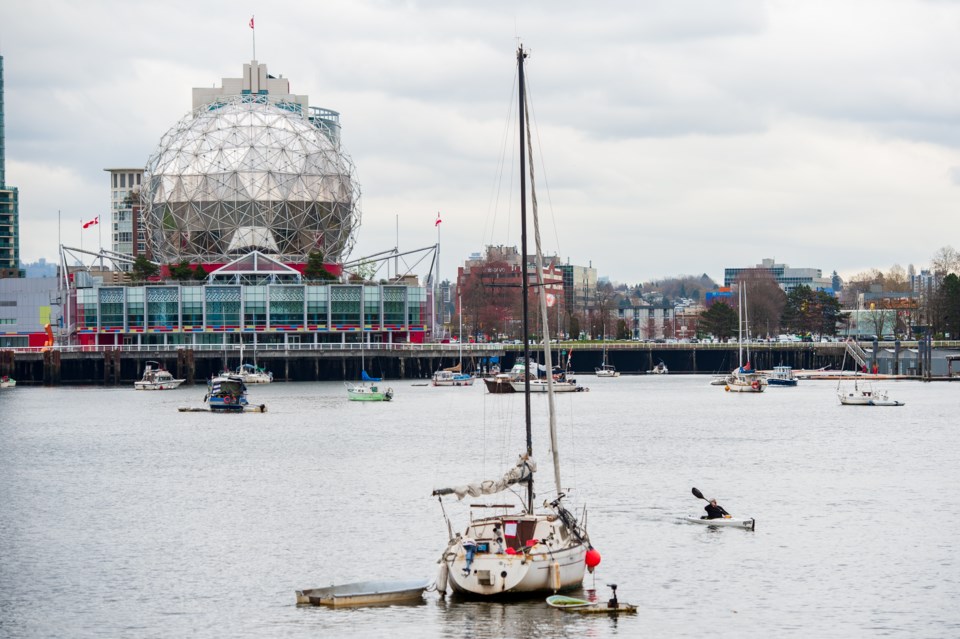 At the same time, Wiebe said, he understands vulnerable people need shelter in a city in a homelessness crisis and will live aboard the run-down boats. He couldn't provide an estimate of how many people might be in that situation.
"People are using any means possible to find housing in Vancouver, and we need to understand that issue and work with people to make sure that they do have a roof over their head," he said.
The other issue for Wiebe is boaters dumping their waste in the Creek. For years, the city has worked with other agencies to improve water quality in the stretch of waterway from Kits Point to Science World.
Council approved a free mobile pump-out service for boaters in 2017 to complement the existing service at two civic marinas. Over the course of two summers prior to the pandemic, the mobile service provided 730 "pump-outs," collecting approximately 68,000 litres of sewage.
At the time, the service was costing the city $75,000 per year and was expected to increase to $90,000 from 2020 to 2024.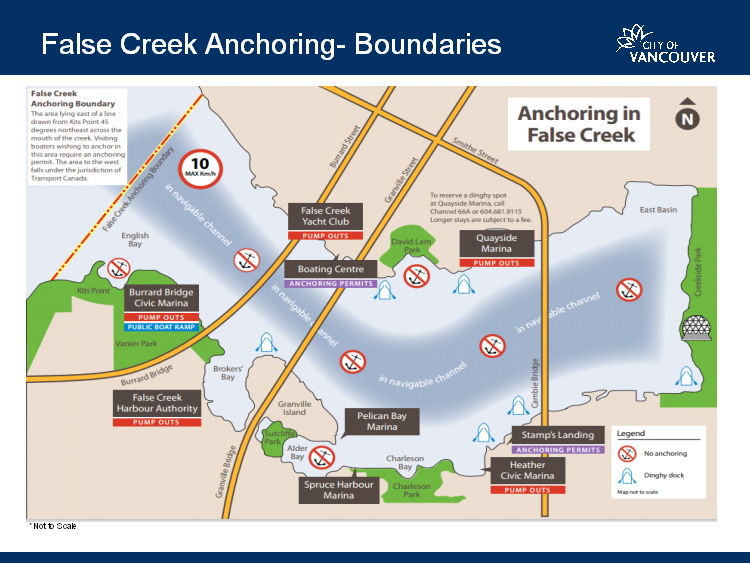 'An emergency for us'
The Creek has a complicated history when it comes to jurisdiction.
The city, the park board, Coast Guard, Transport Canada, Vancouver police and Vancouver Fire Rescue Services all have a role to play in the Creek.
Several years ago, the federal government delegated the authority to the city for anchoring permits from Kits Point to Science World, which is a rare role for a municipality, considering the body of water is the ocean.
"Engineering really stepped in as a coordinator, even though for engineering our roles and responsibilities generally related to the assets that kind of sit on the edge of False Creek," said Lon LaClaire, the city's general manager of engineering services.
'Play by the rules'
Up until the pandemic was declared in March 2020, the city had a system set up where boaters entering the creek could either obtain a permit at a marina or online. As the park board statistics showed, compliance significantly dropped over the past two years.
"When COVID hit, a whole number of things happened, which caused us to kind of lose the adherence to the system," said LaClaire, noting a welcome centre closure at a marina, police not boarding vessels during the early days of the pandemic and staff turnover also played a part in the drop in permits.
"We want people to play by the rules, and that means everyone should have a permit. Now very few of the boats in False Creek have the permits."
LaClaire said the goal this year is to have more boaters comply with regulations.The city, park board and other agencies are currently developing a strategy to open up the Creek for events such as the dragon boat festival.
"The quick work for us is to re-establish this partnership, and get the system to be effective again — and that's kind of an emergency for us," he said.
"We're setting up meetings right now with Transport Canada, and I just brought the issue to the [city's] corporate leadership team."
Part of that strategy includes the city's social services group working with Vancouver Fire Rescue Services, which have a boat, to connect with vulnerable people aboard the boats who need support.
"Generally, the reason we use the fire department is because people sometimes respond negatively to the police, thinking that they're doing something wrong," LaClaire said.
"Our real concerns are around their personal safety. Having the fire department there is much better for us, and they can also check any hazards that might be present on a boat."
Will we ever be able to swim in False Creek?
Over the years, various civic politicians, including former mayor Gregor Robertson, have pressured the city and others to clean up the Creek. Robertson, whose term ended in the fall of 2018, wanted the Creek swimmable by the summer of 2018.
There was also talk of a floatable swimming pool to be set up somewhere in the Creek.
"Obviously, this is going to take a while [to clean up]," said Robertson in February 2018, referring to the creek's long history as an industrial area and dumping spot for sewage.
"That body of water has been trashed for generations, and it's only fairly recently that we're collectively turning our attention to cleaning it up and making it safe and health for everyone who uses it."
'Improving water quality'
In February 2019, a city staff report noted that while sewage from boats was a potential source of elevated levels of microbial contamination in the Creek, other sources included waste from combined sewer overflows operated by the city and Metro Vancouver, and storm water carrying land-based pollution.
At the time, the city also identified nine cases where sanitary systems were accidentally or illegally connected to storm water systems that flow into the Creek.
"Given the complexity of the False Creek system, improving water quality necessitates a long-term approach involving multiple stakeholders and jurisdictions, and dependent upon systematic effort across a suite of key action areas," the report added.
Four years ago, council passed the Northeast False Creek plan, which envisions about 12,000 people moving into new homes over the next 20 years on 58 hectares of land that runs between the former Plaza of Nations site and into Chinatown.
Part of the plan calls for a swimmable beach along the False Creek shoreline.