Vancouver police say more than 88,000 calls from citizens to the non-emergency line in 2021 were abandoned — often after lengthy delays — before they could be answered by the dispatch service contracted to take the calls.
A police staff report that went before the Vancouver Police Board Thursday said the lost calls to the region's E-Comm dispatch centre translated to an average of 240 per day.
"These abandoned calls likely included several crime reports that have remained unreported and undocumented in the police data," said the report, authored by Simon Demers, the VPD's director of planning, research and audit section.
"Even worse, there is evidence that some crime victims in Vancouver do not even try to call the non-emergency line in the first place because they know it is plagued by long delays and they are not willing to wait for several minutes before talking with an E-Comm call taker."
As a result, the report continued, the official crime data from 2021 is likely to be incomplete and underestimate the true level of crime in Vancouver, which has seen unprecedented fluctuations in types of crime since the pandemic was declared in March 2020.
1,700 break-ins to homes, businesses
In a presentation to the police board Thursday, Demers said the department's analysis of the 88,000 abandoned calls suggests there would have been an additional 1,700 reports of break-ins to homes and businesses last year.
Added to those crime reports would have been 1,000 thefts, 600 assaults, 500 calls related to mischief and 200 for fraud, said Demers, whose report focused on the "crime severity index" in Vancouver, which remains higher than the national average.
The number of abandoned calls in 2021 — 88,000 — was not available in April when Vancouver Is Awesome revealed that 18,680 calls out of 46,154 in the first three months of this year also went unanswered. That equates to 40.5 per cent of calls lost.
Most citizens are probably not aware that when they contact 911 and the VPD's non-emergency line, they are actually reaching E-Comm, which is located in a building at East Hastings and Cassiar streets, near the Pacific National Exhibition.
Calls that are medical in nature get transferred to BC Emergency Health Services.
City pays $24 million to E-Comm
The city is paying $19 million this year to E-Comm to handle police calls, and an additional $5 million to cover dispatch services for Vancouver Fire Rescue Services.
The $24-million investment was highlighted in a Vancouver Is Awesome story published in February that examined whether the city was getting good value for the funds it provides E-Comm for services.
In April, E-Comm's executive director of communications said in an email that the agency recognizes the impact abandoned calls have on police departments in terms of crime reporting statistics and the negative feedback they receive from the public.
"We continue to work with our partners to find ways to leverage technology to help improve the caller experience," E-Comm said. "At the same time, we are looking at new call-handling models and innovative ways to recruit new staff and retain our existing staff, while addressing E-Comm's longer-term funding requirements."
Police Chief Adam Palmer and some members of the police board have previously been vocal about the number of abandoned calls, saying it was an important lost statistic when accounting for Vancouver's crime rate.
At the same time, Palmer told the board that some of the frustrated callers likely filed an online report or called 911 to get a response to what initially prompted them to contact police.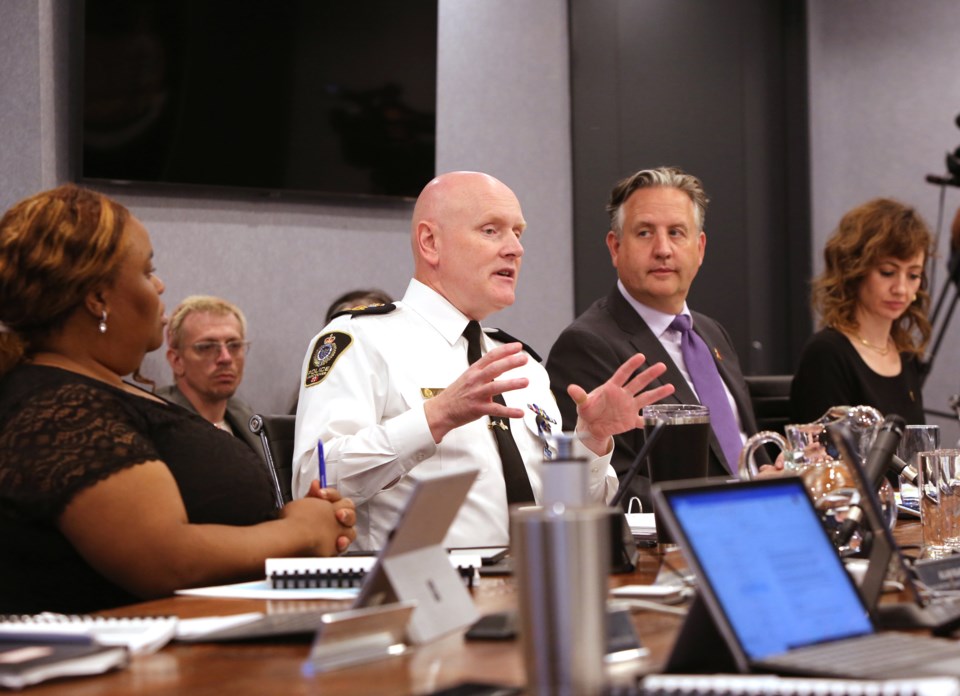 On track for 100,000 abandoned calls
Asked Thursday whether the situation has improved since April, Palmer said the most recent data he examined suggests Vancouver is on track to reach 100,000 abandoned calls this year on the non-emergency line.
Palmer said Howard Chow, one of the department's deputy chiefs, sits on a committee with other police leaders in the province and together are working with E-Comm to reduce the number of abandoned calls.
The provincial government is also involved.
"We've got serious concerns on a number of issues," the chief said in an interview after the police board meeting. "Number one — the crime statistics will be out of whack. Everybody's crime statistics are going to be lower than the real crime statistics because people just can't get through [to the call taker]."
Added Palmer: "I can make crime in the city go to zero, if we just don't answer the phone. If you're not answering the phone and taking the calls, you're not going to have any crime. But we do have to answer the phone and take and respond to people's calls when they need our assistance."
Palmer said he was also concerned about the department's reputation, with citizens concluding the VPD doesn't want to take a non-emergency call. Concerns over police inaction have already appeared in complaints to the police board, the chief said.
Vehicle break-ins far below pre-pandemic levels
The department's most recent publicly available crime statistics end in August.
Compared to the first eight months of 2021, assaults went up 6.3 per cent over the same period in 2022. Robberies, meanwhile, increased by 23.9 per cent and attempted murders jumped to 114 per cent, or 15 from the seven recorded last year.
Thefts went up 25.5 per cent. Break-ins to homes dropped 13.8 per cent and businesses by 6.5 per cent.
Historically, the biggest driver of property crime is break-ins to vehicles, which increased by 2.8 per cent over the first eight months of 2022. But the number of thefts from vehicles as of August (4,780) is still significantly lower than pre-pandemic levels, when 16,488 were recorded for all of 2019.
Police have said the pandemic has had a dramatic effect on crime. While at the height of the pandemic, police say there were fewer people in the streets and driving vehicles. Crime is expected to increase as more people return to workplaces, socialize and attend events involving crowds.
"Now that social restrictions are being relaxed, property crime in Vancouver is increasing back to historical baselines," said Demers in his report, adding that such a trend was predictable based on academic research conducted in Australia, China, England, Wales and Northern Ireland.
Demers noted that while many crime types declined during the pandemic, some researchers found that foot traffic and business activity declined even more, which means the risk of a person becoming a victim of a crime in a public space may have actually increased.
In Vancouver, police say they are seeing an average of four assaults per day where a person is attacked by a stranger. Those types of assaults are not new in the city but the volume is unprecedented, according to Palmer.
"I've been a cop here for 35 years, and through my entire career, we've had incidents of stranger assaults, random attacks — that kind of thing — but the magnitude…I've never seen anything like it," he said, noting many of the incidents are connected to suspects living with a mental illness.
"Some are more minor, but some are very serious, including stabbings, homicides and attacks where people will attack multiple people in a neighbourhood before we catch them."
@Howellings