The Weather Network calls for below-average temperatures to kick off the winter season in Metro Vancouver following the snowiest November in over a decade.
Prior to the start of meteorological winter, there were a variety of temperatures throughout the fall, and taking an average temperature for the 90 days doesn't tell the complete story.
Instead, a closer look at the fall season in Vancouver shows that it was "volatile" and a "season of extremes," according to a new report.
"Climate is what you expect, but the weather is what you get. This summarizes the fall season in Vancouver," remarks The Weather Network meteorologist Tyler Hamilton.
The average temperature for the fall — September, October, and November — recorded at Vancouver International Airport (YVR) was 10.7°C, which is also on par with the seasonal average for the region.
But locals saw a wide range of temperatures this season.
Metro Vancouver weather forecast
Broken down month-by-month the story looks much less "typical." September had the fifth-warmest temperatures on record at 16 C (the average is 15.2 C), while October had the second-warmest at 12.1 C (the average is 10.4 C).
Finally, November saw the third-coolest temperatures on record at 3.9 C (the average is 6.5 C).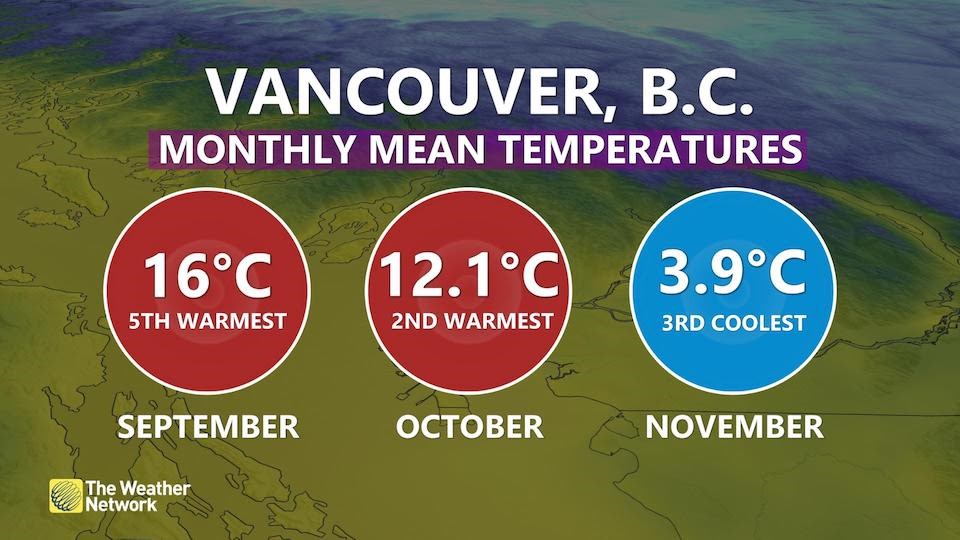 Broken down further, there were a couple of especially toasty or decidedly frigid weeks in the city, too.
The first week of September had a mean temperature of 17. 4 C, which is only a couple of degrees of a daily high for the month. On the other end of the spectrum, the week of Nov. 14 had a chilly mean temperature of 2.7 C.
This November was the seventh-snowiest on record, as well as the snowiest one since 2010. That said, this November was "a far cry from the 38 cm of snow that fell in November of 2006," according to Hamilton.
While temperatures varied wildly across the season, precipitation levels were below averages aside from the last two weeks of October. A total of 197.3 mm fell, which is roughly 161 mm below the seasonal average at YVR.