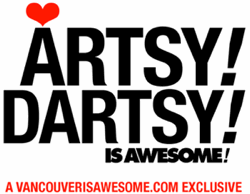 Greetings Vancouver is Awesome readers! We here at Artsy-Dartsy are proud to be new contributors to VIA.A brief background on us: We are Linus and Denise. So pleased to meet you! We love art and design, hence we started a website called Artsy-Dartsy.com to help people like us find out about art and design events in our awesome city of Vancouver!This week there are tons of great events happening. For the full listing please head to Artsy-Dartsy.com.
Commissioned through the City of Vancouver through the Olympic and Paralympic Public Art Program is the Bright Light festival. Bright Light brings together the creative energy of fourteen arts organizations active in Vancouver's Downtown Eastside. Outdoor performances, video projections, urban planning demonstrations, social events and a parade are just some of the manifestations that animate the historical heart of the city. The group includes artist-run centres, a fashion artist, an architecture studio, a commercial gallery, an art publisher and a public gallery.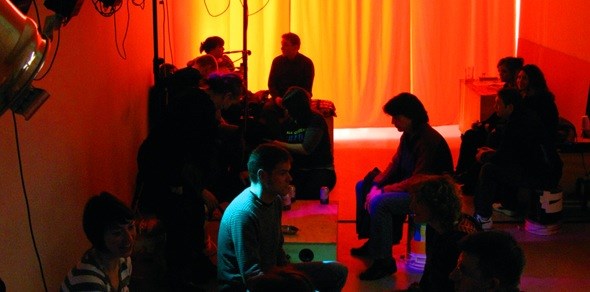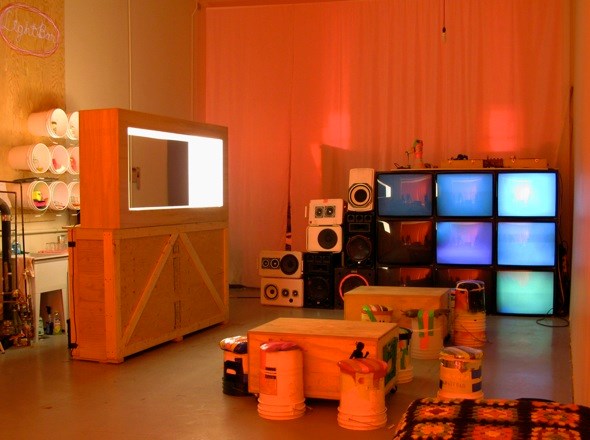 Instant Coffee presents Light Bar, a full-spectrum light bar installation and venue for light therapy, light lectures, light shows, light reading and light rock. We really love this idea considering typically Vancouver is grey and rainy for the winter (looks like she decided to show off for the Olympics!).
They have a number of special events this week.
FEB 18: Light Lecture: Raymond W. Lam, M.D.
FEB 19: Book Launch: Lateral Learning
FEB 20: Rooftop Special
Of course, there are more events on-going till March 19 for Instant Coffee. Please check the website for more details.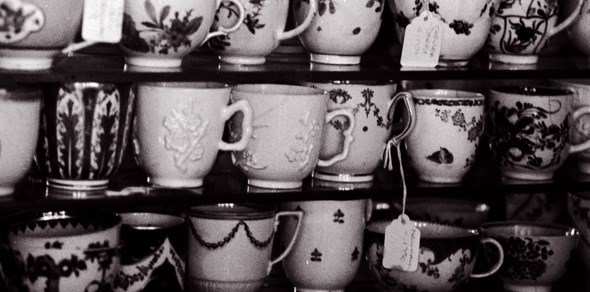 Centre A is having a World Tea Party. Animated by lead artist Bryan Mulvihill, Centre A hosts the World Tea Party, a social, interactive gathering space that acts as a work of art, welcoming visitors into a form of "social sculpture." Tea is offered for free both inside the gallery and on the street, while video projections are shown on the building's exterior windows.
Special Events for this week:
FEB 20: Yokohama-Vancouver, 7 to 9pm
FEB 20: Vancouver Inter-cultural Orchestra, 4 to 6pm
FEB 21: Vancouver Inter-Cultural Orchestra, 2 to 4pm
FEB 21: Blue Tea with Project Rainbow, 6 to 10pm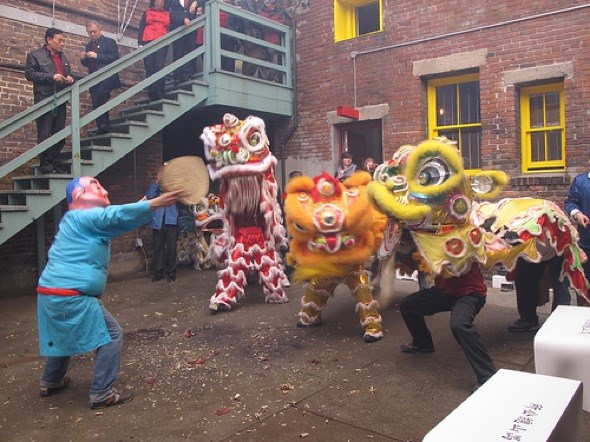 [Image: Opening ceremonies on Chinese New Year at the Go! Gallery, photo by Marianne Bos]
ASIRstudio, Organelle Design and Rural Urban Fantasy Project present the Go! Gallery. Set in one of Chinatown's oldest and almost-forgotten courtyards, (just off of West Pender Street and close to the Chinese Cultural Centre), GO! transforms one of Vancouver's many underused, under-lit areas into an illuminated canopy of light and space. Utilizing umbrellas printed with a luminescent map of the Bright Light galleries, video projections, light installations and programmed events, the courtyard becomes a lively gathering space, encouraging participation and play, gatherings and discovery, celebrating neighbourhood and community.
Special Events at the Go! Gallery this week:
FEB 17, 19, 20, 22, 24, 26, 27: Opium, Laundry and Pawnshops Tour by John Atkin, 6pm
FEB 17, 18, 20, 22, 24, 26, 27: The hidden lights, the Architecture of Chinatown Tour by Inge Roecker, 6pm
FEB 18: On the Corner (movie) by Nathaniel Geary, 8.30pm
FEB  22: Karaoke, 7pm
FEB 21: Han Fung Arts Dynasty costume fashion and photo showcase by Jing Feng, 7pm
Other notable on-goings: The Monte Clark Gallery presents Half the Surface of the World by Greg Girard and the Vancouver Art Gallery is FREE!!! Feb 12 - 28th. See Opening Receptions for all the details!